A Three Stage Motorcycle Progression for Beginning Riders
By Chuck Hawks
First, some personal comments by way of introduction to and explanation for this article. I was fortunate to have been forced by circumstance to go through a motorcycle ownership process similar to what I have outlined in the following article. Thus, I can at least claim to having "been there and done that."
When I started riding (some 47 years ago as I write these words), small displacement motorcycles were fortunately common, because my financial resources were very limited. In the mid-1960s I was in my early 20s and serving as a lowly A2C in the USAF. I wanted a motorcycle, but I could only afford a (very) used Honda Super 90cc street bike. After a couple years of successful riding, I was able to move up to a 250cc machine and I rode motorcycles of this approximate displacement for the next several years. (Including on some long trips of up to about 1,500 miles.)
More through good luck than good management (there were no beginning rider safety courses in those days), I managed to emerge from this process without accident or injury. I have always been a good researcher and I read everything I could find to improve my riding skills and enjoyment, which was no doubt an important factor in my survival.
Ultimately, after riding smaller displacement motorcycles for about 10 years, I graduated to a used 650cc (400 lb./52 HP) machine, which was a big bike in those days. By that time, I had a reasonable idea of what I was doing on two wheels and I was prepared to handle a powerful motorcycle.
Many years later I elected to take the beginning and advanced motorcycle safety courses. By that time, I had as much knowledge--and more experience--than the instructors. I just wish such courses had existed when I was learning to ride!
---
Okay, back to you. If you are reading this article, you have probably decided to learn how to ride and want to buy a street motorcycle. Congratulations, there is potentially a lifetime of two wheel enjoyment ahead of you. Here is how to give yourself a good chance to enjoy many years of successful riding, rather than becoming an unfortunate highway statistic. Regardless of sex or physical size and strength, consider following these simple guidelines.
First, be willing to ride responsibly at all times. Regardless of your chronological age, if you are prone to acting like a kid, showing off, or sometimes feel you need to prove something to others, street riding is not for you. (Be honest in this self evaluation, your health and possibly your life depend on it.)
Next, successfully complete a motorcycle safety course. This is required in most states and will greatly improve your chances of survival on the street. If you don't know where to go to enquire about a beginning rider motorcycle safety course, ask at your local Harley-Davidson dealer or community college.
After completing the safe rider course, you will probably be eager to buy your first motorcycle. Start with Stage One.
Stage One: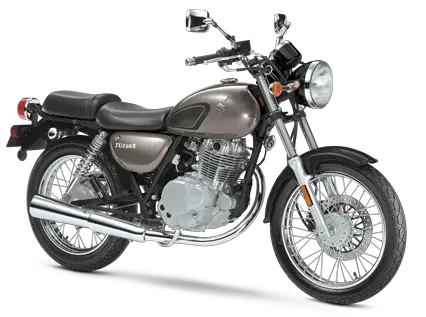 Suzuki TU250X, an example of a Stage One motorcycle. Photo courtesy of Suzuki Cycles.
Limit yourself to an initial motorcycle displacing no more than 250cc or 300cc. (A smaller 90cc-125cc displacement bike is entirely suitable for smaller--or less affluent--riders.) Ride and enjoy this machine for at least two full years (730 days) of frequent riding before moving up to a Stage Two motorcycle. (Longer, if you don't feel confident in all conditions after riding for two years; there is no rush.) Note: this means two full years of accident free riding. If you bend your bike, start the Stage One two year clock over!
Stage Two: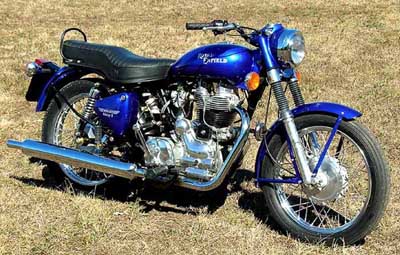 Royal Enfield Bullet 500, an example of a Stage Two motorcycle. Photo by Dave Murray.
If you want a bigger bike after successfully completing Stage One (most riders, but not all, do), permit yourself to move up to a motorcycle displacing no more than 500cc. Ride this larger machine for at least two more years (730 days), giving you a minimum of four full years (1460 days) of accident free street riding experience. (More hours in the saddle are better, of course.) Note: If you bend your bike during this second two year period, start the Stage Two clock over!
Stage Three: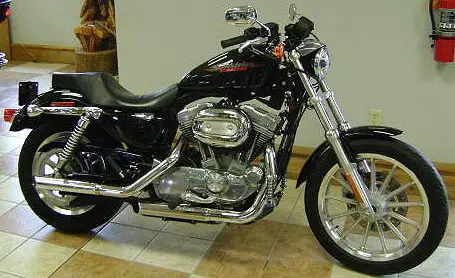 H-D Sportster 883, an example of a Stage Three motorcycle. Photo courtesy of Doc's Harley-Davidson of Bonduel, WI.
After you have successfully completed Stages One and Two without having an accident, you can consider moving up to a larger motorcycle of whatever displacement best fits your needs. Ride safely and enjoy!
For additional reading on the subject that includes more specific motorcycle recommendations, see Good First Motorcycles.