Tipton Gun Butler
By Chuck Hawks and Randy Wakeman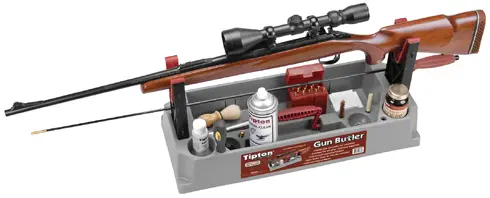 Illustration courtesy of Tipton Gun Cleaning Supplies.
The Gun Butler is a reasonably priced, plastic stand that comes with a carrying handle and two large padded forks that, when inserted into the slots at each end of the Gun Butler, provide level support for any long gun. The Gun Butler is a handy accessory when mounting and bore sighting a scope, cleaning your rifle, doing minor gun repairs and so forth.
Molded into the Gun Butler are two "cup holder" type recesses for bottles of cleaning solvent, gun oil and the like, as well as a wide, flat area long enough for three-section cleaning rod segments and larger accessories. A couple of shallow semi-circular recesses would be good for keeping small parts (screws and the like) from getting lost while working on the gun. Four small holes are provided for cleaning rod tips and brushes. There is even a longitudinal groove to keep an assembled cleaning rod (or a one-piece rod) in place. Soft plastic feet keep the Gun Butler from scratching the surface on which it is resting.
Here are the features and measurements of the Tipton Gun Butler:
Product #100-333
Holds gun securely for cleaning
Storage for cleaning supplies
Convenient carry handle
Gun cradle forks snap in tray for storage
Non-marring surfaces
Length - 23.5"
Width - 9.25"
Depth without forks - 4.25"
Height with forks in place - 11.3"
2009 MSRP - $34.99
The Gun Butler appears to be well designed and well made, even though--like so many products today--it is produced for Tipton in Red China. We found that it worked well for the purposes for which it was designed. Note that while the forks can be stowed inside the Gun Butler when not in use, the handle is intended to be left in the upright and locked position. It does not fold for storage.
Tipton is a division of Battenfeld Technologies, home of an assortment of shooting, reloading, gunsmithing and gun cleaning supplies. You can reach the Tipton web site directly at www.tiptoncleaning.com or through the Battenfeld web site (www.battenfeldtechnologies.com). While you are there, you can check out the other fine Battenfeld product lines, including Caldwell, Wheeler Engineering, Past, Fajen, Frankfort Arsenal, Adams & Bennett and Miles Gilbert.