The Tipton Best Gun Vise and Wheeler Engineering AR-15 Magazine Mount
By Dave Cole

Illustration courtesy of Battenfeld Technoligies.
Tipton's Best Gun Vise device is basically a portable vise to hold your firearm for cleaning, mounting, or oiling. It will accommodate almost any type of firearm, including bolt-action rifles, break-open shotguns, AR-15's and handguns. It is portable, light in weight and made from a polymer that resists most solvents. It has three support points, the front being adjustable in height as well as position. All the contact points have a soft rubber surface and will not mar your firearm unless you really try.
Here is what Tipton has to say about the Best Gun Vise:
"The vise was designed to accommodate the widest possible array of firearms for cleaning, maintenance, or gunsmithing and is easily configurable to handle bolt-action rifles, break-open shotguns, AR-15's, and handguns. A central aluminum channel lets the user move individual components to the ideal position for their firearm. Each individual component then adjusts to the perfect position for secure support. The rear base features two adjustable offset clamps for a tight grip on a wide range of buttstock configurations."
For starters, I decided to clean my AR-15 carbine. (Yes, someone on the Guns and Shooting staff owns an AR-15!) Having the ability to mount the AR in a vice, in any position, is wonderful! The Best Gun Vice will hold an AR in two different ways. You can use the center mounting point, the stock grips and then rest the barrel on the front rest, or you can use the new Wheeler Engineering AR-15 Magazine mount.
I decided to use the Wheeler Engineering Mag mount. How cool is this. I put the front mounting point on the main frame of the gun vise; I put the Wheeler Mag mount in the center of the frame and then drop the AR onto the mag insert. Done! Takes all of about three minutes.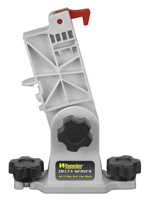 Illustration courtesy of Battenfeld Technoligies.
The AR is held firmly for any cleaning or light mounting tasks. If I want to break open the AR, I break it open and the front barrel drops directly onto the front support, while the rear is still suspended. I can get under, around and into the firearm for cleaning, without having to hold on to it at the same time. Note that the Best Gun Vise is not intended for serious gunsmithing. While it holds things well enough for scope mounting and cleaning, if you try to drill something using this as a vise, you will probably be very unhappy with the results.
The Tipton Best Gun Vise has recessed storage pockets around both sides. These are designed for holding small screws, or cleaning parts. This device will also work for your pistols, shotguns and probably anything else you can shoot. There are so many mounting options it would be impossible to go into them all here. The Tipton Best Gun Vise is one of the handiest tools I have used in years and now that I have one, I doubt I could get along without it.
Tipton Best Gun Vise Specifications
Pros
Will hold just about anything that shoots.

Non-marring contact surfaces.

Fully height adjustable front support.

Does not stain or disfigure from solvents.

Light weight.

Numerous accessories (such as the Wheeler Engineering Mag mount).

Solid construction.

Can be mounted on a table using the through holes in the corners.

Has recesses on both sides for screws, small tools, etc.

Clean up after use is simple.

Aluminum channel for mounting the parts of the gun vise securely.
Cons
It is not a steel vise.

The knobs could be a bit smaller to allow finger room when tightening some of the attachments.

There are a lot of parts to lose, so storage between use is important.
Conclusion
I would recommend the Tipton Best Gun Vise to anyone for cleaning and scope/accessory mounting purposes. It is easy to use, holds the firearm securely, allows access to all parts of the firearm for cleaning and maintenance and is a well designed gun vise. It has a number of adjustments on it, which can be used to mount just about anything that shoots.
The Wheeler Engineering AR-15 Magazine mount attaches easily to the Best Gun Vise and works exactly as promised. It is a worthwhile accessory for anyone with an AR-15 type rifle. I will never clean my AR-15 again without using these devices, unless I'm in the field fighting Zombies.