National Geographic TOPO! CD-ROM Maps
By the Guns and Shooting Online Staff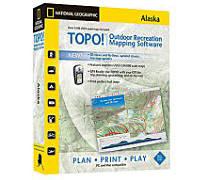 Illustration courtesy of National Geographic.
National Geographic (www.nationalgeographic.com) has released a set of CD-ROM maps named "TOPO!" These CD-ROM's are compatible with both Mac and PC operating systems and are available for all 50 states. Here are some features and system requirements:
USA Place Finder lets you search over 1 million campsites, campgrounds, lakes, and summits
Download custom overlays and swap maps with other users on the National Geographic mapXchange network.
Annotate your favorite campgrounds, climbing sites, or rafting entry points and share that information with users with similar interests.
Print your customized maps on any inkjet printer.
Compatible required operating systems required: Windows 95, 98, NT, ME, 2000, or XP; 486 DX/66 MHz PC or higher, 64 MB RAM + 8 MB video memory; Mac OS 10.2 or higher, 350 MHz G3 or better, 128 MB RAM + 16 MB video memory.
The kind folks at National Geographic made available to Guns and Shooting Online the TOPO! CD-ROM set for our home state of Oregon: CD-ROM Topo Oregon #20532, $99.95. This set includes an instruction disc and 5 map discs. Each map disc covers a clearly denoted area of the state and is loaded with features.
They also included a package (25 sheets, 8.5x11") of their waterproof Adventure Paper for ink jet printers, which is made of Teslin synthetic sheets. This stuff is tear resistant, prints on both sides, folds easily, and is perfect for printing TOPO! maps to be taken along on hikes and hunts.
TOPO! Features fives layers of the best maps available, from National Geographic Atlas maps to the most detailed USGS topographic maps. It is loaded with features and functionality.
1:24,000 and 1:100,000 scale, seamless
GPS compatible-waypoints and routes sync with your GPS unit (maps themselves do not)
Features include 3D views and fly-throughs, elevation profiling that allows you to draw a route and immediately calculate elevation gain or loss, and live map updating that lets you search for and download updated USGS quads. Customization options such as updated street overlays that can be toggled on or off, the ability to add your own notes and photos, and the option to choose from either latitude/longitude or UTM grids let you create the perfect map for your activity.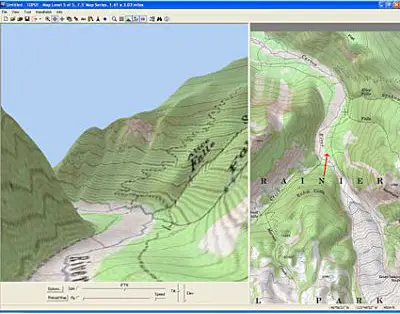 Illustration courtesy of National Geographic.
It is much easier to actually use TOPO! on your computer than to try to describe it in detail in a review such as this. Which is what we suggest that you do. Suffice to say that it works as intended. TOPO! is especially appropriate for anyone who has a laptop that they can take along with them in their hunting vehicle. That way you can navigate as you explore new country, use TOPO! to find side roads, see what's up ahead and in countless other ways. I can tell you that we will be taking it along with us when we go into the Cascade Mountains this coming deer season. TOPO! is great for hunters, fishermen, hikers, and outdoor enthusiasts in general.