Traditions Outfitter .243 Rifle
Randy D. Smith with feral hog and Traditions Outfitter.
Traditions Firearms of Old Saybrook, Connecticut, has been in the muzzleloader business since the earliest days of the rebirth of the industry. I have always enjoyed hunting with Traditions inline and side-lock muzzleloaders. Some of these muzzleloaders such as an original laminate stock Buckhunter Pro, a Pursuit Pro inline and a more recent Pursuit II XLT Guide Gun have been among the best inlines Iíve ever used.
When Traditions announced that it was going to get into the centerfire rifle market with the Outfitter I was more than a little curious. I ordered an Outfitter in .243 Winchester with a Soft-Touch Mossy Oak Treestand camouflage stock. I have been shooting and hunting with the Outfitter for six months and am very impressed with the quality and performance of the rifle. It has taken several coyotes and feral hogs at ranges from 50 to over 200 yards using a wide variety of 100-grain soft point hunting loads and the Hornady 58-grain V-Max predator load. My 100-yard target groups have been consistently impressive. I have tested other brands of break action single shot rifles from Harrington & Richardson, New England Firearms, Mossberg, Thompson/Center and Knight. When it comes to over-all balance, conformation, fit, finish, construction, and accuracy, the Outfitter equals or surpasses all of them.
The Outfitter has the same general conformation and appearance of the Pursuit inline muzzleloader. It is an exposed hammer style, single shot, break action rifle. My Outfitter weighs just a shade over 7.5 pounds with a Bushnell Legend 6-18X scope. It has an overall length of 40Ē with a 24Ē Wilson 1:8Ē twist barrel. It has a hammer block and trigger guard push button safety system. If the action is not locked in place, the hammer will not cock. The break action release button is mounted in front of the trigger guard. There are no welds joining the barrel and the barrel locking block sub-structure. It is all machined in one unit. The rifle has good Williams metal fiber optic sights and the rifle is drilled and tapped for scope mounting using standard Traditions Weaver style mounts. The Outfitter is currently offered in .243, .270, .308, .30-06, and .444 Marlin.
Like other break action single shots from traditional muzzleloader companies, the Outfitter can be converted to a muzzleloader with a quick and simple barrel exchange. The standard barrel is a 28Ē .50 caliber, 1:28Ē twist, blued steel using a 209 shotgun primer.
Some nice features of the Outfitter are an excellent trigger, very quick and easy break action system, superior stock configuration, responsive size and configuration and a convenient hammer profile with a ambidextrous hammer spur attachment for scope use. The Outfitter has a simply excellent cartridge extractor that is massive and thoroughly dependable. The cartridge extractor system has been a problem with many break actions I have tested.
steel and its price point is higher than many competitors. A person can purchase many entry level bolt action rifles at a lower price.
I like the Outfitter for three reasons over entry level bolt action models. It can be carried either fully loaded or completely unloaded with no confusion. This is a nice feature for truck gun, backpacking, and camping use. The Outfitter is a much more compact firearm with longer barrel length than standard entry level bolt rifles. It has excellent open sights which are uncommon on entry level bolt rifles. Although Mossberg shows open sight models in their catalog, Iíve yet to see one in a store. Finally, entry level bolt action rifles are not offered in left handed versions and the Outfitter is fully ambidextrous.
I used the Outfitter on a March feral hog hunt in the Palo Duro Canyon of west Texas. I did a lot of driving the ranch trails in my Suzuki Samurai with the Outfitter riding in the passenger seat. Several pigs were shot from the truck on a momentís notice from 50 to 100 yards. The rifle was quick and responsive. I missed my first hog with a shot over the top of his back at about 120 yards, but after a minor scope adjustment, the Outfitter brought home the bacon with all following shots. I packed the rifle on foot into the back country and found it very convenient.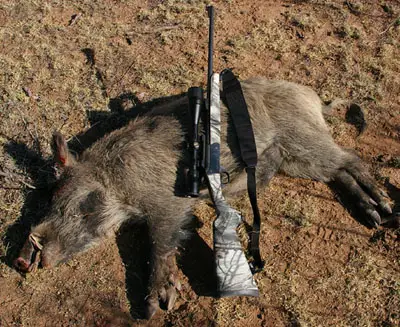 Traditions Outfitter with feral hog. Photo by Randy D. Smith.
Come whitetail deer season this fall, Iíll be carrying the Outfitter. I like break action single shot rifles for the wide variety of reasons Iíve mentioned. I like the Outfitter because it is as good as any break action Iíve ever used. It is a good solid rifle with a number of excellent features.