Traditions Vortek Inline Muzzleloader

Traditions Vortek. Photo by Randy D. Smith
Thirty mile an hour winds and a near zero chill index kept deer movement at a minimum on opening day of the December 2009 Kansas deer season. We endured the weather, hunted all day and saw nothing. The following dawn was still, cold, and much more promising. I hunkered behind some Kansas Walk-in public hunting ground plum thickets overlooking a low plain of terraced grass and milo stubs. I was overlooking ground with long range shooting demands more suitable for cartridge rifle hunting than a muzzleloader.
I had spotted a nice 8-point whitetail buck while calling coyotes on this property a month before. I decided to try to lure that buck into gun range if he was still in the area. I pulled a Knight & Hale Pack Rack rattling call from my coat pocket and began working it back and forth.
I rattled for a half hour without a sighting. I was leaving the site when a 12 point buck materialized from fencerow cover. The buck lightly raised his left front hoof and struck at the ground. He had me flat footed, standing in the open with very few options other than freeze in position and wait him out. At 120 yards there was a subtle terrain change. The buck needed to step out on harvested milo stubs to come any closer. I decided that if I wanted this buck, I needed to shoot before he ran. I raised my .50 caliber Traditions Vortek muzzleloader to my shoulder, dialed the 3-9X44mm Traditions Silver Hunter scope to 6X, settled the crosshairs on his left shoulder and fired.
The buck flinched then turned back into the fence row cover. As I reloaded four other whitetail bucks bolted into my view. Two retreated to the south on private property and two more stood on open wheat land to the north. I wondered if my rattling was the reason for so many bucks to be so near on land that would not normally be considered prime whitetail habitat.
The buck made it only a few yards before going down for good. The 300-grain LTB Traditions bullet and IMR White Hots preformed charges had done their job. It isnít the best hunting shot Iíve made with a muzzleloader, but it was a good one and bullet placement was perfect. The gun, scope, load choice and call had paid off handsomely. It is a prime example of just how good modern inline muzzleloaders are.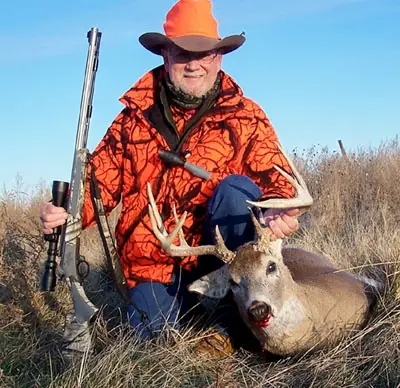 Randy D. Smith with buck and Traditions Vortek.
Traditions Vortek Muzzleloader
The Traditions Company of Old Saybrook, Connecticut has been in the muzzleloader business since the roots of this industry developed. Traditions muzzleloaders have always presented the buyer with a competitively priced firearm that functioned reliably and performed dependably. The Vortek takes another big step toward those goals. Rather than being a radical new design, the Vortek is a product based on refinement of the most popular features of a variety of earlier models matched with some innovations. It is a break action inline of solid construction with good fit and finish.
The Vortek overmolded stock is cushioned at the stock wrist and forearm. Many models feature Soft-tough camouflage stock coatings. The Vortek goes a step farther with increased cushioning at critical stock grip points. The butt stock wrist has been extended and slightly thickened to enhance the entire rifleís balance.
Remove one screw and the entire trigger assembly drops out for thorough cleaning. Trigger pull is light with minimal creep and over-travel. The trigger guard is generously proportioned to allow easy access for heavily gloved fingers. Experienced riflemen will tell you that trigger quality will make or break any premium firearm design. The Traditions company has got this trigger right and it dramatically enhances long range accuracy.
The Traditions Accelerator breech plug is removed with three turns. This is a nice field use feature which easily allows for bore inspection or removal of a fouled load. Shooting contaminates usually require the use of an accessory tool to break this plug loose on my Pursuit II XLT Guide Gun, but from there on it is an easy matter. I have not had to use the Vortekís accessory tool.
Originally seen on the Traditions Yukon model, an overtravel hammer design is easy to manipulate with gloved hands and ergonomically attractive. The hammer never comes in contact with the firing pin until the trigger is pulled.
Even with the new easy-load sabots a solidly designed ramrod speeds reloading and field dependability. Failure of the Vortek solid aluminum ramrod is highly unlikely, especially with the threads placed on the end of the ramrod with the internal threads on the reversible jag and not a screw in design with a weak threaded extension on a brass jag. Small stuff, I know, but it makes a big difference in the field. Jag failure is virtually eliminated.
The Vortek features a CeraKote ceramic anti-corrosive coating of the frame assembly. I often carry Traditions muzzleloaders by the frame just behind the forearm. I learned to monitor the frame for rust from perspiration or contamination in wet or hot weather. The new CeraKote frame coating makes maintenance and regular inspection of this area of the gun much less critical.
The solid stainless steel barrel is much less likely to become discolored from powder contamination, as was the case with the former C-Nickel finish. The barrel is 360-degree ported to help reduce muzzle jump. A 1:28Ē twist, 28Ē fluted barrel balances very nicely with the rest of the rifle and creates the sensation of an extremely well balanced rifle. The Vortekís balance, heft and excellent trigger design blend to create an easy to shoot and accurate muzzleloader.
This is the most accurate Traditions muzzleloader Iíve tested and ranks with the best Iíve ever tried. One hundred yard bench groups averaged 2.14Ē using the LTB Traditions sabot, Winchester 209 shotgun primers and two fifty-grain preformed charges of IMR White Hots.