2014 Triumph Classics:
Bonneville, Bonneville T100, Scrambler and Thruxton
By David Tong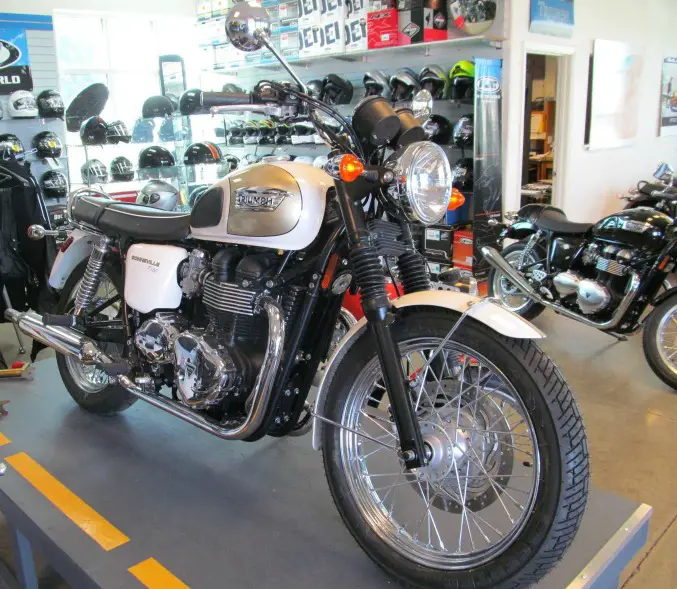 Bonneville T100 with green Thruxton in right background. Photo by David Tong.
In the 1950s through 1983, one of the most iconic motorcycles available to the American public was the vertical (or parallel) twin cylinder Triumph in 650/750cc form. Originally designed by Edward Turner as the Speed Twin of 500cc (30 cu. in.) displacement in the 1930s, it was of conventional pattern using overhead valves actuated by pushrods, with both pistons rising and falling together.
The air-cooled engine was originally designed with separate engine and transmission cases, where the transmission is not enclosed in the engine case, but is a separate unit with its own splash lubrication system using hypoid gear oil. The crankshaft of the engine transfers its power to the clutch and transmission input shaft via a double row chain in another case on the left side of the bike, also with splash lubrication.
The engine cases were split vertically and used a so-called dry sump design, with a separate frame-mounted oil tank. Modern motorcycles built since then generally use a horizontally split case that obviates the potential for oil leaks.
Due to the 360-degree crank throw, vibration was tolerable until roughly 60 MPH, when the power pulses could become too much for many riders' hands, causing them to go numb. Engines were solidly mounted to the frame, without vibration controlling rubber mounts.
The Triumph 500 twin was eventually enlarged to 650cc (40 cu. in.), although 500cc bikes remained in the line into the 1970s. In 1973, the 650 motor was bored to 750cc (45 cu. in.), when the bikes also gained disc brakes. American market Bonneville 650 models had slender, 2.5 gallon teardrop fuel tanks, usually nicely finished in two-tone paint with hand pin striping and with matching finish on the mudguards (fenders). Trophy 650 models had a four gallon, teardrop gas tank that wasn't quite as pretty, but offered greater range. This tank style is used on the 2014 Bonnevilles.
The Bonneville (T120R) had a slightly higher state of tune; more compression, slightly hotter camshaft profile and dual carburetors. The T120 was so named, because in theory it was capable of 120 MPH. This was in contrast to the Trophy (TR6) that only had a single carburetor, was better for low end torque and maxed out at a lower speed.
During the 1960s and 1970s, the Triumph Bonneville and Harley-Davidson Sportster were famous rivals and direct competitors. The two were about equally fast, although the Triumph was lighter and generally handled better in the twisties.
The Hinckley Rebirth
The original Triumph firm finally went out of business in 1983. Volumes could be written about the factors that led to its demise. Some say that Japanese bikes (with their overhead cam engines) were more reliable and developed more power per cc, although the latter was not necessarily true. Others say that it was the lack of research and development, or a failure to modernize the manufacturing process to improve both the machines and the way they were assembled. Still others might opine that the crippling British labor strikes in the early 1970s were responsible for the demise of the entire British motorcycle industry, which had been the world leader from the conclusion of World War II through the end of the 1960s. In fact, all of these factors were at least partly responsible for the demise of Triumph.
Enter John Bloor. Originally an employee of a homebuilding contractor, he started what became the largest privately was held homebuilding company in Britain. From Wikipedia:
"Bloor's first job was as a trainee plasterer for a local building contractor. Two years later he set up his own business and began building his first house before he was 20. His building company, Bloor Homes, is now one of the largest privately owned house builders in the UK and has contributed to the successful regeneration of the East Midlands. In 2002, housing sales reached 1,870 making Bloor Homes then the largest home builder to be owned by one man."
"While attending the auction of the former Triumph factory in 1983 to buy the site for house construction, Bloor bought the collapsed Triumph brand. After sub-licensing the brand for a period, he invested over 380 million into rebuilding the marque, opening the new Hinckley factory in 1991. After a factory fire in 2002 stopped production, the factory was rebuilt as one of the most efficient motorcycle factories in the world and now produces 46,000 motorcycles per annum."
The new Triumph Company began with a clean sheet of paper. There was no carry-over from the old machines at all, other than some elements of exterior design and paintwork. Engines were all double-overhead cam, liquid cooled Triples built in the UK (harking back to the 1970s Triumph Trident three cylinder tradition), as were the frame and other key elements. The forks, wheels, instruments, carburetors and shock absorbers were sourced from Japan for assembly in Britain.
The bikes sold successfully world-wide in moderate numbers. Of course, there was a certain clamor by older riders who fondly remembered their old Twins. While Bloor was not an active motorcyclist himself, he was well aware of the Company heritage and the potential marketing power of the legendary Bonneville name. Thus, a new parallel twin was developed in the mid-1990s. The new Bonneville emerged, Phoenix-like, from the ashes in 2001.
The new air cooled vertical twin had to meet applicable EPA emissions and noise standards and be adaptable to further regulations. Yet, it had to have a familiar character and style amenable to aging Boomers and younger folks who might remember Dad's old Trumpet.
For 2014, there are four basic versions in the Triumph Classic line: the Bonneville (a standard type motorcycle), Bonneville T100 (a more upscale standard type motorcycle), Scrambler (a quasi-dual purpose motorcycle with bash plate, high mounted exhausts and dual-sport tires) and Thruxton (a traditional cafe racer type motorcycle).
Specifications: Bonneville
Engine: Air cooled, DOHC 4V/cylinder, parallel-twin, counterbalanced, wet sump, unit construction
Firing interval: 360-degrees
Engine displacement: 865cc
Transmission: Manual 5-speed.
Clutch: Wet, multi-plate
Final drive: X-ring chain
Horsepower: 68 bhp @ 7500 rpm
Torque: 50 ft. lbs. @ 5800 rpm; approx. 90% available from 2750 rpm up
Fuel capacity: 4.2 US gal.
Fuel delivery: Electronic fuel injection, twin throttle bodies
Instruments: Analog speedometer with odometer and trip information
Headlight: Halogen bulb
Turn signals: Manual cancellation
Wheelbase: 59 inches
Seat height: 29.13 inches
Forks: 41mm non-adjustable; 120mm travel; rake angle 28-degrees
Rear suspension: Preload adjustable, chromed twin shocks
Frame: High-tensile steel, double-loop
Brakes: Single 310mm front disc with two piston caliper, single 255mm rear disc with two piston caliper
Wheels: 17x3 inch cast aluminum alloy front, 17x3.5 inch cast aluminum alloy rear
Tires: Metzeler ME-Z
Wet Weight: 496 pounds (225 kilo)
2014 MSRP: $7899 ($8199 with two-tone paint)
Specifications: Bonneville T100
(Same as standard Bonneville, except)
Instruments: Analog tachometer and speedometer with odometer and trip information
Seat height: 30.5 inches
Wheels: 19x2.5 inch laced front, 17x3.5 inch laced rear (chromed steel rims)
Tires: Metzeler ME-33 front, Metzler Lazertec rear
2014 MSRP: $9199 (T100 Black $8899; T100 SE $9799)
Specifications: Scrambler
(Same as standard Bonneville, except)
Engine design: 270 degree firing order to bring torque band to lower rpm
Horsepower: 59 bhp at 6800 rpm
Torque: 50 ft. lbs. at 4750 rpm
Exhaust: High mounted dual exhausts, right side
Seat Height: 32.5 inches
Wheels: 19x2.5 inch laced front, 17x3.5 inch laced rear (chromed steel rims)
Tires: Dual purpose type
Wet Weight: 507 pounds (230 kilo)
2014 MSRP: $9099
Specifications: Thruxton
(same as standard Bonneville, except)
Horsepower: 69 bhp @ 7400 rpm
Torque: 51 ft. lbs at 5800 rpm
Instruments: Analog tachometer and speedometer with odometer and trip information
Seat Height: 32.3 inches
Brakes: Single 320mm front disc with two piston caliper, single 255mm rear disc with two piston caliper
Wheels: 18x2.5 inch laced front w/aluminum rim, 17x3.5 inch laced rear w/aluminum rim
Tires: Metzeler ME-33 front, Metzler Lazertec rear
Wet Weight: 507 pounds (230 kilo)
2014 MSRP: $9099
Much attention was paid to provide both sprightly handling around town and good high speed stability. The Triumph Classic family motorcycles average around 500 pounds wet weight, heavier than a modern sport bike by at least 50 pounds and a classic 650 Bonnie by about 100 pounds, but significantly lighter than any modern bike with touring pretensions.
When first introduced, the new Bonneville engine displaced 790cc. This was bored-out in the mid-2000s to create the current 865cc mill.
EFI was added in 2008 for better drivability, economy and emissions control. Triumph was clever, because when EFI was added, the throttle bodies were disguised to look like the former constant velocity carburetors, which in turn adds to the illusion of the compact DOHC cylinder head, itself styled to mimic the rounded cam boxes of the old OHV motor. The use of an idler gear shortens the chain run that turns the cams, thus making the cam cover more streamlined.
All of the Bonnie derivatives have a tubular, steel cradle frame with double front down tubes and a twin-sided, tubular steel swingarm. In addition, the engine's cylinder head casting has a boss that accepts a steel cross brace that ties the top of the engine into the frame for greater chassis rigidity.
The traditional teardrop gas tank holds a useful 4.2 gallons, but I wish Triumph would dispense with the (Japanese style) perimeter-welded flanges around the lower edge that spoils the teardrop shape. The claimed mileage is 43 city and 57 highway, except for the Scrambler, which claims 46 mpg city and 60 mpg highway.
All Bonneville models are supplied with pleated rubber fork gaiters, as were Triumphs in the 1950s and 1960s. These are more commonly found on dirt bikes these days. They are intended to protect the stanchion tubes from dirt and stone impacts, thus preserving the integrity of the fork seals.
The paint finish is very good, smooth with little or no orange peel. Contrasting colors are painted and separated by hand-painted striping. There are no decals, save the model designation on side panels.
Engine cases are finished in flat black, satin polished and clear-coated aluminum, or chromed. Frames are powder coated for durability and rust protection. Foot pegs are broad, for greater comfort, while handlebars are 7/8 inch (22mm) diameter, rather than the one inch diameter found on most American motorcycles.
Triumph motorcycles come standard with several deluxe features. All steel fuel tanks are painted inside, to help protect against rust. All brake lines are DOT-approved, braided stainless steel and Teflon-lined for better feel and durability. Drive chains are of the long life, X-ring type for better retention of factory installed grease lubricant, although periodic chain maintenance is still necessary. Spoked wheel rims are either polished aluminum or chromed steel with stainless steel spokes for lasting appearance. The large headlight is equipped with a halogen bulb. There is a frame mounted fork lock.
All four of the Triumph Classic standard saddles allow me to sit with both feet flat on the ground when stopped. (FYI, I wear a 32 inch inseam.) Some of the seats, depending on the specific bike model, have period-correct vinyl beading around the top edge of the seat, which can dig into your inner thighs if you are shorter of leg while riding. All of the supplied seats could be improved by the use of dual density foam with a softer top pad.
The T100, Thruxton and Scrambler lack a center stand. However, a center stand is available as an accessory. This is a sad omission, as a center stand greatly eases chain maintenance, rear wheel alignment and removal during tire or brake pad replacement. A center stand can also be convenient for cleaning and fuel filling. I wish the company fitted them standard, as all bikes were until the late 1980s.
The turn signals, unfortunately, are the old-fashioned manual on and manual off type. Forgetting to switch a turn signal off (a common mistake) can be very dangerous in traffic, encouraging drivers who expect you to turn to pull out in front of you. Cars pulling in front of motorcycles is the number one cause of accidents on the street.
Braking is provided by single discs front and back with Nissin two piston floating calibers, a basic set-up by modern standards. No double front disc upgrade is available. Double discs and four piston calipers in front would be greatly appreciated on a 500 pound (680 pound with an average size rider onboard), 120 mph motorcycle and should be standard equipment on the deluxe T100 and Thruxton models.
An ABS braking system is not offered. ABS is not absolutely crucial for very experienced riders, but it is a valuable safety feature. This is especially true for less experienced riders, who tend to over-brake the rear wheel and lose control in a panic stop.
Vacuum fuel valves get gas from the tank to the injectors, so there are no manual gas taps to turn on and off, nor is there a reserve setting. Also absent is a fuel gauge. This is a minor inconvenience, but those of us who have grown accustomed to motorcycles with this simple feature will miss it. What you get is a low fuel warning light. When it comes on you probably have somewhere around 40 miles to find a gas station before you run completely out of gas. At the officially estimated 43 miles per gallon for urban riding you should have about 172 miles between a full tank and empty.
Minor issues include the lack of a helmet lock, which is inconvenient. Not even a rudimentary tool kit is provided, just an Allen wrench for removing the seat.
The basic Bonneville is the least expensive of the Classics. It has cast alloy wheels with tubeless tires and the front wheel is reduced in diameter to 17 inches. This is to make the bike more accessible to riders shorter of leg, as the bike's stock seat height is about 1.37 inches lower than the T100. The mufflers are reverse cone megaphones. A speedometer/odometer with idiot lights is the only instrumentation. A replacement tach/speedo kit is available as an accessory, but every motorcycle should come with a tachometer as standard equipment.
The upscale Bonneville T100 comes in two versions, the T100 Black with black tank, wheel rims, handlebars and engine cases (but standard chrome shocks and exhaust) and a deluxe two-tone paint version with chrome engine case accents and hand pin striping that recaptures the late 1960s classic look. All T100 models have a tachometer, so riders can monitor engine revolutions as well as road speed and mileage. T100s also have Peashooter mufflers that emulate the 1960s style silencers, along with chrome plated steel, wire-spoked wheels.
I prefer the appearance of the Bonneville T100, as it simply looks more period-correct with its spoked wheels, two-tone paint with chrome engine covers, front fender struts and Peashooter exhausts. It and the other Classic line bikes (except the base Bonneville) are fitted with a tachometer.
The Scrambler ("scrambler" is the 1960s term for what are sold today as "dual sport" motorcycles) is basically a street bike that allows increased unimproved dirt and gravel road capability, much like the Triumph scramblers built in the 1960s. It comes with dual sport tires and an aluminum skid plate to protect the bottom of the crankcase against impacts on rocks or other obstructions and high, right side mounted dual exhaust pipes with heat shields. The motor is de-tuned to 59 HP for a broader power band. An accessory chrome headlight grille is available.
It has the highest seat height (32.5 inches) in the Classic line, to go along with its greater static ground clearance. Higher foot pegs retain a similar comfort level to the standard Bonneville.
The Scrambler is the bike for those who wish to do some off pavement riding, meaning the occasional gravel or dirt road excursion, perhaps with some camping gear bungeed onto the pillion seat or to the rack of the available single seat and luggage rack combo. I have seen versions in the past painted flat military Olive Drab, looking like the desert sleds of the 1950s and 1960s.
It looks like it would be a pretty willing partner in crime, to briefly get away from it all and is certainly far more attractive than the modern style of dual sport bikes. It might also be a good choice for motorcycle adventures in third world countries.
The Thruxton recalls the origin of cafe racing. It is a very attractive rendition of a bike that would have been pride of place at the London Ace Cafe after a run up to the ton (100 mph). The removable solo seat cowl cover, raised Norton Commando style reverse cone megaphones, rear-set foot pegs and racing stripes all add to the drama. Triumph offers a small matching fly screen wind deflector that fits over the instruments above the headlights for those hug-the-tank, top speed runs.
The bike's Clubman style handlebar sits on standard bolt-on risers off the upper triple tree. It looks something like a flat standard handlebar turned upside down to lower the arm and wrist position to just above the top of the fuel tank, for less wind resistance at high speed (and less comfort at low speed). If the riding position is too low, it would be easy to fit bars that would raise your torso and keep more weight off your palms and wrists, as well as un-kink your neck.
Test Ride Impressions
I was able to borrow a pearl-white, standard Bonneville test motorcycle from Cycle Parts Triumph of Eugene, Oregon for this review. It was totally stock, including the 17 inch, seven spoke cast wheels and a speedometer/odometer (with trip function) for instrumentation. The engine was painted in a semi-flat black.
The handlebars have approximately five inches of rise. The foot pegs position your feet with your shins nearly perpendicular to the ground, a position many find natural, but that puts the weight on one's backside. I have long preferred foot pegs that are mounted to put the knees bent slightly back, which can help take some weight off one's sit bones and delay the onset of butt burn.
The seat of the base model Bonneville is slightly dished for the rider and has very rounded sides. It is firm and thinly padded. This, along with the smaller diameter tires, means that beginners or shorter-legged riders can ride it with confidence.
Starting a cold motor is straightforward. One thing that was sort of confusing at first, but endearing once found, was the location of the ignition switch, located on the left headlight mounting ear. This is in the same place that Bonnevilles had them back in the 1960s.
Switch on, pull the fast idle knob on the left throttle body out both clicks, clutch in, push the starter button. The engine fired immediately and within 30 seconds had settled into a smooth idle on a 77-degree day with the fast idle pushed all the way in. Ah, the niceties of properly sorted modern fuel injection, compared to dinking around with carburetors.
At idle, the bike has what I'd call power pulses, rather than vibration. They are there, but not bothersome. The counterbalance shafts produce the same sensation all the way up the rev band. With the slick shifting transmission and our low 30-35mph speed limits in Eugene, the bike was happily plonking around in third and fourth gears.
Clutching and shifting were very light and smooth, while braking required what I'd consider medium effort against a firm two-finger lever pull. The braided stainless steel brake lines no doubt improved the feel at the lever.
Both the clutch and brake levers have eccentric adjusters to allow the rider to adjust the reach from the bar, to accommodate different finger lengths. I left them alone, as they were fine.
To give you an idea of the power delivery, I shifted into the fourth of five gears at 28 mph and rolled the throttle on. There was no hesitation or lurch in the torque delivery, it just pulled smoothly and authoritatively, pretty as you please. It seems that the EFI mapping is spot-on, again making this a very user friendly bike for beginners and re-treads alike. There is just a touch of abruptness right off idle, eerily similar to that of early CV carbs.
Those 17 inch wheels lower the bike's CG and steering effort. It felt like a cardboard cutout of a motorcycle, as the steering is very quick and light. I was immediately able to perform nearly full lock turns in an empty parking lot. They also lower the whole bike, so the side and center stands are shorter than those for the T100, Thruxton, or Scrambler.
The bike still has ample ground and cornering clearance, as the header pipes tightly hug the frame, leaving only the folding foot peg's replaceable feelers to drag if one is really pushing hard.
I found that the bike rode rather firmly, even with the rear shock preload (the only adjustment available) set to full soft. For rides longer than about fifty miles, a more softly padded seat, or one with more foam, would be in order. The hard, thin seat is adequate for shorter rides and makes paddling around a parking lot child's play.
Accessories
Perhaps most important from the standpoint of rider comfort are the accessory seats. Triumph offers a number of alternatives, including single and double foam seats, single and double gel seats, plus a thickly padded King and Queen touring seat that slightly elevates the passenger. There are high and low passenger back rests (sissy bars) to match the various double seats.
To help break the wind there are a headlight bikini fairing, sports screens, summer windshields and long haul windshields. The windshields include several fixed and quick detachable models, both tall (16.1 inch) and short (10 inch).
There are Arrow two-into-one and two-into-two exhaust systems available for the Bonneville, T100 and Thruxton. One can also fit "off-road only" accessory mufflers in Peashooter and reverse megaphone styles, which allow the bike to make that classic vertical twin sound without necessarily waking the dead, if one is circumspect with the throttle. Only a minor software change to the EFI is required to make the bike run correctly with any of these. Normally I am not one for egregious noise production, but the stock pipes do not have any kind of music to my ears.
Miscellaneous factory accessories available for the various Classic models include, among others, a center stand, engine dresser bars (crash bars), skid plates, lockable and billet fuel filler caps, chrome grab rail, several rear view mirror options, chrome brake master cylinder cover, chrome cam cover, chrome lifter arm cover, passenger backrests (sissy bars), luggage racks, leather saddlebags, tank bag, auxiliary power socket, heated grip kit, accessory bike locks and an alarm immobilizer.
Conclusion
The Triumph Classics are easy to ride, very well finished and engineered. Paintwork and chrome are deep and lustrous, while the minor bits appear to be of high quality. They are attention getters and, well, classy.
While $7900 to $9800 (base price) is not exactly cheap for a motorcycle and requires a commitment from prospective owners, in a day of $6,000 300cc and $13,000 600cc sport bikes that seem good only for track days at Portland International Raceway or Willow Springs, the Classics are a good buy.
They tend to have a relatively high resale value, because they are classics and not prone to rapid style changes. They are protected by a comprehensive two year, unlimited mileage warranty. Like standard motorcycles in general and the Triumph 650s of yesteryear in particular, the modern Triumph Classics are well-rounded for nearly any task you can ask of them.