2014 Triumph Thunderbird Cruiser
By David Tong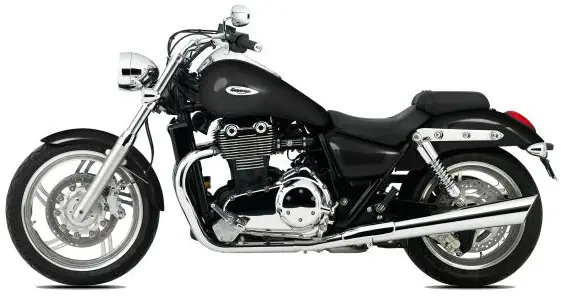 Photo courtesy of Triumph, USA.
I will state from the outset that I am not a cruiser guy. Having spent most of my riding days on liter class sport tourers or sport bikes, I always have considered them the epitome of function over form, whereas the cruiser flops that on its head.
Enter the Thunderbird. While the name gives a nod to the 650cc Twin that debuted in the early 1950s, it shares nothing in common with that machine or the classic Hinckley triple that bore the name in the 1990s. (See "The 1999 Triumph Thunderbird Sport" on Motorcycles and Riding Online for a full review of that motorcycle.)
The 2014 Thunderbird is a large displacement cruiser, Triumph style. Eschewing the class standard of an under-square (meaning longer stroke than cylinder bore diameter) V-twin engine, the company designed an all new, over-square, unit construction, vertical twin displacing 1,600 cc (97 cu. in.).
As befitting a modern (EPA driven) engine, it is liquid cooled. Sporting double overhead cams and four valves per cylinder, stated power and torque is 100 bhp and 108 ft. lbs. These are heady numbers for the class. Especially since they are achieved bone-stock with quiet exhausts.
It has a huge, class leading fuel tank capacity of 5.8 gallons. Nor has fuel mileage been ignored. Stated mileage is 39 city and 57 highway. That means a highway trip will easily exceed two hundred miles before having to replenish the dead dinosaurs.
Specifications
Engine: Unit construction, liquid-cooled, DOHC, 4 valves/cylinder Vertical Twin, 1,597cc with dual balancer shafts
Bore: 4.09 inches
Stroke: 3.71 inches
Horsepower: 92 bhp at 5,200 rpm
Torque: 108 ft. lbs. at 2,750 rpm
Transmission: Six-speed with overdrive sixth; wet multi-plate clutch
Fuel capacity: 5.8 gallons
Fuel Mileage (U.S.): 38 City, 56 Highway
Final Drive: Belt
Front suspension: Telescopic fork, 47mm diameter with preload adjustment, 4.7 inches travel
Rear suspension: Dual preload adjustable shocks, 3.7 inches travel
Front wheel/tire: 3.5 inch rim width, 120/70X R19
Rear wheel/tire: 6 inch rim width, 200/50X R17
Front brakes: Dual 310mm floating discs with four piston calipers and standard ABS
Rear brake: Single 310mm disc with two piston caliper and standard ABS
Instrumentation: Speedometer, tachometer, fuel gauge, clock and dual tripmeters on tank mounted single dial
Wet Weight: 747 pounds (339 kilo)
MSRP: $13,499 in single color, $13,799 with two-tone paint
The Ride
Frankly, I was not expecting much of a cruiser, even a Triumph. Having previously sampled this type of bike from all four Japanese makers, the German maker, as well as the major American maker, I have uniformly found them lacking in suspension compliance, cornering clearance and ergonomics with torque rich, but limited horsepower motors.
I was able to ride the Thunderbird on a mixed environment of city streets in heavy traffic, as well as a stint on our local freeways, to give a reasonably accurate overall impression of its capabilities. I found a comfortably firm and flat seat that gives good support and lets the rider move around. The low 27 inch seat height surely helped mounting and dismounting the bike.
The lowish and wide handlebar made steering very light. Steering inputs were linear and this was a surprise, considering the width of that rear tire. The chassis stiffness born of a substantial steel tube frame and cast steering head created good steering accuracy and feel.
After having ridden several of the Japanese performance cruisers, I noted the odd turn-in feel when increasing my lean angle and wrote it off, considering the style-driven fat rear tire. The Triumph was matter of fact in its competent demeanor and allowed me to gently explore its handling and banking without much concern about peg clearance.
Of course, the motor is what makes, or breaks, a motorcycle. The Thunderbird differentiates itself both functionally and stylistically from the V-twin herd by incorporating one of the biggest vertical twin engines ever made. With a (Harley-esque) 270-degree firing order to enhance the exhaust note and (Harley-esque) belt final drive, it lacks nothing as a bone stock, EPA legal cruiser.
It simply GOES when you twist the wick and you had best be hanging on when you do. It has an amusing lunge in any gear, at any speed, reminding me of a two-wheeled hot rod. The staccato music coming from those lengthy mufflers sounded great, too. I would not change them out, because they will not fatigue you when cruising for long distances on the highway.
The six-speed gearbox is a willing partner during your ride. It shifts smoothly and quietly, while its ratios are nicely spaced. I noticed that third felt like a good upshift point at 30mph, fourth at 40 and so on. There were no issues finding neutral at a stop or missing gears due to false neutrals. The wet clutch had both light lever feel and a broad engagement band. It did not seem to matter whether I shifted slowly or quickly during acceleration or deceleration.
Suspension compliance and damping were mostly appropriate for the occasionally broken pavement quality of our local Oregon roads. I found the front forks stock preload setting good, while the rear suspension was only adequate, as it lacked sufficient travel to smother the larger, sharp-edged bumps.
Braking was very good with relatively light lever pressure, front and rear. The standard ABS system can be of great benefit during emergency situations and the wide radial rubber is reassuring.
In discussing any motorcycle, especially a cruiser, one cannot escape a discussion about appearance. The Thunderbird is not another cookie-cutter, V-twin wannabe. However, its lustrous paint, polished and clear-coated cast aluminum alloy wheels, chrome brightwork and long/low profile presents a stylish image. If I could pick only one nit, it would be the width of the gas tank, although it does seem in perspective with the large motor lurking immediately below. If you averaged a combined 47 MPG cruising, the 5.8 gallon tank offers a theoretical range of 272 miles!
Conclusion
Having sampled one each of the Triumph line of Adventure, Classic, Cruiser and Touring motorcycles, I can see and feel the similarity in engineering and execution. All of them steer, handle, brake and ride in a studied fashion, consistent and linear in their response to inputs. All are finished to a high standard and are competitively priced. Most important, they have all been fun to ride.
I was pleasantly surprised to find that the Triumph Thunderbird cruiser is worthy of consideration, particularly if function means more to you than simply following the herd. It is a compelling and uniquely capable member of the genre.
Many thanks to Rod Johnson, owner of Cycle Parts Triumph Motorcycles of Eugene, Oregon for providing the test Thunderbird for this review. A good dealer is essential to any happy motorcycle ownership experience.