2014 Triumph America and Speedmaster Cruisers
By David Tong
As the name implies, the America is Triumph's take on a cruiser designed for the US market. To quote Triumph, USA (www.triumphmotorcycles.com): "Pure cruiser with a British twist. With its eye-catching chromed and polished instruments, headlight bowl, shrouded front forks, twin rear shocks and engine covers. From the moment you see the America, and every second you ride, it feels every bit as authentic as it looks."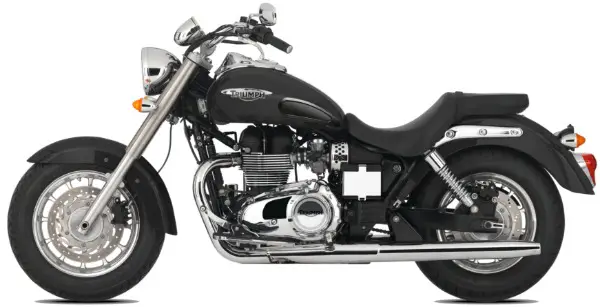 Triumph America in black paint. Photo courtesy of Triumph, USA.
The Speedmaster is a "dark" version of the America with cosmetic changes (bars, wheels, fenders, un-shrouded forks, mufflers), as popularized by Harley-Davidson in the last decade and emulated by almost all other manufacturers. Here is what Triumph, USA has to say about the Speedmaster: "Long, low, blacked out and mean, the Speedmaster echoes the hot-rod cruiser theme, but adds a very British spin with some classic Triumph parallel twin power. Built to be an engaging entry level bike that's also ideal for riders moving to their first big bike the Speedmaster has the zest and handling to keep experienced riders happy, too." Basically, the America is the shiny/chromed cruiser and the Speedmaster is the dark/blacked-out version.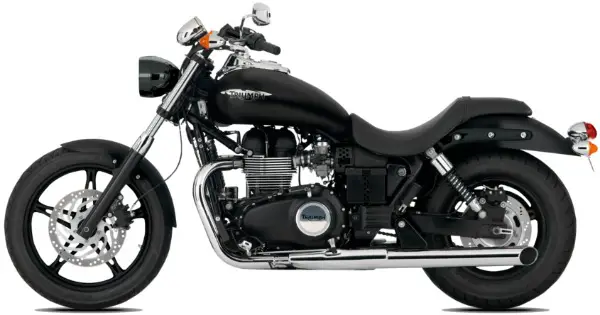 Triumph Speedmaster in black paint. Photo courtesy of Triumph, USA.
The America and Speedmaster share their power train with the Bonneville. An air-cooled, 865cc vertical Twin provides the motive power, but it is retuned by using 270-degree timing, versus the 360-degree timing of the Bonnie. This provides better low-end and mid-range torque at a loss of about seven peak horsepower and an exhaust note that is more akin to a 45-degree Harley V-twin.
(The traditional British 360-degree timing sacrifices primary balance, but avoids rocking couple, while the typical Japanese 180-degree timing gives perfect primary balance at the cost of rocking couple. Timing a parallel twin at 270-degrees produces the worst of both worlds, primary imbalance and a rocking couple. -Editor.)
As per usual cruiser-spec, the Triumph cruisers are equipped with a dropped seat frame, as well as a shorter fork and rear shocks. This makes the bikes very easy to swing a leg over. The handlebars are mounted on risers over the triple tree, the America handle bar being chrome, while the Speedmaster bar is flatter in shape and black. The foot controls are forward-mounted.
The America's engine cases are finished in flat black with chromed covers, while the Speedmaster's cases are all black. The American comes with floorboards, instead of the Speedmaster's conventional foot pegs, for the rider. The handlebars are 7/8 inch (22mm) diameter, rather than the one inch diameter found on most American motorcycles.
Triumph motorcycles come standard with some deluxe features. The black, double downtube frame is powder coated for durability and rust protection. The all steel fuel tank is painted inside, to help protect against rust. All brake lines are DOT-approved. Final drive chains are of the long life, X-ring type for better retention of factory installed grease, although periodic chain maintenance is still necessary. The headlight is equipped with a halogen bulb. There is a frame mounted fork lock.
The parallel twin motor means the easiest placement of the exhausts is to use one lengthy silencer on each side of the bike. Stock, the big mufflers are quiet and unobtrusive, but with a somewhat better tone than the Bonneville.
Minor issues include the lack of a helmet lock, which is inconvenient. Not even a rudimentary tool kit is provided.
America Specifications (Speedmaster in parenthesis where applicable)
Engine: Air cooled, 865cc vertical twin, DOHC with 4 valves/cylinder; 90mm bore, 68mm stroke
Horsepower: 60 bhp @ 5,800 rpm
Torque: 53 ft. lbs. @ 3,300 rpm
Fuel capacity: 5.1 gallons
Fuel delivery: Multi-port fuel injection, internal tank mounted fuel pump
Transmission: Five-speed
Final Drive: Chain
Fuel Mileage: 48 mpg city, 55.5 mpg highway at 75 mph
Frame: Double downtube, tubular steel
Front Suspension: Non-adjustable conventional Kayaba fork
Rear Suspension: Box section swing arm with preload adjustable Showa twin shocks
Front wheel: 16 inch laced (19 inch cast alu.)
Front tire: 130/90x16 (100-90x19)
Rear wheel: 15 inch laced (15 inch cast alu.)
Rear tire: 170/80x15 (170-80 B15)
Brakes: Single disc front and rear with two-piston calipers
Seat height: 27.1 inches
Wet weight: 551 lbs. / 250 kilo
2014 MSRP: Starting at $8,299
The Ride
I was able to take an America for about a thirty-five mile test ride in a mix of heavy urban traffic, freeway and two-lane backroads. While at first blush the deep bucket seat, forward controls and high/wide handlebar did not strike me as positives, when it comes to actually controlling the motorcycle at speed it seems purpose built to provide shorter riders a nice place to learn how to ride. The rider triangle is fairly close-coupled and the center of gravity is acceptably low, given the big gas tank that holds a class-leading five gallons of fuel and the tall, DOHC vertical engine.
The low saddle height allowed me to sit with both feet flat on the ground when stopped. (I wear a 32 inch inseam.) Of all things, the seat was unexpectedly comfortable. Usually, I am not in favor of buckets that place you in one location, but this seat seemed reasonably soft and supportive for a solo rider. For two-up riding, I think some kind of touring specific seat is needed for the passenger. The low exhausts mean that fitting saddlebags is a breeze.
The America steers easily and has pretty good punch up to about 75 mph. This suggests the tuning the Company did to enhance low to midrange power was effective. However, I did miss the Bonnie's extra seven ponies, particularly since the stock America is around 50 pounds heavier than a stock Bonneville.
Steering was typical Triumph, linear feeling and accurate. Keeping it banked over in the corners required light steering effort and the bike remained at whatever lean angle I wanted, without requiring additional inputs.
Cornering clearance at the foot pegs is good for this type of bike. I found the forks had decent spring rates and damping, but just as I found on the Triumph Thunderbird, the short rear shocks have stiff springs to compensate for reduced travel. The suspension was fine on smooth pavement, but could use help when things get bumpy.
Braking required only light effort. The binders were adequate, but not particularly powerful, although they did allow even modulation. They hauled the bike down from 55 mph to a full stop several times during my test ride without issue, nice and smooth. ABS is not available in 2014.
Smooth would also be a good way to describe the five speed gearbox. Light in action and quiet shifting, it did not intrude on my consciousness. It just worked, the mark of good equipment.
The instrumentation minimal. The America comes with a speedometer, odometer/trip mileage counter and a few idiot lights. The latter include a low fuel warning light. There is no tachometer, which should be standard equipment on all motorcycles, although often overlooked on cruisers. Triumph does offer an accessory tachometer kit.
There is also no gas gauge, so you will have to keep track of your mileage using the trip counter and estimate fuel consumption. When the low fuel warning light comes on, you probably have somewhere around 40 miles to find a gas station before running out of gas.
The turn signals are the old-fashioned manual on and manual off type. Forgetting to switch a turn signal off can be very dangerous in traffic, encouraging drivers who expect you to turn to pull out in front of you.
The test bike was equipped with one of Triumph's quick-detachable windscreens, approximately 14 inches high. This is enough to take the wind blast off one's chest, yet allow the rider to see over the windshield. It mounts and detaches in seconds.
In addition, the bike wore a set of the Triumph accessory "off road" (not street legal) mufflers, installed along with a slight re-map of the electronic fuel injection to compensate for the reduced back-pressure. These improve the sound and slightly increase power. Fueling was clean at all speeds with the slight exception of right off idle, where it shared the same bit of abruptness as the Bonneville. There was no backfiring when decelerating with a closed throttle.
Conclusion
The Triumph America and Speedmaster are urban bikes that are also quite capable on twisty roads or highway trips. Their handy size and weight are a great asset to folks who want an alternative to similar displacement V-twin bikes that are the popular choice in the cruiser world.
Having a relatively short wheelbase for this class of bike, the America felt playful. Either of these cruisers would make an excellent motorcycle for anyone graduating from a 250cc or 500cc beginners' bike. The choice between the America and Speedmaster comes down to whether you like the chromed or dark look.
Many thanks to Rod Johnson, owner of Cycle Parts Triumph Motorcycles of Eugene, Oregon for providing the test America for this review. A good dealer is essential to any happy motorcycle ownership experience.