2011 Triumph Sprint GT: The Gentlemans' Express
By David Tong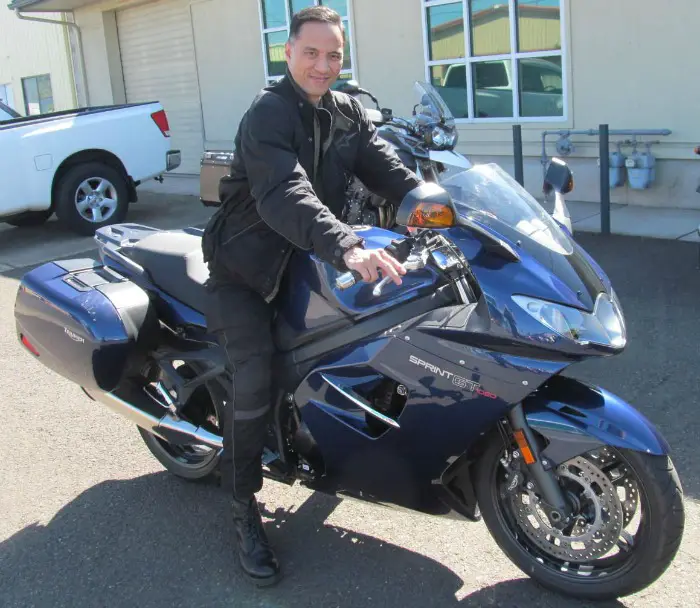 The author on the Triumph Sprint GT test bike.
As regular readers of my motorcycle musings know, I have a soft spot for the sheer practicality of the sport tourer. Not as comfortable as a full dresser, as speedy as a race replica, or good for showing off as a chrome-encrusted cruiser. However, they are so wide-spectrum versatile! From grocery getter, to interstate devourer, to mountain king, a good sport tourer can function in more diverse uses, well, than any other bike I know of.
I have lived a good many miles on the back of a BMW, well over 100,000, and inherently believed that they offered the best technical solution to this type of bike. After all, it was they who invented the class, mirroring their sporty four-wheeled brethren. They have taken me to British Columbia twice, Colorado, Utah, Nevada, Arizona, all over California and the Pacific Northwest.
Mostly, the bikes have been good traveling companions. They are easy to maintain and service in one's garage as long, as you have some mechanical sympathy, durable, and mostly reliable. If taken care of, they are easily capable of 200,000 miles before major mechanical maladies rear their ugly (and expensive) head.
Yet they have become more and more complex, mostly in electronic features. This too reflects their automotive sensibilities and the well-heeled clientele who can afford them. Also, they have become pretty strange looking, though pushing the aesthetic has really been there for decades. It is just that while all bike manufacturers producing a ST use aerodynamics and air management for cooling, extracting engine heat to isolate the rider from it, for wind and weather protection and so forth, the layered and sometimes ungainly shapes take away a lot from the notion of Bauhausian Form following Function, at least to me.
It is as if the minimalism of the Bauhaus school has been replaced, seemingly, by BMW's Head of Design Chris Bangle's complex surfacing scheme, so outr'e that it has been toned way back over the past two generations of their cars. Still, their technical excellence has always brought me back to the Bavarian marque, until now.
Triumph Motorcycles of Hinckley, England, has become a player in the mid to high end motorcycle market, by offering classics, cruisers, Adventure bikes and sport tourers of retro and forward looking styling. One example of the latter is the subject of this article, the Sprint GT.
A bike only offered in the U.S. for one model year, even though it is sold worldwide to this day, the Sprint GT was developed to answer criticisms of the previous Sprint ST, which was really little more than a sport bike with hard bags. Sporty, definitely, but comfortable, not. Bars were too low, pegs were too high, seat was too hard; passengers need not apply.
The GT takes its moniker from the Italian automotive term Gran Turismo. To me, this means that it is a machine that is comfortable for all day travel at highly elevated average speeds, but it is a tall order engineering wise.
It is indeed difficult to build a medium weight bike that is quick, fast and handles like a sport bike, but offers the all day comfort and convenience of a touring bike, plus a large fuel tank for extended range. Witness the now 12 year old Honda ST1300, or their newer VFR1200, as two examples of bikes selling in the upper teens, dollar wise, with wet weights of 725 and 650 pounds, respectively.
Triumph has had no small amount of success in developing and successfully marketing their three-cylinder engines in various displacements. The GT has a 1,050cc engine of over-square design. An effective engine management system governs fuel delivery, mixture, emissions control, with quick warm up times and a linear power delivery.
Specifications
Engine: DOHC inline three cylinder, 4 valves per cylinder
Power: 128 bhp, approx. 80 ft. lbs. torque
Final drive: Chain
Chassis: Extruded and welded aluminum beam
Suspension: Showa 43mm cartridge fork with 5 inches travel, preload adjustment only
Rear Suspension: Single sided swingarm; single shock absorber with preload and rebound adjustments with 6 inches travel
Brakes: Front dual 4 piston Nissin calipers with floating 320mm rotors; rear 2 piston Nissin caliper with 255mm solid mounted rotor. ABS is standard equipment.
Wheelbase: 60 inches
Seat height: 32.1 inches
Wet weight: 587 pounds
Tank capacity: 5.3 gallons
Warranty: Two years, unlimited mileage
2011 MSRP: $13,199.
As you may be able to glean from that Harley-esque wheelbase, this is not a bike for tight technical roads, being far better suited for long, high speed sweepers. Its aerodynamic shape offers little resistance to the wind, which has several benefits worth discussing.
A clean shape with minimal frontal area means that there is the potential for higher average speeds with better fuel economy and emissions. The fairing also features large heat extraction vents to move air from passing through the radiator and around the rider's legs and also lessens drag. The nearly horizontal terminus of the windshield doesn't give great protection, but minimizes helmet turbulence by extending the laminar flow without buffeting or backdraft. A taller Euro-spec windshield is available.
Ergonomics are humane for day long comfort, though you will never mistake it for a huge touring rig. I liken it to a Honda VFR 750, a bit more leaned forward, but the wind pressure makes it comfortable on one's wrists and neck. Seat is firm and relatively flat, so one can move around a bit fore and aft to change pressure points on one's backside. The tall seat height means that the foot pegs can be placed somewhat high for ground clearance and lean angle, yet provide enough leg room without the acute knee bend of a race bike.
Niceties are present. Both saddlebags are watertight, lock and can be removed with the ignition key. That key also unlocks a right fairing pocket for your sunglasses and spare gloves. A power outlet on the left fairing lower offers a place for you to plug-in your electric heated vest for cold days. Highly polished and milled aluminum plates keep your boots from catching the drive chain. The 5.3 gallon tank is rounded all over, with significant slimming for knee placement out of the wind blast. Two H3 low beams and one center-mounted H1 Cyclops high beam brighten the night. There are both side and center stands to ease parking and loading the luggage, as well as making chain lubrication and adjustment easier on the road.
Those saddlebags are far more commodious than any removable BMW luggage I've yet sampled. They are claimed to swallow a size XL full faced helmet with room to spare and indeed, my size M barely protruded into the hinge line of the outer bag lid. They are easy to mount and remove in seconds.
A large, heavy duty, plastic luggage rack with aluminum mounting arms is also standard and accepts the optional travel trunk with backrest for a passenger. The bike's wiring loom under the seat seamlessly connects the trunk's lighting connector.
The rear wheel is retained by a large nut and quick release pin. The rear chain sprocket and brake disc remain in situ while the wheel and tire are removed. Another thoughtful touch is the fitment of 90-degree angled valve stems facing starboard, so when the bike is on its side stand, as it would usually be at a gas station, it is easy to check air pressure even with the big brake discs eating up the inner wheel circumference.
The Ride
While the bike is fairly tall with a 32 inch seat height, the CG feels fairly low, making it easy to paddle around in a parking lot, or maneuvering on city streets. Springing and damping are sublime, both plush yet well-controlled at low and high speeds.
Clutching and shifting are light, accurate and polished. Braking up front is on the heavier side, but lever feel is firm, due to the Company's use of braided stainless over Teflon brake lines that minimize pressure swelling and may be more resistant to UV damage over time. Thankfully, the ABS brakes are not linked.
The seat is both firm and flat, yet comfortable. On long rides I have always preferred a flat seat that allows me to move around, relieving pressure points and makes a long ride more bearable. It has a very narrow front profile allowing easy paddling and feet flat with some knee bend, which is just perfect by my standards. Sliding back, there is good support for the old gluteus maximus and it complements the suspension well.
Steering effort is somewhat heavy, but nothing unusual for a bike of this size and weight. It is dead stable at any speed to which you care to take it. Again, linearity is the best way to describe the steering feel and response. It doesn't require constant counter steering once leaned over, nor does it drop into turns. The 120/70X17 front and 180/55X17 rear radial tires have very good profiles that help this happen.
The mirrors are well placed and have integrated turn signals. They are also very clear and vibration free at all speeds I was able to attain on my test ride. Not a bad feature for any bike, but especially important for one with such speed potential, if you get my drift.
Now, about that speed potential: this motor is astonishing. Roughly the same displacement and power output as my 2000 Yamaha R1 super sport bike, with a similar deep well of torque right off idle, it is just as linear in its power delivery, revs to 10,000 RPM and due to the counter-balancers and 120 degree crank throws, is smoother than the four cylinder R1. A fully computerized engine management system seamlessly provides both Superbike levels of power, as well as making shifting nearly optional in most gears and RPMs.
As a test, I let the revs drop to 1,200 in third and rolled the throttle on. The bike pulled away cleanly, if a bit slowly, until it hit about 2,300 RPM and then it took off. With six gears and fairly tall overall gearing, it turns 3,200 revs at 60 MPH, taller than my old 1989 BMW K100RS but with 50% more power for flexibility.
It is not absolutely vibration free, but what little pulsing it has just serves as a reminder that revs are building and the scenery is blurring. I do not think it interferes with all day comfort in the slightest, but adds just a bit of character to the delivery.
Rod Johnson, the owner of the Triumph shop here in Eugene, Oregon, said that on a recent 160 mile ride to another city, the digital average fuel economy readout indicated that he was getting 59 miles per gallon. I thought that this figure was hopelessly optimistic, but when I rode the bike on local freeways at 62 MPH, the readout said I was achieving 63 MPG.
I have never owned any motorcycle capable of that mileage figure, let alone one with 128 HP and weighing close to 600 pounds. The closest I have come to that is with a 1978 Yamaha SR500 single cylinder and that bike probably did no better than 53 MPG, back when gasoline had no ethanol in it to cut down the BTUs. I know that this represents a quantum leap in terms of fuel economy, making the 5.3 gallon fuel tank acceptable for touring, if one restrains one's right wrist.
This bike is truly a Gentleman's (or Gentlewoman's, for that matter) Express. Named after British Express trains of the late 19th and early 20th Centuries that offered both comfort and speed, it is so appropriate to this Anglophile that this lovely British bike seems to cover all my mental bases. It's even enough for me to accept dealing with a drive chain, something I thought I would never cotton to. I cannot think of a better machine to grow old with; put a fork in me, I'm done.
Many thanks to Rod Johnson of Cycle Parts Triumph Motorcycles of Eugene, Oregon for providing me a lovely way to spend my (lack of) money. More's the pity that there are only a precious few to be had.