Darryl Reed's Box Turkey Call Kits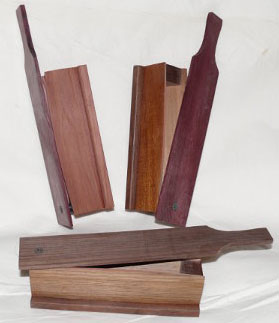 Assembled Kits
There are a lot of good commercial turkey calls on the market ranging in price from $10 to $50. Among them are Gaskins, Knight & Hale, Lynch, M.A.D., Preston-Pittman, Primos and Quaker Boy. There are also an almost endless variety of excellent custom calls, such as the D&D we previously reviewed. Every turkey hunter that I have run into over the years has accumulated quite a collection of calls, hoping to find that one magic call that works under all conditions all the time. Sadly, that just isn't going to happen. Most of us need more than one call.
Turkeys are among the most challenging game birds to walk the planet. Just when we think we have them figured out, they throw something new at us. With that in mind, we continue to try and find that one call to fool them all.
It was that mindset that lead us to consider making our own calls, as so many other hunters have done before us. However, we do not have the tools or patience to produce a really well crafted box call. Enter Darryl Reed.
Darryl retired at age forty (lucky man) and purchased 72 acres in Whitleyville, Tennessee, so that he could spend all of his spare time hunting and fishing. He spent hours in the woods listening to the turkeys talking and trying to copy the various tones and patterns. None of the various commercial calls that he had collected over the years truly matched the sounds of the birds. Oh, they came close, probably close enough to work for most casual hunters, but Darryl was looking for a perfect call, or at least a couple that would truly mimic the sounds of toms and hens during the mating season.
Because there were no commercial calls that satisfied him, he decided to build his own. He was fortunate in having the necessary skills and woodworking equipment that would enable him to produce a high quality handmade box call. He quickly realized that no one type of wood would work for all sounds. With that in mind, he came up with 26 different wood combinations that will satisfy the personal preferences of just about every turkey hunter in North America. The woods available are:
Paddle: Black Walnut, Purpleheart, Padouk, Cedar, Poplar, Sassafras, Osage Orange, Mahogany, Yellowheart, Jatoba (Brazilian Cherry) or Black Cherry

Rails: Sycamore, Sassafras, Poplar, Butternut, Cedar, Cherry, Mahogany, Maple, Purpleheart, Yellowheart, Black Walnut, Osage Orange, Padouk, Sinker Cypress or Mulberry.

Base: Cedar, Black Walnut, Cherry, Sassafras or Poplar

Ends: Cedar, Black Walnut, Cherry, Sassafras or Poplar
Darryl has several kits already made up and posted for sale on eBay for about $11 with the "buy it now" option. The complete kit includes one paddle, two angled and pitched rails, one base with 2-1/8 in angled slots for the rails and two end pieces. It also includes one screw and one rubber bushing. He will combine shipping for on orders for multiple kits. Assembly instructions are included. Glue and Caulk are not included. However, if you don't see one there with the combination of woods that you want, Darryl will make up a kit at no extra charge. Darryl's address is: 1031 Pine Lick Rd., Whitleyville, TN 38588. His email is:  darrylpatti@twlakes.net
Not knowing which ones we wanted, I asked for his advice and Darryl recommended the following three kits: Black Walnut/Butternut, Purpleheart/Cedar and Purpleheart/Mahogany. We bought all three. Putting the kits together couldn't have been easier. With the Darryl's instructions, all you need is a little wood glue and couple of rubber bands. The pieces are precisely cut to effortlessly fit together with no sanding required.
The butternut and cedar rails give us the sounds of older and middle aged birds, while the mahogany rails produce a sound like a younger bird. The rubber bushing on the paddle allows you to "tune" your call to the sound of your local birds, if that makes sense.  We'll carry a couple of these calls with us on opening day of the spring turkey season. We have "fine-tuned" our new calls using our pet turkey as a guinea pig. The poor boy is long past his prime at 14 years, but perked up and managed to gobble, despite his age, with each call. He may be old, but he isn't dead! (Kind of like Jim!) We may not have found one call to fool them all, but with the three kits we bought from Darryl, we are close.
If you don't have an old gobbler to practice on and want to fine-tune your calls before the spring season, you should visit the National Wild Turkey Federation website and listen to their pre-recorded sounds. They have clucks, purrs, putts, assembly calls and of course, the gobble, to mention a few. If you are a turkey hunter and are not a member of the NWFT, you should consider joining this excellent nonprofit organization that is dedicated to preserving and conserving the wild turkey and our hunting heritage.
As a closing remark, we would also recommend these kits to all the Dads and Grandpas out there who want to get their youngsters interested in turkey hunting. What better way to produce a lifelong turkey hunter than to have them make their own call and use it to bring a big gobbler running?