Turntable and Tonearm Brands and Manufacturers
By Chuck Hawks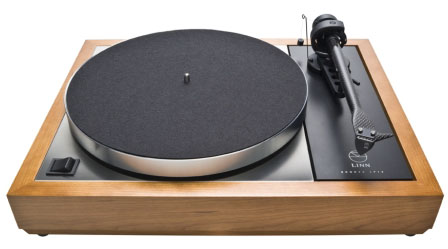 Linn Majik LP-12. Illustration courtesy of Linn Audio, Ltd.
This is a list of turntable and tonearm manufacturers, past and present. Some, like Rek-O-Kut and Elac Miracord are gone (*). Other companies, like Kenwood and AR, are completely out of the turntable business, but still offer other consumer products (*). Still others, like Sony and Pioneer, market a turntable, but the main thrust of their business has switched to other areas. Then there are those, such as Linn, Thorens and Dual, that have survived and are still leaders in the component turntable field in which they have been a force for decades.
Turntables and tonearms, particularly those from the top manufacturers (like Linn and SME) are very well made and durable goods, so there is an active market in used turntables. Buying used is often a good idea, as long as you are buying from a reputable dealer or an individual you trust. It is a way to get a higher quality turntable or tonearm that you could afford to buy new. However, turntables have motors, belts, idlers, bearings and other moving parts that wear out, like any mechanical device. Any vintage turntable will likely need some reconditioning to perform to specification.
There are a variety of turntable and tonearm manufacturers and most are specialty firms that are not exactly household names and with which I have had no experience. The list that follows includes only companies that I know something about, either first hand, through audiophile friends and reviewers, or by reputation. They are (or were) recognized in the audiophile community. This list is not exhaustive; there are brands that are not on this list. If I have left out your favorite, it doesn't mean it's no good, only that I am not familiar with it. However, if you are looking for a turntable, new or used, this list should provide a place to start.
Turntables and Tonearms
Acoustic Research (AR)*
Bang & Olufsen (B&O)*
Denon
DPS
Dual/Fehrenbacher
Elac (Benjamin) Miracord*
Empire*
Garrard*
Kenwood*
Linn
Marantz
McIntosh
Oracle
Ortofon
Pioneer
Rega
Rek-O-Kut*
SME
Sony*
SOTA
Technics*
Thorens
VPI
* = No longer in business or no longer offers product category