Vanguard Endeavor ED 10.5x45mm Binocular
By the Astronomy and Photography Online Staff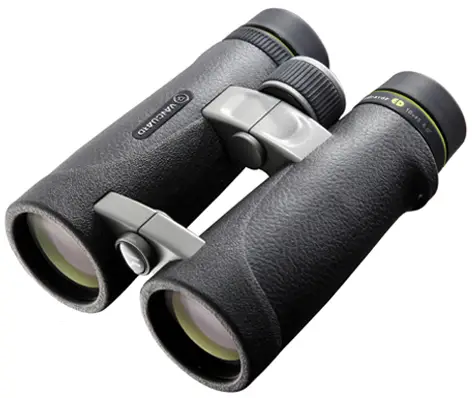 Endeavor ED 10.5x45mm. Illustration courtesy of Vanguard, Inc.
Vanguard (www.vanguardworld.com) is not a household name in the optics field, but they have been around since 1986 and are probably best known for marketing photographic accessories, such as tripods, monopods, ball heads, camera bags and cases. They also offer a wide range of binoculars and spotting scopes. Vanguard is a Chinese manufacturer headquartered in Guangdong, Red China with branches in Tokyo, Michigan and Luxembourg.
Vanguard's top of the line Endeavor ED binoculars show how far Chinese optics have come in recent years. Astronomy and Photography Online has, of course, reviewed a number of good Chinese optical products, particularly telescopes and telescope oculars.
Superficially, these binoculars are quite similar to the Sightron SIII binoculars we reviewed last year. They resemble the Sightron's in shape and size and have almost the same features. These include a rubber-covered body, rubber covered eyecups, waterproof/fogproof construction, open-bridge design center focus, phase coated Bak4 roof prisms, ED glass elements (unspecified as to what ED glass), full multi-coatings and a lockable diopter focusing ring on the right eyepiece. Like the upscale Sightron binoculars, the Endeavor's are supplied with a similar nylon carrying bag and neck strap. They even come with a limited lifetime warranty.
The Endeavor's are not quite the optical equal of the Sightron SIII, but they are very good and, of course, less expensive. We can well remember when it was the Japanese who were copying American and European binoculars and underselling them in the marketplace. Now that Japanese optics are recognized as being among the best in the world, the Chinese are copying and underselling them. We wonder how the Japanese feel about this.
Specifications
Model: Endeavor ED 1045
Magnification: 10.5x
Objective lens diameter: 45mm
Exit pupil: 4.29mm
Eye relief: 17mm
Prism type: Phase coated BaK4 roof prisms
Lens coatings: Fully multicoated
Angular field of view: 6-degrees
Linear field of view at 1000m: 105m
Near focus: 3m (9.8 feet)
Watertight depth: 1m (3.3 feet)
Length: 156mm
Width: 130mm
Weight: 760 grams (1 lb. 11 oz.)
Accessories: Nylon case with strap, lens caps, neck strap
2010 online retail price: $399.00 (approx.)
We tested the Endeavor ED by observing branches, cones, twigs and needles on fir trees at distances from about 100 yards to 200 yards. Such subjects, particularly when silhouetted against a bright sky, make good comparative tests of resolution and contrast. The binocular provided very good views. The color saturation is very good, brightness is good, contrast and resolution are very good, center sharpness is very good and edge sharpness is good. Optical aberrations appear to be well corrected and flare is normally nonexistent. Any 10x magnification binocular is, of course, hard to hold steady by hand, but the view through this binocular is more than adequate for amateur binocular astronomy, bird watching and hunting.
Peering inside the one-piece optical tubes revealed that they were blackened and thread baffled. The open bridge design is ergonomic. The center focusing system is smooth and precise. We appreciated the twist-up eyecups, which are far superior to typical rubber eyecups. The 10.5x45 Endeavor is physically compact for its magnification, particularly when compared to ordinary 10x50mm porro prism binoculars. Overall, the design and construction of this binocular appears to be solid.
Operation is normal for center focus binoculars. First, pick a subject on which to focus, close or block your right eye and use the center focus knob to focus the binocular to your left eye. Then, with the left eye closed or blocked, adjust the diopter correction ring around the right eyepiece to focus to your right eye. You lift the diopter ring to adjust, then press it back down when finished to lock the setting. Having done that, the binocular is adjusted for your eyes and you need only adjust the center focus to focus at different distances.
The Vanguard Endeavor ED 10.5x45's performed well; we were pleased by their performance in this review. For about $400, the Endeavor ED is a lot of binocular.