Vanguard Endeavor HD 65S Spotting Scope
By the Guns and Shooting Online Staff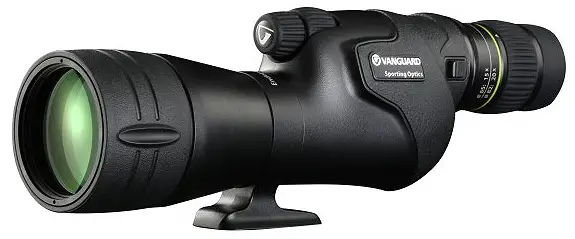 Illustration courtesy of Vanguard USA, Inc.
At the 2013 SHOT Show, Vanguard USA (www.vanguardusa.com) introduced their upscale Endeavor HD spotting scopes, the models 65S, 65A and 82A. The numbers refer to the objective lens diameter in millimeters; "S" means a straight eyepiece and "A" indicates an eyepiece angled upward at a 45-degree angle.
Vanguard claims that these spotting scopes are the most sophisticated optics they have ever produced. They are priced (approximately) in the $590-$690 range, putting them squarely in the premium, four-star class.
These spotting scopes feature waterproof, rubber armored, magnesium bodies with integral slide-out sunshades. There are coaxial fast and fine focus knobs. A large tripod mounting foot with a standard ¼"x20 threaded socket is solidly mounted below the main tube. At the rear of the main tube are threads, presumably to accommodate a camera adaptor. Endeavor HD scopes are sealed, nitrogen filled, fogproof and completely submersible.
The optical systems use fluorite, low dispersion glass elements to nearly eliminate color fringing. Naturally, in spotting scopes of this quality and price, phase-coated BAK4 porro prisms are employed and the optics are fully multi-coated.
The ocular is interchangeable by means of a three lug bayonet mount. The supplied zoom ocular gives a 15-45x magnification range in the 65mm scopes and a 20-60x range in the 82mm scope. It incorporates a twist-up, rubber coated eyecup.
Included are front and rear lens caps, carrying strap and a "raincoat" carrying case. This case has snaps and zippers that allow full access to all controls, so you don't have to remove the scope from the case to use it.
For this review, Vanguard supplied the HD 65S model, which is most likely to appeal to shooters for use at the range or for spotting game at long range in the field. Bird watchers and naturalists will also love the clear images this scope delivers.
As soon as we removed the scope from its box it was clear we were reviewing an impressive product. The scope, zoom eyepiece, carrying strap and case were neatly packaged. The only thing lacking was any sort of instruction sheet or owner's manual. We realize that most buyers never open the owner's manual, anyway, but we actually read them. (It helps to know what you are writing about when you are reviewing products.)
Endeavor HD 65S Specifications
Objective lens diameter: 65mm
Magnification with supplied eyepiece: 15-45x
Prism: BAK4 porro prism
Angle of view: 2.7-1.3 degrees
Field of view at 1000 meters: 48m - 23m
Eye relief: 19-20mm
Focus system: Center focus
Near focus: 4.5m (at 15x)
Lens coating: Fully multi-coated
Length: 345mm
Width: 180mm
Weight: 1,450 grams (bare); 3 lbs. 8.5 oz. inc. case
2013 MSRP: $589.99
Our first look through the HD 65S made it clear that this is a premium spotting scope. Its 65mm objective gives it impressive light grasp (as big as some astronomical telescopes). The eye relief is excellent, allowing use by eyeglass wearers. The quick change, bayonet mounted, 3:1 zoom ratio eyepiece is impressive and its twist-up eyecup is convenient, as is the objective's pull-out lens hood. Vanguard had the sense to put the tripod foot close to the scope's balance point.
Optically, images are sharp, contrasty and without noticeable color fringing. Edge to edge sharpness is good. Lens flare and internal reflections are suppressed by the Endeavor's fully multi-coated optics and the completely blackened interior of its magnesium body. Coma, distortion and other optical aberrations appear well controlled.
We compared the Vanguard HD to our old 60mm Celestron 30x spotting scope that has been a fixture in our range bag and given good service for some 20 years. The Celestron was a premium, four-star spotting scope in its day, but it was outperformed by the new Endeavor HD. The 65S is brighter, somewhat sharper edge to edge, almost entirely free of color fringing and has the convenience of an interchangeable zoom eyepiece. (Optical technology marches on.) Its dual, center focus knobs make focusing considerably more accurate and convenient than the older scope's single speed eyepiece focusing. The Vanguard is clearly a superior spotting scope.
Our only negative comment relates to the weight of the HD 65S. This is a heavy spotting scope. It could become a burden in the field and it will add substantial weight to your range bag. For comparison, our old 60mm Celestron weighs only 1 pound 10.4 ounces, nearly two pounds lighter than the 65mm Endeavor HD.
The Vanguard Endeavor HD 65S is one of the best spotters we have reviewed. It is probably better than most shooters actually need for the rifle range. However, good optics are their own reward and if you are trying to see .17 or .22 caliber bullet holes at 200 yards and your old scope is not up to the task, the HD 65S may be just what the doctor ordered.