Vixen 2-8x32mm Compact Riflescope
By the Guns and Shooting Online Staff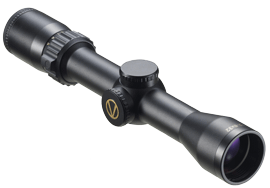 Illustration courtesy of MrStarGuy and Vixen Optics.
Vixen Optics of Japan, world famous in the ultra-demanding field of astronomical telescopes, has introduced a line of sport optics (www.vixensportoptics.com) that includes riflescopes. Due to our interest in amateur astronomy, we have long appreciated the quality and performance of Vixen products and we have used them for many years. When we learned that Vixen was entering the riflescope business, we naturally wanted to review a sample from their new line. Janet Deis of MrStarGuy, U.S. importer of Vixen products, was kind enough to consign to Guns and Shooting Online a sample Vixen 2-8x32mm scope.
We requested this zoom range because we have come to believe that scopes of this general size and magnification are the optimum choice for an all-around rifle. Such a scope is right at home on a .260 Rem., 6.8mm SPC, 7mm-08, .30-30, .308 Win., .338 Federal, .358 Win. or .450 Marlin and most calibers in between. It covers virtually all big game hunting needs to or beyond the maximum point blank range of most rifle cartridges. At 2x you have the field of view to take on a buffalo at short range and at 8x you can knock a sheep off of a ledge 300 yards away, assuming you're good enough to make a shot like that (and not many are). Even better, most such scopes, like our test Vixen, have moderate size objectives and can be mounted low, where they have less effect on the handling qualities of the rifle. Scopes with objectives the size of a water pail may look impressive in the store, but they are counter productive in the field. For a serious hunting rifle, you want the smallest, lightest and least intrusive scope possible.
Vixen riflescopes are claimed to use the same quality of robust construction and premium optics as their binoculars and spotting scopes, which we have found to be very good. (There are reviews of other Vixen products on the Scopes and Sport Optics page, as well as the chuckhawks.com Astronomy and Photography web site.) Vixen states that, "Pinpointing your target is easy in even the lowest light with Vixen's high resolution, brilliant, wide field of view scopes." Vixen scopes are built on one-piece aluminum alloy main tubes for maximum durability, then purged and nitrogen filled to make them fog proof and waterproof. All Vixen Riflescopes are backed by an unconditional Lifetime Warranty and come with lens caps.
Our test scope's fingertip windage and elevation adjustment knobs click in ¼ MOA increments. Focusing the reticle is by means of a quick focus (Euro style) ring at the back of the ocular bell and there is a rubber eyepiece ring to protect foreheads and eyeglasses. The aluminum zoom ring is provided with a tactile bump, as well as very course knurling for a secure grip even when wearing heavy gloves; a good thing, as the zoom ring, while smooth, does not turn easily. The eye relief is 90mm (3.5"), so the Vixen 2-8x32 is suitable for use on all-around rifles of the .30-06 class.
Externally, the Vixen scopes wear a matte black finish. We found that this finish is not as hard as some, so take care not to scratch the tube while installing scope rings. "2-8x32" is screen printed in fine gold figures on the ocular bell and the small numbers 2, 3, 4, 5, 6, 7 and 8 are engraved and filled with gold paint around the zoom ring to indicate the magnification setting. Except for a gold "V" in a circle on the windage knob cap, there is no advertising or other adornment, not even the Vixen name. This is a welcome relief from some of the logo-emblazoned scopes on the market today.
Vixen's specifications are unusually complete (see chart below) and reflect their astronomical telescope heritage. Note, for example, that resolution figures in arc seconds (") are provided, as well as the optical composition (10 elements in six groups). The former is instructive, as it shows how comparatively little difference there is in the amount of detail you can actually see between 2x and 8x. (A 400% increase in magnification resulted in less than a 17% increase in resolution.) This clearly illustrates why, as experienced hunters already know, you can aim at big game animals almost as well with a 4x scope as with a 16x scope. Bulky, high power scopes are simply not required for big game hunting. Here are the published specifications for the Vixen 2-8x32mm riflescope:
$329
<![if !supportLineBreakNewLine]>
<![endif]>

Specification

2~8x32

Magnification –Low Power

2X

Magnification – High Power

8X

Object Effective Aperture

32mm

Exit Pupil

4.0mm

Brightness

16

Twilight Factor

16

Real Field of View –Low Power

9.5 °

Real Field of View –High Power

2.37 °

Resolution – Low Power

7"

Resolution – High Power

6"

Image Deviation by Zooming

< 1'

Diopter Deviation by Zooming

+/-0.3M

Diopter Adjustment Range

+/-1M

Parallax Adjustment Position

100 Yds.

Focal Scope Parallax

+/-0.3M

Reticle Tilt

1.50

Objective Point Correction Range

+/- 30'

Eye Relief

90mm

Lens Coating

Full Multi-Coating

Lens Composition

6 Group 10 Element

Body

One Piece
The Vixen 2-8x32 measures 9-7/8 inches long and the objective and ocular bells are both approximately 1-1/2 inches in outside diameter. It weighs 11.1 ounces. The 2010 MSRP is $329, so it is competing at the Leupold VX-II and Nikon Monarch level in today's scope market. That is fast company to keep!
When we received our test scope, it was obvious that it had previously been reviewed; the old expression, "run hard and put away wet" applies. The front lens cap was cracked, the main tube was scratched and the windage cover cap dented. The external surfaces of both the objective and ocular lenses were dirty. (We cleaned them before use.) There was no box, instructions, or any kind of paper work. This scope had obviously endured severe use before we got our hands on it.
The Vixen 2-8x32 Compact is built on a one-inch diameter main tube. There is adequate space for scope rings between the adjustment turrets and the front and rear bells for most short action rifles. We did find that the Vixen's relatively short overall length meant that it would not bridge the ejection port and leave space for mounting rings between the objective and ocular bells on the standard length Remington Model 700 (.30-06) and Weatherby Mark V (.270 Win.) rifles on which we tried it. Before purchasing this scope for use on a standard or magnum length action, be sure it will fit the rifle in question. A possible solution would be to use offset rings, but that usually raises the scope and, frankly, we prefer to use standard mounting rings. Most short action rifles should present no mounting problems for the Vixen 2-8x32 scope. We installed the test Vixen on a Henry .30-30 rifle using a Weaver base and rings.
Guns and Shooting Online staff members Chuck Hawks, Rocky Hays and Bob Fleck participated in the shooting and evaluation part of this review. At the rifle range, we appreciated the Vixen's good optics. Targets came up sharp and clear and the reticle is well defined. It was a typical overcast day in Western Oregon, so internal flare was not a problem, but we are sure that the Vixen's sophisticated multi-coatings would have handled bright sunlight equally well. Optical aberrations are well controlled. The zoom, focus, windage and elevation adjustments worked as advertised.
There was about an inch of parallax error at 100 yards, but this would be normal if the scope was corrected for parallax at 50 or 150 yards. Lacking the information that would normally be supplied with a new scope, we have no idea at what range the scope should be parallax free.
The primary drawback to the Vixen 2-8x32 is its restricted eye box, which makes eye position critical. Your eye must be aligned with its optical axis or the scope will "wink" at you. If your rifle's stock fits you correctly, achieving the correct eye position should not be much of a problem. We had no difficulty shooting tight groups with the Vixen/Henry combo, including several that measured about an inch at 100 yards. This is very good performance for any big game hunting rifle/scope combination and especially a .30-30 lever action. The .30-30's recoil had no effect on the Vixen scope.
We welcome the addition of Vixen's optical expertise to the very competitive world of riflescopes and look forward to reviewing future Vixen models!