Vixen NLV 8-24mm Click Stop Zoom Eyepiece
By Chuck Hawks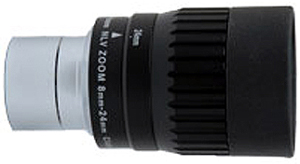 Vixen NLV 8-24mm Click Stop Zoom Eyepiece. Illustration courtesy of Vixen Optics.
Vixen Optics (www.vixenoptics.com) is the number one telescope manufacturer in Japan and highly respected, for good reason. When I managed France Photo, back in the 1980's and 1990's, we were a stocking Celestron dealer and at that time all of Celestron's refracting and Newtonian telescopes were built by Vixen. Ditto the respected Celestron Super Polaris German equatorial mounts and Celestron's original, satin silver, Plossl oculars that sparked the Plossl eyepiece revolution in the U.S. In addition to building oculars for Celestron at one time, Vixen has (at least until recently) built oculars for Tele Vue.
Today, Vixen (named for one of Santa's reindeer) manufactures a wide range of excellent Newtonian reflectors, achromatic refractors, apochromatic refractors and catadioptric telescopes. They build the advanced Great Polaris GP2 and GPD2 mounts and the even larger Sphinx D, Atlux and (truly massive) Gaiax mounts. The latter has a load capacity of 100 pounds! We intend to review a Vixen mount in the near future.
Vixen's line of premium oculars is impressive. The Vixen eyepiece lines include the NPL Plossl's, NLV (20mm eye relief with a rare earth Lanthanum element) and LVW wide angle Lanthanum (65-degree apparent field). Vixen also makes two 8-24mm zooms, a standard LV model and the NLV Click Stop Zoom reviewed here. All of these Vixen oculars are highly rated in their respective categories. Following are some specifications for the Vixen NLV Click Stop Zoom.
Design: 7 elements in 4 groups; includes Lanthanum element
Zoom range: 3:1
Focal length: 8-24mm
Main barrel material: Aluminum
Mounting barrel diameter: 1.25"
Filter threads: Yes
Apparent field of view: 40 degrees at 24mm, 55 degrees at 8mm
Eye relief: 15mm to 20mm
Coatings: Fully multi-coated
Parfocal: Yes
Field stop diameter: 7.6mm (at 8mm) to 16.7mm (at 24mm)
Exit pupil with f/10 telescope - 0.8mm (at 8mm) to 2.4mm (at 24mm)
Blackened lens edges: Yes
Eye guard: Twist-up with rubber boot
Length: 3.7" (eyecup retracted)
Weight: 7.9 ounces
Accessories included: Dust caps
Country of Manufacture: Japan
Warranty: One year
2009 MSRP: $219
The Vixen Click Stop zoom is a premium eyepiece. The external finish is overall matte black with silver numbers. The workmanship and attention to detail in its construction are obvious. The zoom ring is aluminum, rather than rubberized, and deeply grooved for a secure grip, even when wearing gloves. The 1.25" diameter mounting barrel is chrome plated and incorporates a wide safety grove. All air to glass lens surfaces are fully multi-coated and lens edges are blackened. The inside of the eyepiece is matte black to minimize internal reflections and the mounting barrel is threaded to accept filters.
The click stop feature deserves special mention. Its click stops are more positive than those in my Tele Vue Click Stop Zoom and the zoom ring is easier to turn. Click stops are a bigger advantage than you might at first think. It is very reassuring to be able to count the click stops and know where your zoom ocular is set in the dark. The click stops indicate the 24mm, 16mm, 12mm and 8mm focal length settings, but they are only reference points and the zoom ring may be set anywhere between clicks
Zoom eyepieces are understandably popular for use in bino viewers, which require matched sets of eyepieces. For this purpose, Vixen Click Stop zoom eyepieces are an obvious choice. It is very hard to read the focal length markings on standard zoom oculars at night and harder still to set models without positive click stops to exactly the same focal length. The click stops are a practical necessity for bino viewing and a considerable convenience for everyone else.
Another nice feature is the twist-up eye guard, which can be adjusted for a comfortable eye relief. This is more convenient to use, as well as more effective, than the simple rubber eyecup that graces the other zooms we have reviewed.
The NLV Click Stop zoom is suitable for use in practically all amateur telescopes. This zoom eyepiece allows you to view any object at a variety of magnifications and fields of view (FOV). You can set it for the best view allowed by the viewing conditions of the moment. Zooms allow the observer to fine tune the exit pupil to obtain the best overall contrast, especially when using nebular filters. They are also outstanding for star parties, when several people may want to look through the same telescope in quick succession and want to see the subject at various magnifications.
Of course, all zoom oculars also have deficiencies; there is still no free lunch in optics. A characteristic of all zoom oculars, including the Vixen, is that the apparent field of view (AFOV) narrows dramatically as the focal length increases. A generous 55-degree AFOV at 8mm decreases to only 40-degrees at the 24mm focal length setting. The restricted AFOV at the long focal length end of the zoom range can be a problem for locating faint objects in the night sky, as well as for viewing extensive subjects, such as the Andromeda galaxy or the Double Cluster.
Zooms also make excellent terrestrial eyepieces. It is very convenient to be able to "zoom in" on, say, a bird sitting on a limb. In the case of the Vixen Click Stop zoom, its vibrant color rendition and sharpness make it particularly suitable for terrestrial observing. At a distance in excess of 1000 yards with the Vixen zoom and my Stellarvue SV115T APO telescope, I was able to see the smallest twigs in a deciduous tree that had lost its leaves. I compared the Vixen NLV Click Stop Zoom to a Tele Vue Click Stop Zoom and the two are identical in terrestrial performance.
Nor is there anything to choose between the two at night. Viewing a variety of celestial objects, the most spectacular being the Orion Nebula, merely confirmed that the performance of these two eyepieces is the same. Comparing the Vixen zoom to a 14mm Tele Vue Radian ocular demonstrated that, visually and in the center of the field of view, this zoom is very nearly equal to the best fixed focal length oculars.
Compared to a premium fixed focal length eyepiece, there is a noticeable loss of sharpness as you look toward the edge of the field of view with any zoom, including the NLV. However, few observers concentrate on the edges of the field of view, so whatever loss of sharpness occurs there is unlikely to be crucial. The Vixen Click Stop zoom (along with the nearly identical Tele Vue Click Stop Zoom) has the largest useful area of center sharpness, at all focal length settings, of any of the zoom oculars we have reviewed.
In summation, the Vixen NLV 8-24mm Click Stop Zoom is as good as mid-range zoom oculars get. It is hard to imagine that anyone would not love this eyepiece and it will be getting plenty of use by the Astronomy and Photography Online staff in the future, because the nice folks at Vixen are not getting our test sample back!