Vixen Alpina 8x42 DCF Binocular
By Chuck Hawks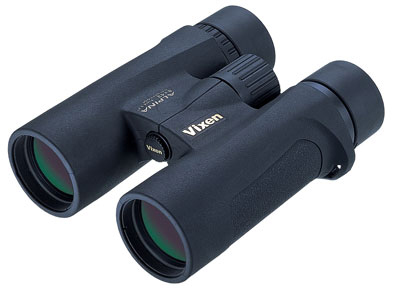 8x42 Alpina. Illustration courtesy of Vixen Sport Optics.
Vixen Optics was founded in 1949, deriving their name from one of Santa's reindeer. Today Vixen is one of the premier optical manufacturers in Japan, where they are the #1 selling brand of astronomical telescope. The technology that was developed to produce ultra-critical astronomical telescopes is evident in the quality of Vixen's sport optics. Vixen is well known in the astronomy community, but has only recently entered the sport optics market using their own name. The Vixen Sport Optics line includes binoculars, spotting scopes, riflescopes and accessories. (We will try to review a spotting scope and riflescope in the future.)
Included in their resume' is the fact that for many years during the 1980's and 1990's, Vixen manufactured refracting telescopes, Newtonian telescopes, spotting scopes and binoculars for Celestron, as well as the famous Celestron "silver barrel" Plossl eyepieces, which are highly regarded to this day. Celestron's currently popular CG-4 and CG-5 German equatorial mounts were developed from the old Super Polaris mount, designed and produced for Celestron by Vixen. At that time, Celestron was a privately owned American company specializing in the precision manufacture of Schmidt-Cassegrain and Maksutov-Cassegrain telescopes and did not have the facilities to produce other products. Vixen no longer manufactures product for other brands, but at the time, being a supplier to Celestron (a world leader in astronomical telescopes) was a feather in their cap.
I became familiar with Vixen Optics during this time while managing France Photo, the biggest Celestron dealer between Portland, Oregon and San Francisco, California. When Vixen first began marketing telescopes and accessories in the US under their own name, Celestron was their initial distributor. To this day, I am still using a Celestron/Vixen Nova 7x35mm binocular and a Celestron/Vixen 30x50mm spotting scope acquired at that time.
Vixen originated the Vixen quick-release dovetail plate, used today to mount most portable astronomical telescopes, regardless of brand, to German equatorial and alt-azimuth mounts, as well as the Vixen shoe that is used to mount finder scopes to the rear cells of most refracting telescopes. Vixen was also the first to offer a computerized "go to" mount for astronomical telescopes.
Thus, when I learned that Vixen Optical was entering the sport optics business in the US (at last!), I was eager to review a Vixen Sport Optics product. I requested a Vixen Alpina 8x42mm DCF Binocular, as it is a medium size and magnification binocular appropriate for serious hunters, bird watchers, campers and binocular astronomy.
The Alpina 8x42 and its companion Alpina 10x42 are all metal construction, center focus, rubber armored, fully multi-coated, roof prism binoculars with phase corrected, high index, BaK4 prisms. The phase coatings eliminate the halation that can plague roof prism binoculars for a clearer, sharper image. Internally, the Alpinas are purged, nitrogen filled and completely waterproof. Other nice features include large (possibly Erfle design) eyepieces with long eye relief and a generous apparent field, twist up eyecups and the compact, straight (but subtly contoured for a secure grip) optical tubes that are the hallmark of an upscale roof prism binocular. A padded nylon soft case with a Velcro closure flap and a wide shoulder strap is included, as are lens caps. Here are the specifications for the Alpina 8x42:
Product number - 1441
Magnification - 8x
Objective lenses - 42mm
Exit pupil - 5.3mm
Actual field of view - 6.7 degrees
Field at 1000 meters - 117 meters
Apparent field of view - 53.6 degrees
Eye relief - 22mm
Near focus - 2.0 meters
Size (HxWxL) - 15.3x13.4x4.9cm
Weight - 670 grams (23.63 ounces)
Finish - rubber armored, flat black
Tripod attachable - 1/4x20 socket at front pivot, use tripod adapter "H"
Lifetime guarantee
2009 MSRP - $259
It is my understanding that in Japan the aptly named "Apex Pro" series remains the top of the Vixen binocular line, followed by the Alpinas, which are the best Vixen roof prism binoculars marketed in the US. As such, they are four-star binoculars capable of competing with similar product from other renowned manufacturers such as Leupold, Nikon, Zeiss and Swarovski. They should not be under-estimated, even though they are actually made in Red China, rather than Japan. (What isn't?) Clearly, Vixen has managed to teach someone in China how to make a good binocular to their specifications.
The Alpina's visual performance is very good, day or night. The view is sharp and contrasty. Optical aberrations are well corrected, especially lens flare and coma. There is some visible light loss at the extreme edge of the field, if you look for it, but it is not intrusive and most users will probably never notice, as edge resolution remains good. At night, star images are crisp and (for example) it is easy to see Jupiter's four large moons.
The Alpina's good eye relief, wide apparent field and retractable eyecups makes them suitable for eyeglass wearers. They are, in fact, one of the best binoculars I have tried to use while wearing glasses.
Vixen Alpina binoculars are a solid value at an affordable price. With proper care, they should last a lifetime. I would have no problem recommending them to my friends or, gentle reader, to you. In fact, I intend to purchase the sample reviewed here for my personal use. You can see the entire Vixen Optics line on their web site: www.vixenoptics.com