The 2004/2005 Harley-Davidson VRSCA V-Rod
By David Tong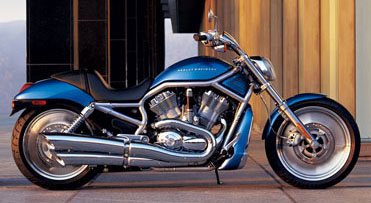 Illustration courtesy of Harley-Davidson Motor Co.
First off, let me admit that I'm a Beemer guy. I have long worshipped at the altar of German engineering, rational long distance ergonomics, decent fuel economy, and broad torque at comparatively low RPMs. Cruisers typically have just the torque requirement covered, albeit usually at the cost of high weight and poor handling.
The V-Rod signaled a new wave Harley. No more pushrod OHV motor, no more air-cooling, carburetor, or even (initially) the usual gorgeous paint job, instead a polished and anodized aluminum bodywork set.
It has been no big secret that Harley has consulted with Porsche for nearly twenty years, first with the never-marketed Nova V-4 project in the '80s, then with the VR1000 Superbike project in the '90s. So when it came time to provide stallions for the new power cruiser, it was natural they'd seek Porsche again. The injection system hails from France, the ignition from Italy, but a lot of the internal hard parts are German, such as the Mahle pistons, which have also been used since the Evolution Big Twin days of the mid '80s.
The "Revolution" motor claims 115hp, and most magazines have dyno-tested the V-Rod at 109 at the rear wheel, with 74 ft. lbs. torque at 7,000rpm, a figure that if reached would probably turn a standard OHV Harley mill into a grenade. Final drive is by the usual Kevlar belt, which is quiet, smooth, does not produce torque reactions as a shaft would, and they can last up to 70,000 miles with minimal adjustment.
This motor is in a frame no less revolutionary. Featuring hydroformed frame rails, in order to wrap their shape tightly around the outline of the engine for styling, they also have removable lower sections to allow engine removal for servicing, such as the recommended 15,000 mile valve adjustment intervals.
The blow-molded plastic fuel tank resides under the lockable, hinged seat, and holds 3.7 gallons. While this isn't much, the bikes average nearly 50 mpg on the road, and by the time you reach the end of the tank, you have another concern--but more on that later.
Since style is so part and parcel of the H-D experience, the integration of a large capacity radiator was made about as well as it possibly could be. It is located behind a plastic and aluminum-trimmed shroud that contains both the heat exchanger and an electric fan. This shroud protects the radiator from front wheel flung stones, and features air ducting designed to admit high-velocity air from either side of the front wheel to aid cooling.
Cool is how you're going to feel when you ride this thing, too. When I was writing for a major L.A. based print magazine I had the opportunity to put "a few miles" on a V-Rod, including a trip to the Superbike races at Laguna Seca, near Monterey.
Around town the bike feels very long and low, and it is. The seat height (with a 180 pound rider on board) is only 26", the wheelbase stretches to 67.5", which is some 12-15" longer than most current sporting tackle. Despite the drag race style, emphasized by offset bored triple clamps raking the 49mm conventional fork from the nominal 34 degree head angle to a chopperesque 38 degrees, the minimal 3.9 inches of trail means that the bike is highly stable yet tossable with effort.
The only steering quirk I noticed was at low speeds in town, where you have to be on the power to avoid running wide through turns. The fork is fairly firmly sprung and damped, and me being the lightweight that I am, I found fine for the kinds of riding the V-Rod is going to be used for.
The rear shocks aren't so hot. Most of the national publications complained about how often the bikes seemingly bottomed-out. Typically a cruiser has low static spring rates and soft high-speed compression damping, for a compliant ride, but little resistance to bottoming. My quickie solution was to take the preload adjuster collar from standard position of #2, and take it to the firmest setting of #6. For someone my size, this is enough. But if you weigh more than my 150 lbs., with that heavy unsprung mass of disc wheel out back to control, you'd be wise to purchase some after market shocks right quick, and that's riding solo without luggage.
Ah . . . but that motor! She ROCKS! With approximately the same displacement as the BMW Oilhead twin I owned, the V-Rod's far more sophisticated engineering produced 30 more horsepower at the rear wheel. More than enough to compensate for the extra 60 or so pounds the bike weighed compared to my Beemer, and twenty percent better mileage besides! Granted, it doesn't have the ground clearance or handling, though I can certainly fondly recall going down one tight, nasty little canyon road between Simi Valley and Ojai, CA, filling the rearview mirrors of a rather slowly piloted Honda RC51 for about seven turns before the road straightened out.
The motor is a great travelling companion. While it might not have quite the linearity of torque delivery of one of the Big Twins, especially from idle, once at highway speed the impression is of absolutely smooth, effortless power with way more "headroom" to rev it out. Mind you, I'm not recommending that any of you do this, but I was able to see nearly twice the national speed limit (indicated) with the motor still pulling hard and accelerating. This was on a bike bereft of any kind of aerodynamic aid. It takes some power to do that.
She has some flaws. The transmissions, early on, were pretty heavy in shift action, and not real quiet, though not what I'd call "clunky." The forward foot controls place your feet nearly perpendicular to the wind, which I guess helps plant you against the rear seat step, but it also points out why my nickname for the bike, with apologies to Dracula, is "Vrod the Impaler."
That curved, hard, crowned, single-position vinyl-covered church pew is about the most miserable thing I've ever had to sit on in all my 25 years of motorcycling. Thankfully, if you're a touring minded rather than catching your reflections at Starbucks kinda guy (or gal), the huge HD accessories catalog has several more comfortable alternatives. Let's just say that actually wanting to drain the smallish tank completely was not a big concern.
Those high mounted stacked exhausts don't leave much room for large saddlebags, and the air box cover that poses as a "gas tank" is convex so tank bags don't work real well either. I'd skip the factory "Screamin' Eagle" pipes, air-cleaner, and EFI re-map too, because in our then-testing at Los Angeles County Raceway, the kitted bike was actually slower in the quarter mile, with identical trap speeds. Sounds nice though.
Those disc wheels look nice in a drag-racey "Centerline" sort of way, but they do catch the crosswinds and make the bike less stable on the highway than the wheelbase and rake would otherwise indicate. Plus they are heavy and conspire against wheel control with the relatively unsophisticated standard suspension. They also have no clearcoat protective finish and the salt air of Monterey Bay tarnished them overnight in the parking lot. 2005's have an alloy spoked wheel option which should be both lighter and less susceptible to sidewinds. Due to the soft tire compound and the 65% rear weight bias and high torque, rear tires expire quickly.
While my aging knees and joints appreciate a straight-legged position more than the crouching frog bend of a sport bike, the standard V-Rod's sole adjustability is a factory retrofit kit to move the pegs about 1.5" rearward, which isn't a lot. It still puts pressure on your tailbone due to the horrid excuse for a seat, with your legs providing back pressure besides to hold you in place at speed. I also think that I'll part with my dollars when there's actually some kind of performance touring version available, but then I'm an "old" fart.
For 2005 H-D released the V-Rod "Roadster" with less front end rake and greater lean angle, conventionally located footpegs, improved suspension and brakes, even more power, and a bigger gas tank. This model offers improved comfort, range, performance, and handling to fulfill the sport-touring requirement.
Where does this leave me? Well, as you may have surmised, I was somewhat taken with the VSRCA V-Rod. I think that Harley did a pretty good job in attempting to broaden their customer base beyond the aging Boomers who constitute 90% of current Big Twin owners, and doing it with unheard of twin cylinder performance, efficiency and style. While this style may interfere with some residual Bauhausian "form-follows-function" design ethos I may carry, I must admit that for a guy who routinely had a chance to ride the fastest, latest, and trickest bikes for a period of years, the V-Rod was a heckuva lot of fun.
And, after all, isn't that really what motorcycling is about, despite (my own) protestations to the contrary?
VSRCA V-Rod Specifications:
1130cc Liquid-cooled 60-degree V-twin, DOHC, approx. 109 rwhp
Shim under bucket valve actuation
EPA ratings: 37-city/47-hwy
Front suspension: 49mm conventional fork, no adjustments
Rear suspension: Six-position preload adjustment
Front tire: 120/70x19 Dunlop D207 Sport
Rear tire: 180/55x18 Dunlop D207 Sport
Overall length: 93.6"
Wheelbase: 67.5"
Wet weight: 615 lbs.
Lean angle (cornering): 32 degrees