Walther PPS M2 9x19mm Pistol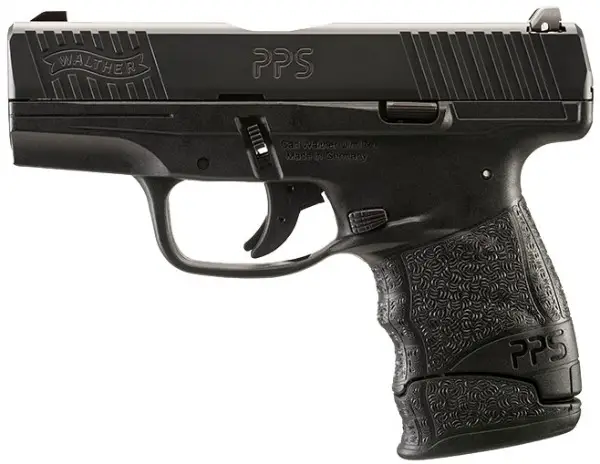 Illustration courtesy of Walther.
The new, restyled, re-engineered Walther PPS M2 is a most satisfying pistol in the polymer framed, compact/sub-compact class. The older PPS Classic had an accessory rail, trigger guard magazine release (sometimes called a paddle release) and a replaceable backstrap grip. The rail is gone, so is the paddle release, and the grip design is greatly improved. It is available in .40 S&W and 9mm Luger (the caliber reviewed here).
The PPS M2 boasts a slim profile, smooth trigger pull, push button magazine release, cocking indicator, loaded chamber view port, extended slide stop, front and rear slide serrations, matte black finish and three-dot metal sights. The rear sight is screw adjustable for windage. The slide locks back when the gun is empty and the controls are designed to be operated while wearing gloves.
There are three, progressively longer, magazine options offering six, seven or eight round capacity. The short (6 round), flush mount magazine maximizes concealment, while the long (8 round) magazine allows a full hand grip on the gun.
Specifications
Caliber: 9mm Luger
Operation: Browning short recoil
Barrel length: 3.18 inches
Trigger pull: 6.1 pounds
Trigger travel: 0.2 inches
Capacity: 6/7/8 rounds
Length: 6.3 inches
Height: 4.4 inches w/flush magazine
Width: 1 inch
Weight: 21.1 ounces (empty)
Sights: Patridge; 3-dot (white)
Metal finish: Tenifer
Frame: Polymer
Country of origin: Germany
2016 MSRP: $469
There isn't one specific thing that makes the PPS M2 a standout, rather it is how well everything works together. For many mid-sized carry pistols, the first order of business is finding a set of replacement grips or grip covers that fill your hand, or are more comfortable. The stippled, finger groove, PPS M2 factory grips are superb. They fill the hand nicely, offering very good control of the gun and are not afflicted with overly abrasive, sharp checkering that can abrade your flesh.
There is no separate manual safety. The trigger incorporates a Glock style trigger safety blade. Removing the slide for cleaning is also reminiscent of a Glock.
Walther claims that their PPS M2 trigger breaks at 6.1 pounds, and so it does. However, the rather heavy pull weight does not adequately describe how good this trigger is, or how it feels. It has a short, progressive pull that breaks crisply with a short reset. There are lighter triggers out there, to be sure. However, the Walther trigger has markedly less travel and is smoother than most production autoloader triggers these days, especially DAO or "safe action" triggers.
Incidentally, the trigger guard is more rounded than many. This is a pleasant change from the aggressively squared trigger guards of Glocks (and many other) pistols.
The Walther slide and barrel are Tenifer coated, a well-known, trademarked process of salt bath ferritic nitrocarburizing popularized by Glock pistols. This is essentially the same as various Melonite coatings used for scuff and corrosion resistance.
The slide of the Walther is very well machined and has less side-to-side play and rattle than does my Glock 19 or the Ruger LC9. While closer tolerances like this do not always translate to better reliability (apologies to the AK-47), it is confidence-inspiring and satisfying. It also generally contributes to improved accuracy.
The Single-Stack Nine is a popular platform these days, for good reason. It is hard to beat the ammunition choices, stopping power is good with appropriate loads and recently even the F.B.I. has gone back to the 9mm Luger cartridge.
The Walther PPS M2 competes with the Glock 43, Ruger LC9s (which sells for about seventy-five dollars less) and several other polymer or aluminum framed, single stack, sub-compact autos. No way would I suggest that anyone focus on price alone when the subject matter is life-support equipment. Anyone who bothers to get training and practices a reasonable amount will quickly devour incremental price differences in ammo and range fees. You will not be inclined to practice with a firearm you find unpleasant to shoot.
The PPS M2 is about a 1.32 pound handgun, unloaded, with a barrel slightly over three inches long. It shaves half a pound of weight compared to my steel Makarov .380 pistol, but is somewhat heavier than the sub-compact Glock and Ruger 9mm pistols.
The Walther is not only guaranteed for life, but has a 48 hour service turnaround. Walther discourages the use of +P ammo in this handgun, as stated in the owner's manual.
With the PPS M2, there is not much room for improvement. Perhaps an XS Sights replacement for the standard white dot front sight would be my only change.
It was quite satisfying shooting a sample PPS M2 in Las Vegas during the SHOT Show range day. Now that I have spent more time with it at home, I appreciate it even more. Accuracy is good for a sub-compact pistol and reliability has been perfect.
While the Walther PPS M2 not a service size handgun, it feels as though it is when shooting. It is remarkably comfortable to shoot. If the trigger does not win you over immediately, the overall build quality, grip comfort and the easy take down surely will.