Waterproof Binocular Round-Up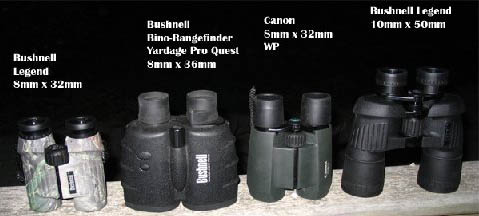 Photo by Randy Wakeman
Binoculars seem to be overlooked hunting tools. Perhaps we are so fascinated with cross-hairs and recoil that judging the quality of our animals and "glassing" to locate animals has taken a back-seat? I've overlooked them in times past, until the headache from poorly made binoculars returns. The good news is that quality images in our binoculars have never been as affordable as they are right now. I remember when the "waterproof" designation meant a quadrupling of price, but that is no longer the case. The testing results were surprising to me, if not outright startling. The adage, "you get what you pay for," just could not be more wrong, at least in this case.
As a benchmark, two sets of binoculars were used as the exemplars. They were a chain-store sub-$50 set of 10 x 50mm porro prism Simmons binoculars at the low end and a vintage pair of Minox "aspherical lens" 10 x 42mm roof prism binoculars on the upper end. All tested binoculars were made in Japan, excepting the Chinese Bushnell Legend 10 x 50mm set.
The tested waterproof binoculars included the Canon 8 x 32mm WP roof prism, the Bushnell 8 x 32mm Legend roof prism, the Bushnell Yardage Pro Quest 8 x 36mm rangefinder-binocular combo, and Bushnell Legend 10 x 50mm porro prism. All the selected binoculars tested and described optically destroyed the generic 10 x 50mm unit. No set of binoculars quite approached the level of fidelity achieved by the dazzling Minox pair, though they came close enough that it would be a tall task to tell the difference without side-by-side comparison.
The Canon binoculars are generally not found in normal sporting goods outlets, but are found at camera and photo shops. They can currently be had for about $140, and I feel that they are an astonishing bargain.
Optically, the similar size and weight Bushnell 8 x 32 Legends are virtually identical. The Legends give you twist-up eyecups, RainGuard, and are available in black or camo for about $270 street price.
The Yard Pro Quest 8 x 36 Bino-Rangefinder pair pulled away from the Canon and the Legend, being noticeably brighter and crisper. They are $450 units, and as a rangefinder were the only units I've tested that could reliably out range my Leicas. They are superb binoculars and rangefinders at fewer dollars than I paid for my Leica rangefinder-only units.
The Bushnell Legend 10 x 50mm porro prism binoculars were purchased for about $135 from Midway USA, after the above binoculars had been tested for over one year. Like all the binoculars discussed, they have the basics called for in quality binoculars: BAK-4 prisms and fully multi-coated lenses, with Bushnell's RainGuard and twist-up eyecups added. They outperformed the field, and came in close to the still-superior Minox, but the image quality is so close it is more likely to be defined in the laboratory than by human eyes.
The outcome I will rate as entirely subjective, but also quite thorough. Eye charts, in the woods and in the field before sunrise and after sunrise viewing, moose hide, and long range license plate viewing were all employed. Over a dozen other sets of binoculars were analyzed, they feel far too short of the mark to be mentioned in this report, and most are not. I will say that, as a generalization, Steiner binoculars are horrifically overrated.
The best binoculars for the dollar are easily the Bushnell Legend 10 x 50mm porro prism binoculars. For the $135 I paid, they are a stunning achievement. You can get better, but to see any difference you should budget in four times the price.
For those not interested in stand hunting, long range glassing, or favor light weight over resolution, the smaller, lighter 8 x 32 WP Canon roof prism binoculars cannot be beat for $140. Expect to pay double that to equal them, triple that cost (or more) to offer noticeable improvement with the same form factor.
Whether the full-size Bushnell Legend 10 x 50mm porro prism, or the comparatively compact Canon 8 x 32 WP roof prism sets, they are superb value and superb product. Actually, a pair of each prepares you for almost all North American hunting scenarios I can think of, with a combined cost of well under $300. I cannot imagine needing more glass in a hunting lifetime; I know that I do not. Congratulations to Bushnell and Canon for these superb units.