Weaver Classic K-4 Riflescope
By Ed Turner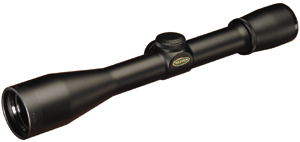 Illustration courtesy of Weaver Outdoor Optics.
I recently saw Weaver K-4 riflescopes on sale at a major shooting supply company and I decided that one needed to live at my house. I purchased it along with a Caldwell Steady Aim rifle rest and this made a good combo to test together. Once it arrived, I quickly unwrapped and inspected my newest scope. It was finished in matte black (a gloss black version is also available) and I set about figuring out which of my rifles would wear the new scope. I had purchased it with my sporterized 8x57 Model 98 Mauser in mind, but it didn't fit the existing ring configuration of that long action rifle. I finally decided on a Mossberg SSi in .30-06 that I had purchased a couple of years ago simply because it had gorgeous wood. I'm talking walnut rivaling any of my Ruger No. 1 single shots.
Mounting the K4 on the SSi with its integral, multi slot, weaver base was an absolute snap. I actually removed a nice Leupold Vari-XII 3-9 from the Mossberg, which now resides on my Ruger 77RSM in 06. Before removing the Leupold I made sure to install my handy dandy Bushnell boresighter and get a good reading off that "sighted in" Vari-XII. After writing down the crosshair's position, I removed the Leupold and replaced it with the new Weaver (leaving the boresighter installed). The Weaver was installed in the same vertical split rings and after tightening everything up the K4's crosshair was aligned to match the previous scope in the boresighter.
If you are simply replacing a scope on a rifle that has one installed and is sighted-in, this is a neat trick. In theory aligns the new scope to where the old one was set. (If you are also using the same rings.) You will be very close when you sight in your new scope. Having already set the proper eye relief, which is 3.3" for the K4, all I needed to do was to focus the ocular lens to my eye. It is of the older type with multiple turns required and a lock ring to secure your setting. That accomplished, it was time to head for the range to finish sighting-in my rifle.
The scope is crystal clear from edge to edge and the duplex reticle is very nicely done. Personally, I like a duplex reticle a tad heavier than the original Leupold. This one appears perfect to my eye. The windage and elevation adjustments are done with a coin or similar item and are click positive: 1/4" at 100 yards. More on that later.
I decided on some Sellier & Bellot 150 grain SP loads for this rifle and set up the Caldwell rest to begin. I had several rifles I was sighting in that day and that was actually a help, as the warm weather kept the barrels hot long after each group was fired. Let's just say that I made sure to leave the bolts open and I found there to be a good reason why the Remington 673 wears a vent rib, as it cooled the fastest. It didn't take long for the Weaver to surprise/impress me, as the first shot I always fire for "rough" adjustment was all that was needed at the 50 yard range. Yup, my careful changing out of scopes had meant that there was NO adjustment at all needed. Read that again. Very impressive in Ed's book.
After finishing all of the rifles at 50 yards, I moved all back to 100 yards for final zeroing. Again, I was impressed as the Weaver K4 achieved the best group at slightly over 1". I realize that the ammo is also a factor, but I had used Winchester Supreme ballistic tips previously in the SSi when it was wearing a 3-9x Leupold scope. A quality scope and premium ammunition had been out shot by S&B ammo and a medium priced scope. Interesting, indeed. If that's not difficult enough to swallow, the only scope adjustment required was a small one, on the order of 1". One more group to confirm the slight adjustments and I had this single shot .30-06 ready and willing from zero to 250 yards with no holdover necessary. Pretty cool, huh?
So, am I impressed with this budget priced scope? YES, very. The finish, size, weight, eye relief and ease of adjustment were all impressive. One negative is that you may need extension rings for some long action rifles, as the limited space for the front ring and eye relief requirements may not add up to successful mounting on all rifles. I am planning to buy another K4 along with a set of Weaver offset rings to get this very practical scope on that 8x57mm Model 98 rifle, as originally planned. I am already smiling at the thought.
I own many scopes, some very expensive models among them, but this K4 has impressed me, as have few others in its price class. This scope normally sells for about $130 compared to around $270 for a Leupold FXII 4x. A significant price difference that might be worth considering. I definitely see it as a better alternative that the multitude of inexpensive 3-9x variable power scopes at a similar price. Imagine if the rifle manufacturers used one of these Weavers on a "package" rifle. A MUCH better scope than the 3-9's with which such rifles are normally equipped.
Would it go with me to the Yukon on the hunt of a lifetime for Moose? Likely not, as I would feel more comfortable with a pricier scope for that type of hunt. However, to be frank, I'd be willing to bet your hunt on it. And you'd be fine. Good scope, good value, period. A note on the Caldwell rest: it has made a significant difference in my shooting and I am PO'd that I was too cheap to have gotten one years ago. A great addition for any shooter.
Following are some specifications for the Weaver K4.
Description: 4x38mm riflescope

Finish: matte black or glossy black

Reticle: Duplex type

Length: 11.5"

Weight: 9.9 ounces

Eye Relief: 3.3"

F.O.V.@ 100yds: 23.1 feet

Objective lens Diameter: 38mm

2007 Manufacturers list price: $195 (Street price around $130)
The Weaver K4 is a trim, lightweight, decent quality scope at a good price. It's my opinion that most shooters would be better served by mounting a K4 on their deer rifle than any of the myriad of similarly priced 3-9x variables. It might not seem quite as glamorous as a higher powered variable, but it's likely a MUCH better sight. Many a shooter has simply given up his/her sighting-in and proclaimed "good enough" after toying for an hour and shooting 35 - 40 cartridges trying to get cheap glass adjusted.
I don't see that happening when you mount a Weaver K4 on your rifle. You will be leaving the range with a smile, rather than shaking your head and wondering what was going on with your rifle and scope. Been there, done that, grew out of it.