Weaver Classic V-3 Riflescope
By Chuck Hawks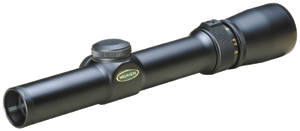 Illustration courtesy of Weaver
Bill Weaver introduced the first affordable riflescope in the U.S. in the 1930's and put the Weaver Company on the map. The Weaver name has been prominent in the telescopic sight business ever since.
Weaver is now owned by Meade, a U.S. telescope manufacturer, who is the parent company of Weaver, Redfield, and Simmons. Classic V-Series scopes are made in Japan to Weaver specifications and design.
The Weaver Classic V-3 1-3x20mm riflescope is built on a 1" (25mm) one-piece main tube of aircraft quality aluminum alloy. Lenses are fully multi-coated to reduce glare. Windage and elevation adjustments "click" in 1/4 minute of angle (MOA) increments. The power ring has a raised node for easy gripping. The V-3 is focused to be parallax free at 100 yards and is shockproof, waterproof, and fogproof.
V-Series scopes come with a Limited Lifetime Warranty. This warrants the scope to be free from defects in materials and workmanship for as long as it is owned by the original owner. Weaver will repair or replace any defective V-3 scope at no charge under the terms of this warrantee.
The V-3 is supplied with a matte black external finish and a Duplex reticle. It is 9.125" long and weighs 8.5 ounces. The field of view at 100 yards is 87' at 1x and 30.75' at 3x. Eye relief is 3.7". Exit pupil varies from 15-6.6mm, depending on magnification selected. The adjustment range at 100 yards is an outstanding +/- 85".
V-3's are designed for close to medium range shooting with woods or dangerous game rifles chambered for cartridges such as the .30-30, .35 Remington, .358 Win., .350 Rem.Mag., .375 Win., .405 Win., .44 Rem. Mag., and .45-70. It is a small scope well suited to trim and handy rifles such as the Winchester Model 94, Marlin Models 1894/336/1895, Ruger Models 96 and 77RSI, and Remington Models 7 and 673.
The scope tested for this review was a matte black V-3 (stock #849400). The scope appears to be well made and well finished. I mounted the V-3 on a Ruger Model 77R Mark II in .350 Remington Magnum caliber using the Ruger rings supplied with the rifle. No mounting difficulties were encountered. The straight tube design of the V-3 makes correct positioning on practically any rifle easy.
A coin or something similar is required to turn the windage and elevation dials. This particular V-3's 1/4 MOA click adjustments proved to rather inaccurate and not particularly positive. Windage adjustments interacted with elevation adjustments, and sometimes it took a couple of shots for the adjustment to "settle-in." The problem wasn't bad enough to compel me to return the scope to Weaver for repair; I have seen worse. I can live with the situation, as I suspect most owners would. And I got the rifle sighted-in without expending too many extra cartridges. This is, however, in contrast to the precise adjustments of a Weaver V-9 riflescope tested recently.
The sharpness and contrast of the multi-coated optics are adequate and flare is well suppressed. Sharpness from center to edge is satisfactory. Focusing is achieved by turning the eyepiece in or out on its fine threads. It is secured by a locking ring when focus has been achieved. As expected, the V-3 proved durable and was not affected by the considerable recoil of the powerful .350 Remington Magnum cartridge.
Weaver scopes have always represented good value for the price, and the Classic V-3 is no exception. The sloppy, interactive windage and elevation adjustments encountered in this example are probably not typical of V-3 scopes in general. Other Weaver Classic V-Series scopes I have owned and used were better in this area. The three-star Weaver V-3 is not as nice as, say, the more expensive four-star Leupold VX-II 1-4x20mm riflescope (with which I have considerable experience), but it does a similar job for considerably less money.