Weaver Classic V-9 Riflescope
By Chuck Hawks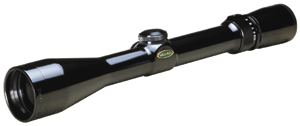 Illustration courtesy of Weaver
The Weaver name has been prominent in the telescopic sight business since Bill Weaver introduced his first riflescope in the 1930's. Weaver scopes have traditionally been known for delivering good value in the medium price (3-star) range.
Over the years the company has changed hands a few times and, for a while, fell on hard times. After Blount, Inc. acquired Weaver in the 1990's the ship was righted and market share regained. Weaver is now owned by Meade, a U.S. telescope manufacturer, who (as I write this) is the parent company of Weaver, Redfield, and Simmons. Classic V-Series scopes are made in Japan to Weaver specifications and design.
The Weaver Classic V-9 riflescope is built on a one-piece main tube of aircraft quality aluminum 1" in diameter. Lenses are fully multi-coated to reduce glare. Windage and elevation adjustments "click" in 1/4 minute of angle (MOA) increments. The power ring has a raised node for easy gripping even when wearing gloves. It is advertised to be shockproof, waterproof, and fogproof. V-9's are focused to be parallax free at 100 yards.
The V-9 comes with a Limited Lifetime Warranty. This warrants the scope to be free from defects in materials and workmanship for as long as it is owned by the original owner. Weaver will repair or replace any defective V-9 at no charge under this warrantee. In my experience, Weaver customer service and technical personal have always been very helpful when I have had questions. I have never had grounds for a complaint about any Weaver product.
The V-9 is the best selling of the Classic V-Series scopes. This traditional favorite is a 3-9x38mm and is supplied with a Dual-X reticle in the customer's choice of gloss black or matte black external finish. The 38mm front objective lets in as much light as the human eye can use, even when fully dark adapted, at magnifications up to about 5.5x. Best of all, it allows the use of low mounting rings on most rifles for fast alignment and good cheek to comb contact. The V-9 is 12.1" long and weighs 11.1 ounces. Field of view at 100 yards is 33' at 3x and 11' at 9x. Eye relief is 3.5" at 3x and 3.4" at 9x. The adjustment range at 100 yards is +/- 40".
The scope tested for this review was a matte black V-9 (stock #849402). The scope appears to be well made and well finished. This 3-9x scope is ideal for use with all-around and long range big game hunting rifles in calibers such as .243 Winchester, .25-06, 6.5x55, 6.5mm Magnum, .270 Winchester, 7mm-08, .280 Remington, 7mm Magnum, .30-06 and .300 Magnum.
In this instance it was mounted on a Weatherby Vanguard Deluxe rifle in 7mm Remington Magnum caliber. The V-9's 1/4 MOA click adjustments proved to be easy to use and reasonably accurate. A coin or something similar is required to turn the adjustment dials.
The optics are generally good, and flare is well suppressed. Center to edge sharpness is satisfactory. Focusing is achieved by turning the eyepiece in or out on its fine threads. It is secured by a locking ring when focus has been achieved. As expected, the V-9 did its job and there were no problems of any kind.
I happened to have a Browning rifle with a Leupold VX-I, also a 3-9 variable, at the range the same day I was testing the V-9. These are the two of the scope models that I would recommend to anyone wanting to purchase a mid-priced (3-star) 3-9x scope, and I had paid similar retail prices for each, so a comparison was inevitable.
It was my impression that the Leupold VX-I was perhaps slightly superior optically, but not by much. And I preferred its Duplex reticle to the Weaver Dual-X version of the same idea. Both reticles are very good, of course, simple and easy to use. On the other hand, the Weaver V-9 seemed superior mechanically; its zoom ring is more convenient to turn, and its windage and elevation adjustments are easier to use and more accurate. Functionally they are about equal.
The two scopes are similar in length, but the Weaver is slightly trimmer with its 38mm (as opposed to the Leupold's 40mm) front objective, which is a point in its favor. Both are waterproof and fogproof. Both come with a lifetime warrantee. Both manufacturers have a fine reputation for customer service. In fact, all of their specifications are similar.
It was hard to decide which scope I preferred. Perhaps because I switch scopes from rifle to rifle more than most shooters, which requires re-zeroing and emphasizes accurate adjustments, I finally gave the Weaver V-9 the nod by the slimmest of margins. Another shooter might make the call the other direction, by an equally slim margin. Certainly the Leupold VX-I series and Weaver Classic V-Series scopes are worth considering and comparing before purchasing any scope in their price range.
I have used Weaver scopes since the early 1960's with good results. Weaver scopes have always represented solid value for the price. The Weaver Classic V-9 competes in the hotly contested medium price scope market, where there are many brands from which to choose, some of which are quite good. Despite this, the Weaver V-9 has managed to maintain a position at the top of the class.