Weaver Super Slam 1.5-6x24mm Euro Style Illuminated Reticle Riflescope
By the Guns and Shooting Online Staff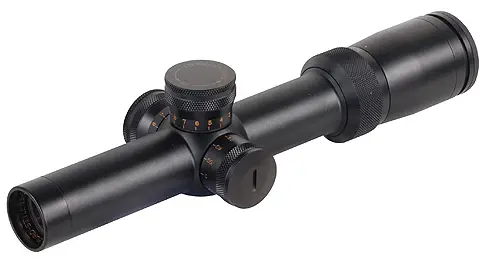 Illustration courtesy of ATK/Weaver.
Weaver, now again owned by our friends at ATK, is one of the oldest (founded in 1930) and best known American riflescope brands. Weaver's four-star Super Slams are now the top of the Weaver riflescope line. Manufactured in Japan to Weaver's specifications, the new for 2010 Super Slam 1.5-6x24mm Euro Style Illuminated Reticle represents Weaver's interpretation of a modern dangerous game riflescope.
This scope features a 4x zoom range and is built on a one-piece, 30mm diameter, aluminum main tube. The optics are fully multi-coated and an extra hard coating is applied to the external lens surfaces to protect them against abrasion and scratches. Eyepiece focusing is by means of a rubber covered, Euro style, fast focus ring at the rear of the ocular bell. The Super Slam is purged, filled with Argon gas and sealed to prevent internal fogging. Naturally, it is advertised as being waterproof and recoil proof, since this scope is intended for use on safari grade magnum rifles. Weaver Super Slam scopes are protected by a limited lifetime warranty against defects in parts or labor for the original owner and proof of purchase is required.
The Super Slam Euro illuminated reticle system offers the option of red or green dots. This is controlled by the rheostat/switch located on the left side of the adjustment turret, the best and most convenient place for such a control. The comparatively large center dot, which subtends about 2-1/2" at 100 yards at 6x, is black and easily visible in bright light with the illumination turned off. This is a good thing, as the brightness of the illuminated dot, even at maximum intensity, is inadequate for use in bright daylight. However, at night the illuminated dot is easily visible. Maybe too much so, as the entire field of view is suffused with a slight red (or green) glow, even at minimum intensity. This does not, however, prevent using the IR.
The Super Slam Euro's reticle is located in the first image plane, in the European manner, so the crosshairs always subtend the same amount of the target. The crosshair that runs between the three German #4 posts is very fine. Since it is placed in the first image plane, its size decreases with the magnification, becoming so fine at low power that it is hard to see against trees and brush. We prefer a heavier crosshair in a Euro style scope, one that subtends about one MOA. Fortunately, the center dot is large and adequately serves as the aiming point at low power, when the crosshair becomes hard to see against a cluttered background.
Here are some specifications for the Weaver 1.5-6x24 Euro Style Super Slam.
Model #: 800375
Clear aperture: 24mm
Main tube diameter: 30mm
Reticle: German #4 (with illuminated center dot)
Finish: Matte black
Overall length: 9.8"
Weight: 19.9 oz. (565 grams)
Actual magnification: 1.5x to 6.0x
Exit pupil: 13mm (1.5x), 4.1mm (6x)
Field of view at 100 yards: 15.9' to 63.3'
Field of view at 100 meters: 4.8m to 19.3m
Eye relief: 3.8" (97mm)
Elevation adjustment range: 60 MOA
Windage adjustment range: 60 MOA
Adjustment click value: ¼ MOA
2010 online price: $449.99 (Midway USA)
We mounted the Super Slam on a CZ Model 550 Kevlar 9.3x62mm caliber rifle using 30mm Warne steel scope rings that mated to the integral bases machined into the rifle's receiver. The scope's straight tube objective allowed plenty of mounting latitude, but we found that the Warne rings were out of true and it required extensive lapping to get them lined up with the bore. This, of course, was not the fault of the Weaver scope or the CZ rifle's machined bases, which were true.
As you are probably aware, the 9.3x62mm is based on what is essentially a slightly modified .30-06 case necked-up to accept .366" diameter bullets. Since we where shooting maximum loads that launched a 286 grain bullet at a muzzle velocity of about 2350 fps, the recoil was right up there. The 9.3x62 is one of the best and most useful of all medium bore cartridges, famous in Africa for its deadly effect on big game. It doesn't kick as hard as a .338 Magnum, but it's not a pussycat, either. A hunting rifle in this caliber seemed an appropriate choice for the Super Slam Euro.
The scope's three-position, fingertip windage and elevation adjustments click in ¼ MOA increments and the resettable turrets are capless, so there is nothing to lose. Weaver is justly proud of their Micro-Trac adjustment system. The windage and elevation adjustments are not quite target quality, but they are sufficiently accurate for any hunting rifle and they stay where set. They allowed us to sight-in the rifle with minimum ammunition expenditure and the scope had no problem holding its zero against the recoil of our 9.3x62mm CZ test rifle.
Aside from the excessively fine (at low power) crosshair of the German #4 reticle, which was not a problem at the rifle range, because we were mostly using the maximum 6x magnification for shooting at bulls eye targets, we could not find anything to complain about. The Weaver Super Slam 1.5-5x24mm Euro Style scope performed as expected, which is to say, very well. It is also a good buy, costing less than any of the other three scopes with which it is compared in our article, "Dangerous Game Riflescope Comparison," which can be found on the Scopes and Sport Optics page. The Weaver Super Slam 1.5-5x24mm Euro Style gets "thumbs up" from the Guns and Shooting Online staff and it has found a permanent home on our CZ Kevlar 9.3x62 rifle.