Wheeler 21-Piece Bit Set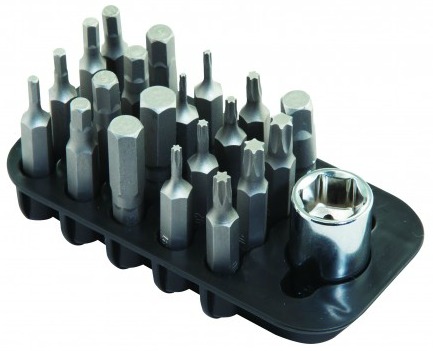 Illustration courtesy of Wheeler Engineering.
Whether you own a Wheeler screwdriver set or not, you will find this 21-piece Hex and Torx bit set that fits standard drivers for interchangeable bits useful (Item #954671). It is no secret that we are partial to Wheeler products, especially their screwdriver sets.
For instance, Wheeler engineers measured the screws on over 100 firearms, from antique Colts to modern Brownings and Remingtons. They did not take off the shelf bits and throw them together into a "gunsmith's" kit, they designed their bits to fit almost every screw in every production firearm ever made. To our knowledge, Wheeler is the only company that has gone to that length to ensure their bits fit all screws properly.
Their bits are manufactured from S2 tool steel and hardened to 56-58 on the Rockwell scale. Because they recognize that even the most careful workman may bend or break a bit on a stubborn screw, they include two each of the thinnest screwdriver bits in their sets. To our knowledge, no other company is so considerate.
Forward to the add-on kit that is the subject of this review. Even if you do not have a Wheeler screwdriver set, this kit is worth adding to your inventory.
Given that more and more firearms are being produced overseas and that most other countries of the world are on the metric system, this kit is a must have. It contains nine Torx bits (T6, T7, T8, T9, T10, T15, T20, T27, T30), ten Hex bits (2.5mm, 3mm, 3.5mm, 4mm, 4.5mm,\'a05mm, 5.5mm, 6mm, 7mm\'a0and 8mm), a 1/2"x1/4" socket and 1/4" socket bit.
With an MSRP of $14.99, the Wheeler 21-piece Screwdriver Bit set is truly a bargain and a "must have" for every shooter. While you are at it, we suggest you take a look at the Wheeler screwdriver bit kits, we think you will like what you see.