Where Do Our Guns Come From?
You might be surprised. Take a gander at the ATF data for firearms imported into the United States.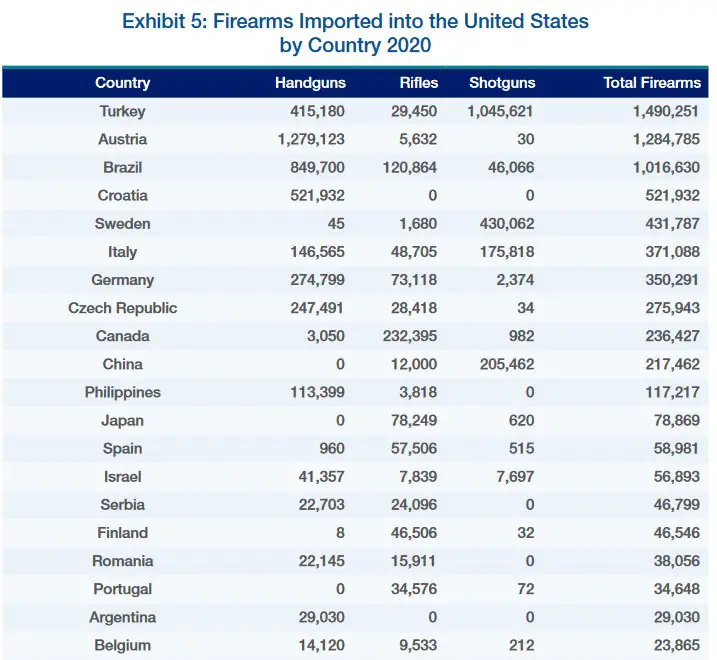 As you can see, Turkey dwarfs all other nations in the import department. You can expect this to continue, as the Turkish lira is currently worth less than four cents: .037 USD as of this writing. In early 2019, the Turkish lira was at 19 cents or so. The average salary in the most recent year (2023) in Turkey is about 94,000 Turkish Lira (TRY) per year. That's roughly about 4,872 US Dollars, as per the April 2023 exchange rate. Today, it has cratered even further to $3470.83 per year.
In terms of labor costs, most countries cannot remotely begin to compete with Turkey. Remember the notion of cheap Chinese labor?
As of May 29, 2023, the average monthly salary in Mainland China is approximately
29,300 Yuan
($4,214 USD), which translates to an annual pay of around 351,600 Yuan or $49,200 USD. Turkish labor is less than 15% of the mainland China labor rate.

Browning and Winchester brands sell "Made in Portugal" shotguns, along with Japanese made Citori, Cynergy, and BPS shotguns. Yet, the ATF says a total of 72 shotguns were imported from Portugal, with 620 shotguns imported from Japan. It is clear that the 'made in' moniker isn't exactly truthful, for FN imports parts, not firearms, according to the ATF. A puzzler is the astounding 430,062 shotguns the ATF claims are imported into the U.S. from Sweden. What are they, where are they?

Another surprise is the very low market penetration of German shotguns into the U.S. Despite Blaser, Kreighoff, Sauer, Merkel, and others . . . 2,374 was the grand total for 2020. Whatever it is, Americans aren't buying. Glock leads the way in handguns for Austria, not a great surprise. What is a surprise is the leading importer of rifles into the U.S.: Canada at 232,395. That's a lot of rifles until you consider Savage Arms, that owns the plant in Canada that has long made their rimfires.