THE 1999 HARLEY-DAVIDSON DYNA WIDE GLIDE
By Chuck Hawks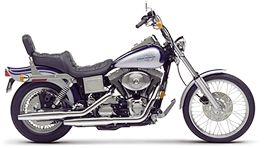 Illustration courtesy of Harley-Davidson Motor Co.
The motorcycles of the Dyna Glide line are the performance leaders amongst Harley's "big twins." They combine a Sportster front end with their own unique chassis. Dyna Glides are the lightest, best handling, and most versatile of the big twins. Their vibration quelling rubber isolation engine mounts and rigid frame allows Harley to configure them as sport cruisers, touring cruisers, or factory customs. Their relatively light weight makes them a natural choice as the basis for a hot rod bike. Generations of individual customizers have built Dyna Glides of every imaginable type and style.
The Wide Glide model (FXDWG in the Harley alphabet) that is the subject of this review is the most stylish of all the Dyna Glide models. It is the fullest Dyna Glide expression of the factory custom concept that Harley-Davidson has been refining since the late 1970's.
My friends at Doyle's Harley-Davidson of Eugene, Oregon were kind enough to loan me a new 1999 Wide Glide to test. I was attracted to the Wide Glide because, (A) it is a member of the Dyna family, my favorite big twins; and (B) it is the most beautiful of all Dyna models. Anyone thinking there might be a Dyna Glide in his or her future almost has to check out a Wide Glide.
The Wide Glide is available in a wide variety of colors, many of which are two-tone (my favorites). It has a chopped rear fender that sweeps up at the back. The front fender is the trim and perfect Sportster type. The Wide Glide has the most stylish fenders in all motorcycling. The headlight is small, chrome, and clean. A low sissy bar and matching passenger backrest complement the attractive pillow-look seat. Just about every part on a Wide Glide that should be chrome, is chrome, far too many to list here.
Harley's 2000 catalogue describes the rest of the Wide Glide this way: "Low, stepped seat. Forward foot controls. Factory ape hangers. A wide, raked fork and 21" laced wheel complete the job." That wide fork, of course, is where the bike gets its name.
Other cruisers could be described in similar terms, but on the Wide Glide it all comes together to create a stunningly attractive motorcycle. Perfection is in the details. Photographs cannot do it justice. To appreciate just how good this bike looks, I suggest a trip to your local Harley-Davidson dealer to see one in person, if, of course, they have one in stock--Wide Glides are very popular, and often backordered.
Reasonably complete specifications for the Wide Glide can be found on the "Cruiser Motorcycle Comparison Chart" on my Motorcycle Page, so I will just hit the highlights here. The seat height is 26.8 inches. The ground clearance is 5.38 inches. The maximum lean angles are 31 degrees right and 32 degrees left. The forks are raked at 32 degrees. The dry weight is listed as 612 pounds. The wheelbase is 66.1 inches. The "Fat Bob" gas tank holds 5.2 gallons. The OEM tires are Dunlop bias ply, a D402 MH90-21on the front, and a D401 130/90B-16 on the rear, mounted on chrome laced wheels.
Instrumentation includes a tank-mounted speedometer with odometer and resettable trip meter, fuel gauge, and the usual warning lights. There is no tachometer, which is a sin of the first magnitude; no motorcycle should be sold without a tach.
Like all modern Harley-Davidson motorcycles, the Wide Glide comes with a halogen headlight, self-canceling turn signals (which should be standard on all motorcycles), maintenance free belt final drive, outstanding hand controls, and a 5 speed gearbox.
Pre-Y2K Wide Glides had a single disc brake with a single piston caliper, front and rear. These were adequate, but far from ideal. 2000 models received new, improved discs with four piston calipers at both ends, which make a terrific difference in braking feel and confidence. The Y2K models also got sealed wheel bearings and a new sealed battery. Otherwise, they appear identical to the 1999 model reviewed here.
The big news for 1999 was the introduction of the new Twin Cam 88 (88 cubic inch, or 1450cc) motor. It is hard to over emphasize the importance of this change. The 80 cubic inch (1340cc) Evolution motor it replaced was a fine and reliable engine, but in the years since its introduction in 1984, it had been surpassed in performance by some competing V-twins. The Twin Cam 88 reverses that. It is the best performing V-twin cruiser engine on the market, and the best looking. It is improved in almost every way, and represents the biggest change in Harley power plants since the introduction of the Knucklehead. Read my review of the Dyna Convertible for more about the Twin Cam 88.
As supplied by the factory, in EPA trim, the Twin Cam 88 motor provides good acceleration and more than adequate passing power. It is a punchy motor. Motorcycle magazine road tests show quarter mile times in the upper 13 second range, at around 95-96 MPH. EPA mileage is also quite good, at 42 city/50 highway.
All stock Dyna Glides come with a 40mm CV carburetor which is jetted very lean, a quiet but restrictive air cleaner, and attractive but restrictive staggered shorty dual mufflers. This is courtesy of intrusive government regulation. Even so, when the technicians at H-D dyno tested a stock TC 88 motor, they got a very broad torque curve that peaked at about 70 lb.-ft. @ 3000 RPM, and a peak of about 59 HP @ 5000 RPM (at the rear wheel). Even in this restricted form, a Dyna Glide will blow away the great majority of the world's cruisers.
Harley-Davidson dealers everywhere recommend re-jetting the carb, replacing the stock air cleaner with a low restriction Screaming Eagle air cleaner and breather kit, and replacing the stock mufflers with free flowing Screaming Eagle slip-fit mufflers. These simple modifications are usually performed at the initial 500-mile service, or sometimes before the customer even rides the bike home. So you will seldom encounter a truly stock Harley on the street. After these modifications, a TC 88 motor that Hot Rod Bikes magazine dyno tested put out a maximum of 84.8 lb.-ft. at 4000 RPM, and 75 horsepower at 5500 RPM, also at the rear wheel. (Note: HRB used the Dynojet dyno at Bartels' Harley-Davidson, which seems to be a little more generous than the Dynojet dyno at the H-D factory.) That is the basic TC 88 configuration you will encounter on the street, and it will flat put away all but a few select "power cruisers."
For the performance oriented rider, Harley offers a wide variety of speed parts in its Screaming Eagle line, including economical 1550cc Big-Bore cylinder and piston sets. Common performance configurations include what Harley refers to as Stage I, Stage II, and Stage III, for both 1450cc and 1550cc carbureted TC 88 engines.
A 1550 Stage I kit yields about 89 lb.-ft. of torque, and 75 horsepower, and incorporates the simple modifications mentioned above, plus the 1550cc Big-Bore cylinders with standard compression flat top pistons, a 42mm SE/Mikuni flat slide carb, and the 6200 RPM Performance Ignition System.
Stage II bumps that up to about 98 lb.-ft. and 81 HP. It uses the same parts as Stage I, but adds a cam kit and adjustable pushrods, so you can go from Stage I to Stage II with no wasted parts. Stage II gives you more performance than almost anyone needs, and few owners go beyond Stage II.
Stage III requires using the alternative (but no more expensive) high compression pistons (10.25:1), and the alternative 6200 RPM Race Ignition System (same price as the performance 6200 RPM system). Stage III results in approximately 100 lb.-ft. of torque, and 82 HP, with slightly broader power bands for both. All of the above torque and horsepower figures were measured at the rear wheel by H-D technicians using a Dynojet Dynamometer.
I was afraid that the cruiser styling features that make the Wide Glide look so good (like the raked-out forks and reduced ground clearance) would louse up the otherwise good Dyna Glide handling. I also worried about the ergonomics, not being a fan of laid back riding positions, forward controls, or ape hanger handlebars. I needn't have worried. The ergonomics turned out to be pretty comfortable, if unfamiliar to me. I had a tendency to miss the footpegs with my feet after starting from a dead stop, automatically trying to put my feet back in a conventional position, where the footpegs weren't, instead of way out there in front, where the footpegs were. Once I found the pegs, I had no problem shifting, braking, or riding with the forward controls. I must have looked pretty funny, though, waving my feet around as I rolled away from stop signs and traffic signals.
I would recommend a windshield for highway cruising, as those ape hanger bars do spread you out in the wind. But then, I put a fairing or windshield on just about every bike I buy. I am into comfort. Harley-Davidson offers some really excellent detachable windshields that can be removed in 60 seconds without tools.
Even the seat seemed reasonably well designed. I usually replace stock motorcycle seats as a matter of course, since almost all of them are uncomfortable for rides of any length. But if I bought a Wide Glide, I would ride on the stock seat for a while. It might prove satisfactory. This is high praise for a Harley seat, most of which (except for the touring seats) seem designed more for appearance than function.
Riding a Wide Glide with a Twin Cam 88 motor, even a brand new stock one as I did, is a kick. The bike's low center of gravity and low seat height make parking lot maneuvers a snap. The TC 88 engine has plenty of torque to make stop and go riding easy. The motor's rubber isolation engine mounts work as advertised. The bike shakes when idling, but at cruising speed it is very smooth. The Wide Glide works perfectly on the road, any road, including city streets, freeways, two lane highways, and winding country roads. I sampled them all, and never found it wanting.
The TC 88 motor made passing slower traffic easy. You can just roll on the throttle and pass a slower vehicle without fuss. But, I admit, I like the rush I get when I drop down a gear and blow their doors off. I tell myself it is safer to pass in the shortest possible distance, and it probably is, but the real reason I usually downshift is just to enjoy the rush of acceleration. Anyway, the Wide Glide has plenty of passing power.
The steering is light and responsive, even with the 32-degree fork rake; lighter than that of a Dyna Super Glide or Convertible (whose forks are raked at a moderate 28 degrees). I can only guess that this is due to less unsprung weight in front, because of the lighter 21" tire and its laced rim. Whatever the reason, the Wide Glide is nimble for a big bike.
Of course, at some point reality would set in if you pushed the bike really hard. The 21" front tire has a smaller contact patch than the wider 19" tires on the other Dyna Glide models, so it will wash out sooner. The loss of 2.5 degrees of lean angle, as compared to a Convertible or Super Glide Sport, means that the Wide Glide will drag parts earlier. But I never pushed the bike that hard, nor would I intentionally take any other motorcycle right to the edge. I ride for the enjoyment, not to prove anything, and I enjoyed the heck out of my time on the Wide Glide.