Winchester Pre-'64 Model 70 Serial #25
By David Tong

Win. Model 70 #25. Photo by David Tong.
There is probably not one regular reader of Guns and Shooting Online that does not know the Winchester Model 70 story. The Rifleman's Rifle is one of the best known sporting rifles in the world. The M-70 is revered, because it is a highly-refined, American-made, improved derivative of the renowned Mauser 1898 bolt action design. It has been lauded in the gun press for over 70 years. Like the Mauser 98, the Model 70 is a controlled feed action with a full length extractor and a fixed, receiver mounted ejector. The receiver was machined from a single block of steel with an integral recoil lug and an open top for ease of loading and unloading. The one-piece bolt body was also machined from a steel billet.
Most knowledgeable gun cranks and collectors have yearned for a "pre-1964" Winchester, because of the revision of the M-70 (actually a whole new design, although the Model 70 nomenclature was retained) that took place in 1964, rendering the post-'64 a simpler, push feed action. This redesign was the result of cost cutting that seems to be a part of all major high-production firearm companies, not just Winchester. The post-'64 Model 70 was their answer to the Remington Model 700, which was far less expensive to build and thus more profitable. The push feed Model 70, although much maligned in the gun press, remained a fundamentally better and more expensive action than the Model 700, roughly comparable to today's Weatherby Vanguard.
Of all the Holy Grails of Winchester M70 collecting, a low numbered pre-war would surely take first chair and I recently handled this particular rifle, which has been offered for sale. It is a standard grade Model 70 in ".30 GOVT 06" caliber, with approximately 98% of its bluing and an original stock in approximately 93% condition. The stock has plenty of drop, as it was designed for use with iron sights. The bore is mint.
The receiver and barrel are both polished and blued, which is unusual. A matte finished receiver was standard for pre-WW II Model 70's, just as it was for post-war Model 70's. It is probable that this rifle has been re-blued at some point. The only part missing is the original folding rear leaf sight, probably removed to provide clearance for a telescopic sight.
The receiver has been drilled and tapped for scope mounts, as you can see in the photo below. Pre-war Model 70 receivers were not drilled and tapped for scope mounts by the factory. They have a smaller rear receiver ring than post-war Model 70's and a pre-war Model 70 that has been drilled and tapped cannot use post-war Model 70 bases; the rear base will not be tall enough.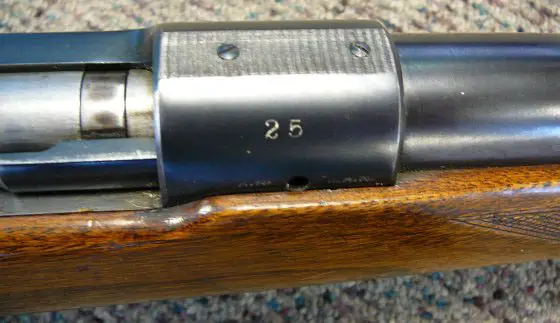 Receiver of Win. Model 70 #25. Photo by David Tong.
The safety is the early 90-degree two-position type that is either off, or locks both the striker and the bolt. This differs from the vast majority of M-70's that have a three-position safety, allowing for unloading with a locked striker, that is used to this day.
Needless to say, all the hallmarks of old-time production gun making are present. All parts are milled from forgings, there are no stampings, castings, or plastic and many of the parts were undoubtedly hand fitted. The barreled action, bottom iron with hinged magazine floor plate and trigger guard are finished in a traditional polished blue. The lacquer finished, black walnut stock is hand checkered in a simple point pattern with good coverage.
What is startling about this M70 is its serial number. It is serial number 25. It was probably manufactured during the first week of M-70 production in 1936, during the waning years of the Great Depression. To handle a Model 70 of this age in this condition is a real treat.