The Winchester Model 24 Shotgun
By Chuck Hawks
The Winchester Model 24 side-by-side shotgun went into production in 1939 and stayed in the line until 1958. The Model 24 was intended to compete with the likes of the Stevens 311 and Savage/Fox Model B as an affordable, utility side-by-side. It was reasonably successful in the market place and a total of over 116,200 were manufactured.
The Model 24 is a true hammerless gun, as opposed to having concealed hammers like most double guns, since it is striker fired. It was produced only as a field grade gun with blued receiver and barrels, wide 7/16" raised solid rib, uncheckered black walnut stock with lacquer finish, semi-pistol grip (a straight hand stock could be ordered), double triggers, and spring powered extractors that elevated the shells when the gun was opened. Available gauges were 12, 16, and 20, with 12 gauge being the most common.
Barrel lengths of 26", 28" and 30" were offered in 12 gauge, while 16 and 20 gauge guns could be had with 26" or 28" tubes. The 12 gauge gun reviewed here, owned by Guns and Shooting Online Technical Advisor Gordon Landers, has 30" barrels with 2-3/4" chambers and is bored Mod./Full, which is typical of guns with 28" and 30" barrels. 26" barrels were choked IC/Mod.
The forged steel receiver body of the Model 24 is rounded. But, unlike more sophisticated round action guns, such as the Ruger Gold Label (see our Gold Label review on the Product Review Page) that tend to be exceptionally trim, the Model 24 is very broad across the action body. The barrel breeches of most double guns are considerably wider than (and overhang) the sides of the receiver, but the receiver of the Model 24 is actually slightly wider than, and encloses the lower half of, the barrels. This gives the gun a decidedly unusual appearance.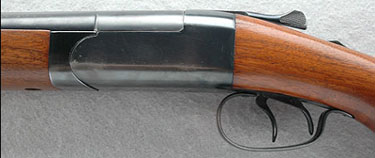 The wide, rounded receiver of the Model 24. Note shape of triggers and guard.
The Model 24 was designed with two lumps, one centered beneath each barrel, leaving a tunnel of space between the two lumps. It boasts a clean breech face and is held closed by a single underbolt that engages a notch in the double barrel lumps. In the area between the 24's dual lumps is a cocking slide and the extractor. The Model 24 is about as wide through the breech and receiver as a side-by-side gun can be.
The semi-beavertail forend is held in place by spring tension, and the semi-pistol grip stock is amorphous in shape. Early models had a hard butt plate, later this was changed to a ventilated recoil pad. A single trigger, ejectors, ventilated rib, engraving and other upscale options were never offered.
Our sample Model 24, owned by Gordon Landers, weighs about 7-1/2 pounds. It is a 12 gauge gun with 30" barrels. It measures 46-1/2" in overall length and has a 14-1/4" length of pull. Approximate drop is 1-1/2" at comb and 2-1/2" at heel.
A couple of common complaints are that the triggers are too close together and too straight in shape to be really comfortable. The poorly shaped trigger guard is stamped from heavy gauge sheet metal.
The tang-mounted automatic safety, however, is conventional in operation and simple to use. Back is "safe," forward is "fire."
Like the Stevens 311 and Savage/Fox Model B with which it competed, the Model 24 worked reliably. That gave these hardy American made utility doubles an advantage over inexpensive imported guns that, while often more stylish, were sometimes made of inferior steel and suffered reliability problems.
Note: A full length review of a Winchester Model 24 shotgun can be found on the Product Reviews page.