The Winchester Model 88 Rifle
By Chuck Hawks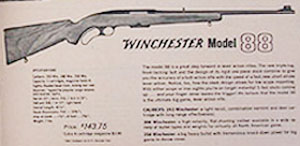 Winchester 1962 catalog illustration showing Model 88 rifle courtesy of Winchester Repeating Arms Co.
Introduced in 1955 for the then new .308 Winchester cartridge, the hammerless Winchester Model 88 was entirely different and technically more advanced than any previous Winchester lever action rifle. In fact, its combination of modern features has never been equaled by any other lever action rifle except the more or less contemporary Sako Finnwolf, introduced about 10 years after the Model 88. Within a year the .243 Winchester and .358 Winchester cartridges were added to the Model 88, and in 1963 the .284 Winchester cartridge became available.
To my eye the Model 88 was one of the most aesthetically pleasing rifles ever produced. Visually, it resembled a lever action bred to a bolt action. It was a streamlined rifle that featured a solid frame, front locking 3-lug rotating bolt, side ejection, short throw lever, crossbolt safety, one-piece walnut pistol grip stock, black plastic butt plate, and a steel 4-shot detachable box magazine (three shot in .284 Win.). A hooded, gold bead front and adjustable folding rear open sights were provided. The receiver was drilled and tapped for scope mounts and aperture sights. Sling swivels were included. The round, featherweight contour barrel was 22" long and the rifle's overall length was 42.5". Catalog weight was 7.25 pounds, but most examples I've seen actually weighed about 7 pounds.
In 1967 the Model 88 carried a MSRP of $139.95; extra magazines were $3.90. For comparison, that same year the MSRP of the Model 94 was $85.95 and the MSRP of the Model 70 Standard rifle was $149.95. In 1968 a carbine version of the Model 88 with a 19" barrel was introduced in .243, .284, and .308 with a plain (not checkered) stock secured by a barrel band at the front. Pricing remained similar.
The Winchester 88's front locking, multi-lug rotating bolt operated much like the modern Browning BLR. Functionally, it was a bolt action rifle operated by a lever. It offered most of the features of a bolt action rifle with faster lever action operation. In particular, its manual operation and front locking bolt made it a suitable rifle for serious reloaders.
Its slim, one-piece, black walnut stock was originally adorned by cut checkering in a simple point pattern at pistol grip and forearm. In 1964 this was changed to a fancier impressed acorn and basket weave "stock carving" pattern. I have always felt that the simpler diamond point cut checkering better suited the 88's personality.
The Model 88's biggest advantage over bolt action rifles chambered for the same cartridges was that it simply handled better; it was sleeker, smoother and faster. The absence of a protruding bolt handle also made it a better rifle to carry in a saddle scabbard. And, of course, repeat shots could be fired faster with less interruption of aim.
The Winchester 88 was designed for modern short action, high intensity cartridges. These eventually included the .243 Winchester, .308 Winchester, .358 Winchester and .284 Winchester. The .243, .358 and .308 are all based on the same (.308) case necked up and down. The .284 was based on a unique rebated rim case of the same length and rim diameter but somewhat greater powder capacity. Among these, the .243 and .308 went on to become very popular, while the .284 and .358 languished, and this was reflected in Model 88 sales figures.
At the time of its introduction the .243 Winchester cartridge was advertised as driving an 80 grain varmint bullet at a MV of 3500 fps and a 100 grain deer bullet at a MV of 3070 fps.
The .284 Winchester was intended to provide .270 Winchester performance in a short action cartridge. The catalog MV was 3200 fps with a 125 grain bullet and 2900 fps with a 150 grain bullet.
The most popular .308 Winchester factory loads claimed a catalog MV of 2860 fps with a 150 grain bullet, and a MV of 2610 fps with a 180 grain bullet. This is the cartridge that best fitted the Model 88's personality and purpose, and was the best selling caliber.
The .358 Winchester was introduced with Winchester/Western factory loads using 200 and 250 grain bullets. The 200 grain Silvertip load had a catalog MV of 2530 fps. The 250 grain load had a claimed MV of 2250 fps. The .358 was, and is, a deadly medium range woods cartridge on the order of the previous.348 Winchester. This chambering was discontinued in 1964.
The M 88's only real drawbacks were that its trigger was neither as light or as clean as a Model 94 or a Model 70. Its trigger moved with the lever, avoiding a bruised finger due to careless operation, but complicating the trigger linkage. And, it kicked pretty hard in .284, .308 and .358. It was not a pleasant rifle to shoot in such powerful calibers. By modern standards the stock had too much drop at comb, and the surface area of the butt plate was too small. A good recoil pad would have helped, but was not supplied.
The 88 was reasonably popular and stayed in the Winchester line for about two decades; between 283,000 and 285,000 were produced. (The numbers seem to vary depending on the source.) The Model 88 was dropped from the Winchester line in 1973.
I think that, by the 1960s, it was basically a rifle out of sync with time. Lever action fans were perfectly happy with their traditional (and much less expensive) .30-30's, and bolt action fans would not buy a lever action rifle no matter how good it was. Then, too, the 88 was designed around standard, short action cartridges and the gun buying public became consumed by the belted magnum craze. The .260 Remington and 7mm-08 cartridges, which would have been perfect for the Model 88, were not introduced until long after it had been discontinued.
The sample Model 88 that I shot, which was owned by a good friend, was an accurate rifle, delivering groups averaging about 1.5 MOA. That is good for any big game rifle, and especially with iron sights. This was a stock .308 with only the standard iron sights, and it weighed a bare 7 pounds. Neither of us found it to be much fun to shoot at the range. We agreed that the 88's reputation as a hard kicking rifle was well deserved.
Equipped with a 2-7x variable power scope and a steel scope mount/rings, plus a good recoil pad, a Model 88 would weigh about 8 to 8.25 pounds. That should make it a more comfortable proposition to shoot. If I owned a Model 88, that is how I would set it up.
The Model 88 is also discussed in my articles The Lever Action and Winchester Medium Bore Lever Action Rifles.