The Winchester SX-4 Autoloading Shotgun Puzzle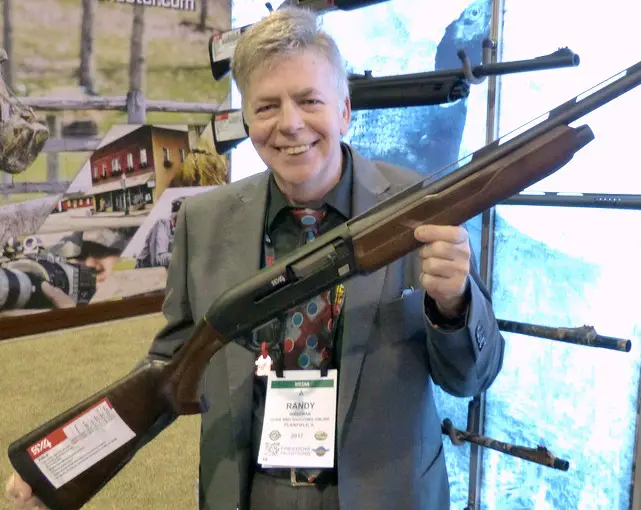 Randy Wakeman and the SX-4 at the 2017 SHOT Show.
The Winchester brand of Herstal Group has introduced the SX-4 12 gauge autoloading shotgun and I find it puzzling. The SX-4 still has the same heavy trigger as the previous SX-2 and SX-3 models, the same Active Valve gas system and so forth.
A smallish pistol grip has been added, although the SX-3 pistol grip is preferable to me. I have yet to hear anyone suggest that it was overly large. The bulky fore-end has squarish lines that do not match the shape of the human hand.
The weight has been shifted forward slightly, exactly what I do not want in a gas operated autoloading shotgun. They are generally muzzle heavy when empty and worse when you load them.
A larger, odd-looking recoil pad that does not follow the toe line of the stock has been added. It does not seem to do anything the Inflex pad on the Browning Maxus does not already do better, except add a touch of ugly.
The trapezoid shaped trigger guard is another ugly touch. The button shaped bolt release has been replaced by a parallelogram shaped bolt release that does not protrude any farther or work any better.
The Super X4 Waterfowl Hunter has a MSRP of $939.99 with a three inch chamber, the basic black plastic version is $799.99 and the walnut Super X4 Field is $939.99. The latter had some of the lowest grade, figure-free walnut stocks I have ever seen on a Winchester or Browning autoloader.
The SX-4 is touted as being "built for speed." However, the examples I shot at the 2017 SHOT Show had sluggish bolts and sometimes failed to feed.
Normally, when there is new model designation, I expect there to be something in the way of a significant performance enhancement or feature. That is distinctly not the case with the SX-4.
If the SX-4 was shipped in SX-3 boxes, most people would not readily notice. A bit different recoil pad and a differently shaped bolt release screams "Brand New Model" to no one.
In 2013-2014, the Euro was worth about $1.35 USD. Today, the Euro is worth about $1.06, so all imported firearms tethered to the Euro should be significantly cheaper in the US today, compared to a few years ago. The SX-4 does come in at a slightly reduced MSRP from the SX-3, but other than that the Super X Model 4 is not particularly super.
With Herstal Group headquartered in Belgium, I supposed it should not be surprising that the better finished and more innovative shotguns get the Browning nameplate, while the Winchester brand shotguns are second class products. This is becoming more and more apparent, due to the Turkish made Winchester SXP pump and now the Turkish made SX-4 autoloader.