Yamaha Road Star Warrior - Yamaha's Performance Cruiser
By David Tong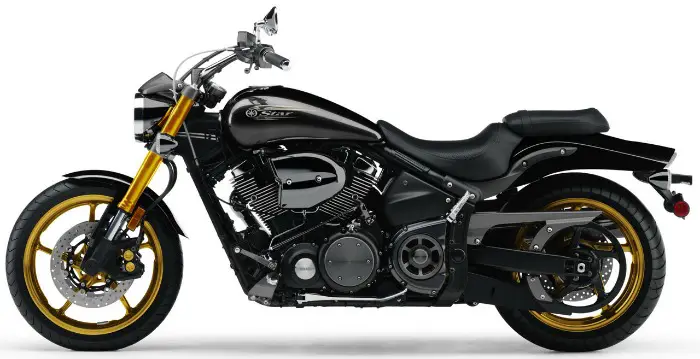 This is a bike that I rode back when I was working with Motorcyclist Magazine around 2003. It was memorable in that the engine was a 47-degree overhead valve, pushrod-actuated, air-cooled V-twin like "you know who."
The earlier late 1990s Road Star introduced this engine in a smaller displacement 1,602cc version in a milder state of tune. Featuring an over 40 pound crankshaft and hydraulic lifters, an un-faired version of this touring bike managed an indicated 120 MPH going slightly uphill with me aboard. It had some beans, in other words.
What was also interesting is that this engine was solidly mounted and was also not counter-balanced. Yet, it was smooth at all speeds and RPM.
The Warrior was stripped down. Featuring wide cast aluminum wheels, minimalist seating, single shock rear suspension, upside down front forks and big four-piston caliper disc brakes on floating rotors up front, the Warrior's retuned and higher-performance engine had running gear to match its greater speed potential.
Specifications
Type: Performance cruiser
Model: Road Star Warrior VX1700
Engine: Air-cooled V-twin, 1,670cc, ceramic-lined cylinders, 8.4:1 compression, 4 valves/cylinder
EFI: Twin 40mm throttle bodies
Transmission: Five speed with multi-plate wet clutch
Final Drive: Belt
Chassis: Welded cast aluminum
Front Suspension: Kayaba 41mm inverted fork; 29-degree rake angle, 5.1" trail, 5.3" travel
Rear Suspension: Yamaha Monoshock, pre-load adjustable, 4.3" travel
Seat height: 28"
Wheelbase: 65.7"
Wet weight: 657 lbs.
Ergonomics: Drag-style flat handlebar on dogleg pullback risers, forward controls
Instruments: Blue LED lighting, analog speedometer, bar graph tachometer
Wheels: Three-spoke cast aluminum
Tires: Tubeless120/70 ZR18 front, 200/50 ZR 17 rear radials
Fuel Capacity: 4 gallons
Fuel Mileage: 31-43 MPG
Performance: 12.7sec 1/4 mile at 103 MPH
HIghway Cruising: 2,490rpm at 60 MPH indicated in top gear.
Compared to the 1999 parent touring cruiser, the Warrior lost 71 pounds. Performance enhancing modifications included improved oil distribution for cooling in the heads and connecting rods, replacement of the single 40mm carburetor for twin 40mm throttle bodies and almost doubling the air box volume. The bike managed to pass EPA emissions without a catalytic converter. The muffler, a huge two foot long, chromed, stainless steel can, was fed by twin 38mm stainless headers. All these changes were geared toward more power and higher RPM, as were the new cylinder heads, higher compression, new camshafts and tighter gear ratios in the transmission. The bike was both quiet and powerful, a nice combination.
The combination of the conventionally sized front tire and the giant rear meant that the profiles felt as if they did not match very well. This meant, like the original Harley-Davidson V-Rod, one needed to corner with the power on and accelerating slightly to get the bike turned-in consistently.
Without a fairing, the 35" wide handlebar, forward controls and deeply-scooped bucket seat means that it really needs another seat before a long ride can be taken in comfort, though it did not give me the same butt burn as the V-Rod did, as the Road Star Warrior seat is much flatter, softer, and wider.
The passenger accommodations are equally wretched. This is a solo bike as delivered, in other words. I do not mind, but others will.
Riding it on the open, twisty mountain roads that are my preferred riding environment, the bike's stiff aluminum frame, sport bike tires and brakes, and decent cornering clearance made quick work of moderately fast corners. Suspension travel, for a cruiser, was good and only the largest of sharp bumps came through the seat. The ends of the folding highway pegs would drag when the suspension's travel was used-up.
In addition, around town it surprised me by being sprightly. It was able to carve U-turns and walking pace speeds in parking lots with equal aplomb.
As usual, used Japanese motorcycles take some pretty punishing depreciation. Clean 2010 models with low mileage can be had for about six grand. This, my friends, is a bargain for a bike that has so much performance potential and the usual Japanese reliability.
To emphasize that point, last year I met a fellow from Washington state who decided to ride all the way down the Oregon Coast to Gold Beach and back in a day, simply to have lunch while riding his Warrior. His all-original 2002 bike had 87,000 miles on it, with no issues and just routine maintenance. When he fired it up, it made no unusual noises.
The Road Star Warrior offers a cruiser riding experience, plus the ability to go play on interesting roads. It has a traditional, yet thoroughly modern, V-Twin engine and appears to be utterly reliable and durable.
With an aftermarket seat and windshield, one could do some light touring on it, although one would have to be careful not to exceed its relatively short fuel range of 150 miles. I think one would have problems trying to fit any kind of luggage to it, because of the muffler, but if there is a will, a way can be found. Perhaps an aftermarket exhaust and a rack over the useless rear seat would allow fitting a small top box and backrest for the rider. I think the Yamaha Road Star Warrior is a fun and endearing ride.