1982 Yamaha XJ650LJ Turbo Seca
By David Tong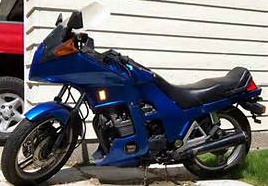 This particular motorcycle holds a special place for me, as it was one on which I put nearly 50,000 trouble free miles. Given its relative complexity compared to the usual Universal Japanese Motorcycle (UJM), this says a lot about the unique engineering solution it represented.
All of the Big Four Japanese motorcycle companies built a bike with the word "Turbo" attached to it in the early 1980s. Honda started the ball rolling with its injected, transverse twin CX-500 in 1981. The reason was obvious, as these were meant to be rolling statements about what these technology laden companies could do.
Yamaha entered the fray with the subject of this article in 1982. The XJ650LJ was similar to the CX-500 in that it was more sport tourer than hardcore sport bike. It befitted from the likely buyer's profile: an experienced rider who thought that a boosted engine could provide near liter bike performance with the economical running of a middleweight displacement. Such riders were mostly interested in comfort rather than quarter mile times, so the Seca Turbo wore an upright sport touring fairing with lower extensions that did a pretty good job of providing ankle-to-neck wind protection.
Basic Specifications
Engine: Inline air-cooled Four, 653cc
Fuel delivery: Blow through constant velocity carburetors, four
Transmission/Drive: Five speed with wet clutch / shaft final drive
Wheelbase: 57.1 inches
Seat Height: 31 inches
Wet Weight: 567 pounds
Quarter mile time: 12.7 seconds
MSRP: $6,000
This motorcycle and I extensively toured all of the western US and into British Columbia. It had a reasonably well padded seat to which I fitted a custom sheepskin seat cover. Sadly, the seat basically forced the rider into one riding position, as it was shaped like a hammock, but I guess my 25 year old body didn't mind.
I purchased the bike used from the shop foreman of a local Yamaha dealer and it was mostly stock. He had fitted Works Performance shock absorbers out back to better control the weight and installed air caps over the front forks to provide a tad more compression resistance under braking.
He had also installed what was called the "power up kit," which was nothing more than a larger diameter washer in the right side dummy muffler, as well as a stronger waste gate spring to allow greater levels of turbo boost for more power. He also drilled the fairing for an analogue boost gauge to show the level of boost, which had increased from approximately 7 psi stock to about 12 psi as modified.
As one might expect from the sport touring profile, this was not a bike for canyon racing, more for crushing long stretches of somewhat twisty highway. Off boost, the low 8.5:1 compression and the 567 pound weight meant that throttle response was pretty soft. Boost came on strongly at a bit over 6,000 rpm, but still the weight of the bike blunted the feel of the power delivery and it was more exhilarating than frightening at full chat.
She would rev to about 9,500 rpm and since the thing had one of those Joan Claybrook 85 mph speedometers mandated during the dark days of the Carter Administration, I never really knew how fast I was going, although it was rather exciting getting there. It felt very much like a two stroke coming "on the pipe."
The engine differed from the non-turbo Seca standard by incorporating the Yamaha Induction Control System (YICS), which was a series of small, linked intake ports to better swirl the mixture before entering the combustion chamber. I can say that my Turbo routinely got better mileage than a friend's standard Seca, delivering some 47-51mpg in those halcyon days before our wretched (and very environmentally unfriendly) methanol debased petrol.
Due to the always sunny Los Angeles weather, that bike and I got to know each other very well over nearly seven years of daily use in the cut and thrust of that megapolis' traffic pattern. As alluded to earlier, she and I traveled all the way up to Vancouver, BC to visit a friend and we toured and camped in every national park between Lassen Volcanic in California and the Canadian border.
Despite a unique "blow through" design of the carburetor, where the boosted air from the turbo was fed into the intake bells via a pressurized air box (a system only shared by certain pre-war Mercedes Benz automobiles) the bike was utterly reliable. Other than replacing one clutch kit, routine oil and filter changes plus tires and brake pads were all she required. By this time I'd had several BMW twins and I expected that the shaft final drive would be problem free; unsurprisingly, it was.
Riding behind the rather expansive fairing had its benefits. Each side of the fairing had a small locking storage box, good to store sunglasses, a small camera, or spare gloves. The fairing mounted mirrors remained dead smooth at all speeds, a handy thing when exceeding speed limits. The pocket of still air ensured a relaxing, yet elevated, pace and the nearly horizontal terminus of the windshield meant that helmet buffeting was nearly nil.
Handling was sometimes a mixed bag, but it was at least competent. Since the bike had a somewhat tall center of gravity, it took direct steering efforts to place it properly on tighter roads and the wooden feeling brakes of the era meant that a hard squeeze was necessary to get all that mass slowed down. One had to be cognizant of staying off the boost until after the apex of a corner.
I did notice a softening of the power by the time 50,000 miles had been reached. The low compression pistons and high weight made it friendly to ride around town in heavy traffic. First over pistons and a bore job would have restored any lost power, if it bothered me enough, but it didn't.
Alas, Yamaha only offered the Turbo Seca in 1982 and 1983 and it was not a strong seller. Most riders simply purchased larger displacement engines and dispensed with the additional complexity and non-linear power delivery of the boosted mill. Yet, that motorcycle lived on, as I sold it to a good friend who put on another 35,000 miles on her. He eventually sold it to a friend of his who owns it to this day.
It was a good all-rounder, indeed. Not the fastest, best handling, or most comfortable motorcycle I have ever owned, but it sure was good bang for the buck.