The Yamaha XS-650 Twin
By David Tong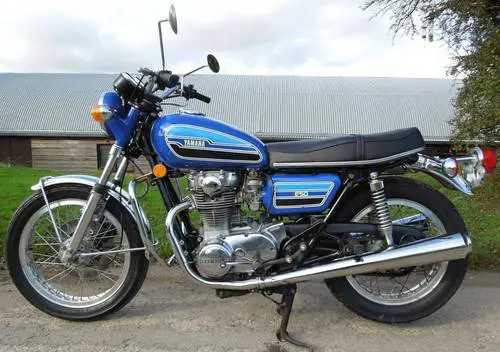 As a Japanese manufacturer and engineering company, Yamaha duly notes what kind of motorcycles are selling at any given time. However, even they were a little slow on the uptake when they came out with the 1971 XS-1.
While looking markedly similar to the British Triumph Bonneville and BSA Lightning, the folks from Hammamatsu built an engine with horizontally split crankcases. This was to provide better support for the four main crankshaft bearings, themselves being roller and ball types, and also to help preclude oil leakage from the vertically split British orthodoxy that generally had only end bearings that caused crank twisting at higher revolutions. The engine was of unit construction, which meant that the engine and transmission were built into a single case, in contrast to the 1950s era British bikes that used separate engine and transmission cases and primary chain drive.
Looking at the valve train, they saw that the pushrod actuated overhead valve design was less efficient than an overhead camshaft arrangement, so that is what went into the new bike. Said camshaft also spun on ball bearings. Curiously, most modern Japanese four cylinder engines now use plain bearings for both cranks and cams and these engines rev faster than the old 650.
The earliest several years of the 650 followed the British pattern fairly assiduously in other ways. A mild steel double cradle frame with a single backbone, tubular rear swinging arm with telescoping dual shocks and 34mm forks shod with a double leading shoe drum brake were certainly the norm in those days.
This conservatism also showed in the styling. An oval fuel tank, followed by a flat dual seat, wire-spoked aluminum wheels and tallish handlebars sat above the upper triple tree. Said fuel tank had the usual Japanese (ugly), flat welded seam all around its base and chromed, instead of painted, fenders. The British machines had smooth (butt-joint welded or brazed) fuel tanks and (usually) painted fenders with striping that matched the fuel tank.
I owned a 1975 XS-650B that was nearly stock. It had been somewhat neglected by its previous owner, with smashed in and rusted mufflers, so the first order of business was to replace them with something lighter and louder. (I was younger then.) BUB Enterprises provided a pair of reverse-cone Norton Commando style silencers and I remember raising the jet needles one notch, as well as upping the main jet one size, to go along with the higher flowing K&N air filters I added.
K&N also supplied a Superbike bend chromed handlebar to allow for more relaxed motoring at higher speeds than the original bars. Other than this, I vaguely recall fitting some Progressive Suspension front fork springs and spooning on some Avon tires, the only thing British on the whole bike.
Of course, all of the fluids and the battery were changed. Replacing the oil in a Yamaha 650 is pretty important, as they do not have the usual replaceable paper element cartridge, but only a metal screen, and those roller and ball bearings like fresh dead dinosaurs. That, and the bikes tended to use a bit of oil, especially at higher engine speeds. However, it was an easy matter to remove the small metal threaded cap that doubled as a dipstick to check the level once a week.
Just like the British bikes of the time it was at its best, not on fast freeway rides, but twisty road jaunts at lower speeds. The 360-degree rise and fall of the pistons created a fair semblance of the exhaust note (and vibration) of its Anglo counterparts. All was well and good below 75 MPH or so, which is more than fast enough for most roads leading to the Pacific Ocean.
Specifications
Engine: Air cooled, SOHC, two valves per cylinder, 654cc, approx. 50hp @ 6,800rpm
Fuel tank capacity: 3.9gallons (plus reserve), manual petcock
Performance: 0-60 in 5.8sec; 1/4 mile 13.8sec at 93mph; top speed 112mph
Mileage: 44mpg highway, 63mph average (my figures)
Wheels: Spoked
Brakes: Dual piston rigid caliper front disc, rear drum
Tires: 3.50X19 inch front; 4.00X18 inch rear, bias ply with inner tubes
Wet weight: 467 pounds
Wheelbase: 56.5 inches
The handling, when I owned this bike in the late 1980s, was already feeling a bit dated. Suspension travel was limited and damping, especially in rebound, was similarly so. A bit of a pogo stick, I discovered while researching this article that Yamaha had modified some aspects of the frame or swing arm in 1975 and eliminated the speed wobbles that had plagued earlier models of the bike.
I found ground clearance was still adequate for the speeds at which I felt comfortable, the brakes were wooden feeling and steering was direct with good feel. Like any other motorcycle, good tires are a must if you want to extract maximum safety and performance, paying dividends in ride quality and quietness, let alone stick when banked over or stopping.
The bike had both kick and electric start. Even without a compression release, it was not a big deal to give the start lever a decent shove with the right boot to light off the motor. It also settled into a loping idle pretty quickly in those halcyon days before emissions controls ruined carburetors.
Yamaha built the roadster form of 650 until 1978, when it was replaced by the cruiser-styled XS-650 Special. This bike used the same frame and engine, but had a different seat frame, a stepped seat to elevate the pillion passenger, cast aluminum wheels, a fatter 5.5 inch rear tire a teardrop shaped fuel tank and higher, pullback handlebars. Colors were black and red.
These were produced until 1983 for the U.S. market and as late as 1986 for the rest of the world. Not a bad production run, some 25 years, and many of these bikes are still going strong. For those who like the idea of a Brit bike, but do not wish to take the time and money to put them right for long term use, a case can be made for the Yamaha XS-650. However, if I were to long for another vertical twin, I believe I would find a product from Ole Blighty instead.