YPOD Gun Rest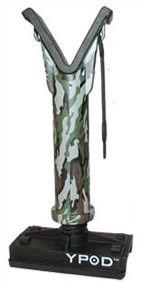 Illustration courtesy of Live Oak Tek, Inc.
To be perfectly honest, when we first received the YPOD, we questioned whether it would really be of value to a hunter. It was well constructed, light weight and reasonably priced. However, would it be useful in the field? Only one way to find out, take it on a hunting trip and use it, which we did.
The primary application for the YPOD is when shooting from a tree stand or tripod blind. The rails on these stands are usually too low to provide adequate support for your gun. However, the YPOD fits over the rails and provides a stable shooting rest. It can be raised from its normal seven inch height up to 11 inches, as needed.
We had occasion to use it on our recent hunt in Texas. The tripod blinds there only have rails to prevent you from falling out and that's it. Without the YPOD, we would never have been able to hold our muzzleloaders steady enough to bag our feral hogs.
The YPOD also provides a stable platform for sighting-in your guns. While we doubt that it will ever replace the traditional tripod front rest used by most shooters at rifle ranges, it is ideal for use in the field.
More than one hunter has found out that their guns needed to be zeroed-in at their base camp and there are rarely any tripods around. The YPOD is ideal under those circumstances. Put it on a table or on the ground and you have a portable rest that makes it easy to sight-in your rifle.
Several years ago, we had just such a situation arise while Ibex hunting. Our scope had been knocked loose from a fall, requiring us to re-zero the rifle. We had to stack backpacks on the ground to approximate a stable rest. It would have been much easier if we had a YPOD.
If you are hunting in the mountains, the YPOD will ensure that you always have a solid rest available when you need it. It is lightweight, weighing only eight ounces, and easily fits into the pocket of cargo hunting pants.
The top and base are well padded with rubberized material for quiet operation and it swivels when you need it for a shot. It also comes with a strap that allows you to temporarily attach the YPOD to your rifle for greater stability. This is a very nice feature.
With an 2016 retail price of $29.95, the YPOD is a bit more expensive than we would like, but given its versatility and overall benefit to the hunter, it is not a bad deal. (Amazon.com gives it 4.7 stars out of 5.) In fact, we decided to keep the YPODs we tested.