Z-Corr Storage and Preservation Bags
By Chuck Hawks
Bill Mayo, the National Sales Director for Z-Corr, sent me an e-mail a while back asking if I would take a look at one of their firearms storage and preservation (FSP) bags. In his e-mail, Bill told me that three years ago Heritage Packaging had designed and fabricated a firearm storage & preservation bag for the U.S. Marine Corps. The military put the Heritage Packaging bags through rigorous testing, which turned out to be very successful in long term preservation of firearms. Heritage Packaging currently produces these bags for the U.S. Marine Corps.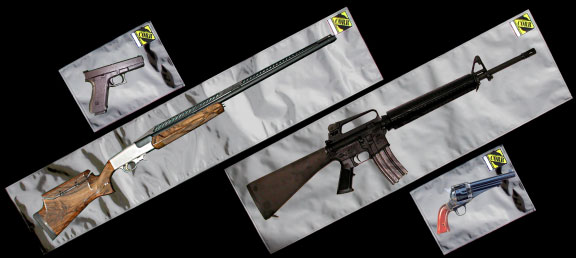 Illustration courtesy of Heritage Packaging.
Heritage Packaging has introduced a line of bags under the Z-Corr (Zero Corrosion Products) name for the commercial sporting goods market. Z-Corr FSP bags are derived from the award winning, patent pending Long Term Storage & Preservation M16 Rifle Bag designed and manufactured by Heritage Packaging. All Z-Corr FSP Bags use identical rust inhibiting design features, while the Tactical Weapon Bag is nearly identical in size and function to the military version. These FSP bags are available in three sizes:
Universal Pistol Bag for handguns up to 15" long. This is the bag sent to Guns and Shooting Online for review. It could also serve to store large fishing reels or other objects of similar size. The outside dimensions of this bag are 15" x 11". The 2006 MSRP is $9.99.
Universal Rifle/Shotgun Bag for guns up to 55" long. The 2006 MSRP is $13.99.
Tactical Weapon Bag for AR-15 and similar sorts of weapons up to 47" long. This bag will accept such weapons with a banana magazine in place. The 2006 MSRP is $16.99.
These bags are identical in design and construction, varying only in size. Z-Corr claims that 100% moisture proof construction and the Blu-Guard-VCI anti-corrosion lamination in their bags creates a VpCI (Vapor Phase Corrosion Inhibitor) barrier that is self replenishing, even for bags that are repeatedly opened. Firearms stored in Z-Corr Firearms Protection Bags need no cleaning for use.
Here is Z-Corr's explanation of how it works, and I quote:
"FSP bags use VpCI (Vapor Phase Corrosion Inhibitor) chemistry and barrier packaging concepts & materials to prevent corrosion. The non-abrasive inner layer of material is impregnated with a long lasting treatment of VpCI chemistry that vaporizes first into the air inside the bag, then onto the metal parts of a gun. Unlike many formulations of VpCIs, FSP Bag VpCIs are active and readily vaporize over a wide range of temperatures."
"When a firearm is inserted into an FSP Bag the vaporized VpCI chemistry is attracted to the metal parts of the firearm and migrates to them where it adsorbs onto metal parts. A one molecule thick protective VCI coating is formed over the part. VpCI chemistry provides complete protection on all metal surfaces, including crevices, cavities and other hard to reach areas with no oiling necessary. When the firearm is removed from its FSP Bag the VCI coating on the metal parts dissolves harmlessly into the air with no cleaning needed."
"To enhance the duration of the VpCI protection and to ensure the ruggedness of the bag, a multi-layer lamination is used for FSP Bag construction. The inner layer of material is impregnated with the protective, non-toxic, environmentally friendly VpCI chemistry. Various other layers of the material include an aluminum foil layer that prevents 100% of gaseous permeation and an outer layer of clear material for tear and puncture resistance."
Z-Corr cites these benefits for their bags:
100% effective at preventing corrosion
100% moisture proof material
Puncture and tear resistant
Non-abrasive liner
Removing guns for routine cleaning is no longer necessary
The bags fit inside of most gun safes and hard or soft gun cases
I can report that the sample bag sent to us has a smooth, silvery outer finish (looking and feeling like plasticized aluminum foil that had been wiped down with a silicone cloth), and an attractive light teal color inner finish. Closure is by means of very fine and exceptionally secure Velcro.
A simple running water test confirmed the second point (above). Water tends to bead and run off the outer surface of the bag. Simple manual scratch and tear tests tended to confirm the third point; the outer surface of the bag is surprisingly tough. Putting a gun in the bag and sliding it around tended to verify the non-abrasive qualities of the liner. The bag pretty well isolates the gun from the environment, so I believe the claim that routine cleaning is not necessary. And the handgun bag fits easily in my gun safe. There is even a Z-Corr label on the corner of the bag with date and contents lines for the user to fill out so that he or she knows what is in the bag. So far, so good.
The real sticker is the first claim. Naturally, we here at Guns and Shooting Online are in no position to do the kind of exhaustive corrosion testing required to verify that contention. However, such tests were conducted by the U.S. Marine Corps before they chose Heritage Packaging to manufacture the M-16 Rifle Preservation Bag.
Z-Corr bags are manufactured in the USA. Visit the Zero Corrosion Products web site at www.zcorrproducts.com for more information about the company's history and their new products for the retail market.