2015 Zero SR (ZF 12.5) Electric Motorcycle
By the Motorcycles and Riding Online Staff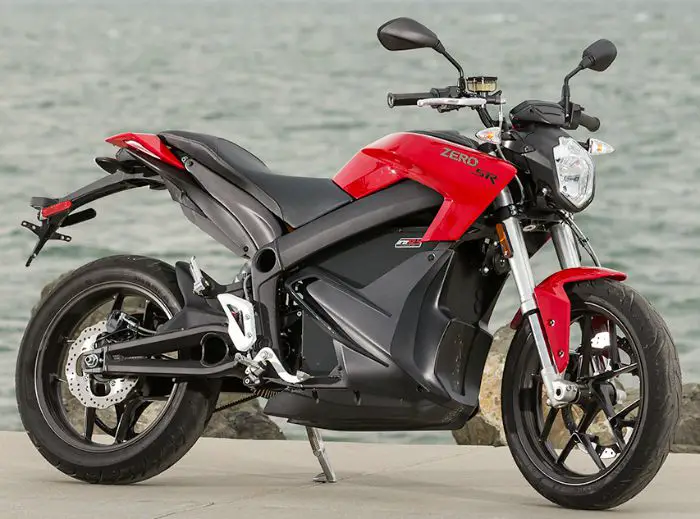 Photo courtesy of Zero Motorcycles.
Zero motorcycles is a Santa Cruz, California USA based manufacturer specializing in high performance electric powered motorcycles. Their first prototype was produced in 2006. In the short time since then, the Company has grown with leaps and bounds.
In 2015, they offer four distinct models: the FX trail bike, DS dual sport, S standard sport bike and top of the line SR super sport. The latter two are identical, except for the SR's increased power. The SR is the focus of this review.
All Zero models are based on the same lightweight aluminum frame and Z-Force electric powertrain. Here is what the Company says about their Z-Force motor, which is the heart of every Zero motorcycle:
"The Z-Force motor was developed from the ground up by Zero Motorcycles to be highly optimized for efficiency, power and size. With nearly the same weight and volume as competitive brushless motors used in similar applications, the revolutionary Z-Force motor produces up to 130% more power and 150% more torque. Even more impressive, the compact brushless motor requires no liquid or forced-air cooling. By placing the heat-producing elements towards the outside, where the heat radiates away via aluminum cooling fins, the motor is completely sealed and requires no routine maintenance."
"When combined with a Z-Force power pack, the motor delivers incredible horsepower and breathtaking acceleration. Providing a unique ride quality, the motor produces 100% torque from a standstill for instantaneous throttle response and incredible off-the-line performance."
"While sophisticated, the Z-Force motor is designed to make the ownership experience simple and exhilarating. All extra parts, maintenance concerns and weight have been eliminated to help riders focus on the best part of owning a motorcycle--the ride."
The Z-Force motor in the top of the line SR sport bike derives its power from four Lithium-ion Z-Force power packs (battery packs). Being simple (some might even say simple minded) motorcyclists, we will also have to take the Company's word about these:
"Zero power packs are fully air cooled and designed to handle the most extreme conditions. Our latest generation of Z-Force power pack technology uses new and more precise cell monitoring to ensure greater range, more power and better acceleration off the line."
Using the motorcycle's built-in charging system connected to an ordinary 110 volt outlet a full charge takes 8.6 hours. To shorten the charge time, Zero offers a quick charge system:
"Zero's scalable 'quick charge' system allows owners to add-on standalone chargers that will substantially reduce charge times. Each individual charger plugs into a standard household outlet and provides roughly one additional kWh of charge to the power pack every hour."
"Please keep in mind that most household electricity circuits are rated to 110V/15A, which can only support a single charger. As a result, in order to make use of Zero's quick-charge accessories, you must plug each charger into a separate 110V/15A circuit. If connecting to any other, higher-rated household circuit, you must make sure it can safely support the load of each of Zero's 1,200W input chargers."
Fair enough. For most users, letting the Zero motorcycle charge overnight on its built-in battery charger will probably suffice, without the added expense of an auxiliary charger.
It all sounds good, but then what company is going to say bad things about their own products? We decided to see for ourselves.
Specifications
RANGE
City: 151 miles
Highway 55 MPH: 94 miles
Highway 70 MPH: 77 Miles
Combined (Hwy. 55 MPH): 115 miles
Combined (Hwy. 70 MPH): 120 miles
MOTOR
Type: Z-Force 75-7 passively air cooled, radial flux, permanent magnet, brushless motor
Controller: 660 amp, brushless, with regenerative deceleration
Max. torque: 106 ft. lb.
Max. power: 67 HP (50 KW) at 4000 RPM
POWER SYSTEM
Power pack: Z-force Li-Ion intelligent
Est. pack life to 80% (city): 339,000 miles
Max. capacity: 12.5 kWh
Nominal capacity: 11.0KWh
Charger type: 1.3 kW, integrated
Std. charge time (110 V or 220 V outlet): 8.6 hrs. (100%); 8.1 hrs. (95%)
Input: Standard 110 V or 220 V
DRIVE TRAIN
Transmission: Clutchless direct drive
Final drive: 132T / 30T Poly Chain GT Carbon belt
SUSPENSION, BRAKES, WHEELS, TIRES
Front suspension: Showa fully adjustable 41mm inverted cartridge forks
Front suspension travel: 6.25 inches
Rear suspension: Showa fully adjustable 40mm pistol mono-shock
Rear suspension travel: 6.35 inches
Front brakes: Bosch Gen. 9 ABS, J-Juan asymmetric dual piston, floating caliper, 320x5 mm disc
Rear brake: Bosch Gen. 9 ABS, J-Juan single piston, floating caliper, 240x4.5mm disc
Front wheel: 3.00x17 inches
Rear wheel: 3.50x17 inches
Front tire: Pirelli Diablo Rosso II 110/70-17
Rear tire: Pirelli Diablo Rosso II 140/70-17
DIMENSIONS
Wheel base: 55.5 inches
Seat height: 31.8 inches
Rake: 24-degrees
Trail: 3.2 inches
WEIGHT
Frame: 23 pounds
Curb weight: 414 pounds
Carrying capacity: 361 pounds
ECONOMY
Equivalent fuel economy (city): 462 MPGe
Equivalent fuel economy (highway): 236 MPGe
Typical cost to recharge: $1.40
PERFORMANCE
Top speed: 102 MPH (full charge)
Top speed, sustained: 85 MPH
Acceleration, 0-60 MPH: 3.3 seconds
WARRANTY and PRICING
Standard motorcycle warranty: 2 years
Power pack warranty: 5 years, 100,000 miles
2015 MSRP: $15,995
What you see (mostly) isn't what you think it is
The Zero S and SR motorcycles are styled, at first glance, like conventional sport bikes. There is an angular gas tank, a tail section soaring so far above the rear tire a small, secondary rear fender is necessary, a skimpy seat with nearly unusable passenger accommodation and passenger foot pegs bolted so high on the frame that only a midget could possibly find them practical. All of this is typical naked sport bike fare.
The only really awful styling element is the Rube Goldberg tail light, turn signal and license plate bracket assembly. This spindly affair sticks out way behind the tail piece and is as unsightly as we have ever encountered.
A closer look reveals that the "gas tank" is actually a plastic shroud for a handy, built-in tank bag with a zipper closure. There is no exhaust system, meaning no pipes and mufflers to burn legs or drag during high speed cornering. The space normally occupied by an engine, transmission, battery and oil tank (on dry sump motorcycles) is mostly packed with the four Z-Force battery packs that power the small, enclosed electric motor that directly drives the rear wheel by means of a belt. Nor is there a radiator at the front of the frame, as there would be for a liquid cooled sport bike. The Z-Force motor is passively air cooled. The entire midsection of the motorcycle is black and bland between the front forks and the rear mono-shock.
Looking good and fully functional are black, lightweight aluminum, 17 inch sport wheels and hydraulic disc brakes front and rear. The latter consist of a Bosch Gen 9 ABS, J-Juan asymmetric dual piston floating caliper, 320x5mm single front disc and a Bosch Gen 9 ABS, J-Juan single piston floating caliper, 240x4.5mm rear disc. The tires are sticky Pirelli Diablo Rosso II.
Despite the SR's narrow build, short wheelbase and moderate 414 pound curb weight (it looks lighter than it is), the seat height is almost 32 inches. Having the rider perched so high in the air accentuates the motorcycle's already rather high center of gravity. Coupled with the restricted fork lock typical of modern sport bikes, the tall seat and high center of gravity makes low speed maneuvers, such as parking, noticeably more difficult than necessary. Many larger, heavier and longer motorcycles are easier to maneuver.
The review
Having discovered that Cycle Parts of Eugene, Oregon, who has graciously provided us with test motorcycles for review in the past, is now a Zero electric motorcycle dealer, we could not resist the chance to ride and review an electric bike. Three of the Motorcycles and Riding Online staff (Chuck Hawks, Rocky Hays and Jim Fleck) rode to Cycle Parts as a group to learn what we could about Zero motorcycles and experience what may be the future. We know that Harley-Davidson and all four of the major Japanese motorcycle manufacturers are busy developing electric motorcycles to compete with the Zero, which as we write these words represents the cutting edge of electric motorcycles.
Rod Johnson, the genial owner of Cycle Parts, was kind enough to spend considerable time with us (actually, well into his lunch hour) explaining the features of Zero motorcycles and relating to us some of his personal experiences with the SR. As one might expect, there is quite a bit of new technology, mostly controlled through or displayed by the LCD display located above the center of the handlebars, where a conventional motorcycle would have a tach and speedo. This display provides a variety of information about such things as mode, battery life and so forth, but the biggest and most important display when riding is a digital speedometer that tell you how fast you are traveling.
At first, the all digital display and push button operation seems rather intimidating to older riders like us, as does the absence of a left foot gearshift lever and left hand clutch lever. The Zero has no transmission or need of a clutch; it is direct drive by means of a carbon belt from its electric motor to the rear wheel belt pulley.
There is nothing for the left foot to do and about all the left hand normally has to do is switch the turn signals on and off. (The turn signals are not self-canceling, which seems like a strange oversight on such a high tech machine.) The horn and high beam switches are also placed on the left handlebar cluster.
All of the important riding controls are on the right side and conventionally placed. The rear brake pedal is operated by the right foot, just like a standard motorcycle. The right hand twist grip makes the bike go and a right hand lever brakes the front wheel, again like whatever motorcycle you are now riding. You don't need to unlearn any established habits to control a Zero.
Operating Modes
The right handlebar cluster has an OFF/RUN switch and a Mode button. The latter is unique to the Zero. It is used to select the motorcycle's operating parameters (mode) and can be changed at any time, whether riding or stopped. The mode button cycles sequentially through three options with each push: Eco, Custom and Sport (in that order).
Eco mode is actually no more eco friendly than the other two modes. It should probably have been called the "city" mode. It tames the bike's response to the twist grip for smoother starts and acceleration, which is especially useful in city traffic; it also limits the top speed to 75 MPH. Eco mode is the way the Zero would normally be ridden when not on a freeway or an open country road. Power, acceleration and response are still more than adequate, just more easily controlled.
Sport mode, as the name implies, sets the Zero for maximum performance and top speed. In the case of the SR model, that means a maximum torque of 106 ft. lb. and 67 horsepower, which is plenty given the nearly instant response of the electric motor to rolling-on the twist grip. In Sport mode (with a fully charged battery) the top end is slightly over a ton, the bike will cruise at a sustained speed of 85 MPH and 0-60 MPH comes in as little as 3.3 seconds.
Custom mode is controlled via an app for smart phones, something totally beyond our previous motorcycling experience. Here is what the Company says about their Zero App:
"Customizing performance takes on new meaning with the Zero Motorcycles app. Not only does the app allow riders to view a real-time customizable dashboard, it also allows riders to actually change the performance characteristics of their motorcycle. Using Bluetooth-enabled iPhone and Android mobile devices, riders can adjust acceleration, top speed and regenerative braking to their exact specifications."
"The app provides two fundamental interfaces. The riding interface can be customized to show real-time data and acts as a secondary, more detailed motorcycle dashboard. When parked, it provides riding statistics, motorcycle data, helps with any diagnostics and allows the rider to customize both the motorcycle performance and the riding dashboard."
Being old fashioned motorcyclists who do not even own a smart phone, we will have to take the Company's word about this. Presumably, if we purchased a Zero motorcycle we could get the nice folks at Cycle Parts to program any changes we felt we needed for us. During our riding time on the Zero SR, we ignored the Custom mode, riding in either the Eco or Sport modes, which worked fine for us.
Riding the Zero SR
To start the Zero you raise the side stand (the bike won't go with the stand down), turn the key on, then switch the red rocker switch on the right to the run position. Check the digital display to confirm your operating mode (Eco, Custom or Sport). We suggest Eco initially.
Then, simply twist the grip (gently) to begin moving. That is it. There is no fuel tap, no choke, no warm-up, no clutch and no shifter. The direct drive electric motor just propels you silently forward. It is as quiet as riding a bicycle, but a great deal faster. You will find the Zero easy to ride.
The riding position is closer to a standard motorcycle than a typical sport bike. The foot pegs are only slightly rear set and the handlebar has a sport touring bend. Call it a sport touring riding position that we found surprisingly comfortable.
While the seating position is good, the seat itself leaves something to be desired in comfort. It is commendably narrow, but thin and rather hard. However, it proved adequate for short rides and the limited range of the Zero (around 77 miles at 70 MPH) prohibits long rides.
We found the stock hand grips hard and too small in diameter. They need to be replaced with larger and softer grips.
This is not a touring bike and if ridden progressively up hills, around corners and passing cars, its endurance will almost certainly be less than two hours and probably closer to an hour and a half before the battery is depleted and a recharge (8.6 hours on standard 110V house current to restore full power using the built in battery charger) becomes necessary.
We started with a 100% battery charge and used 26% of it in the first 18 miles on a winding country road with curves and speed limits from 25-55 MPH, although we were traveling faster than that. That would mean approximately 72 miles of riding before the fun comes to an end, or 36 miles one way before you must turn for home (leaving no reserve mileage at all). That will not cut it, even for half-day pleasure rides. Long range is not one of the Zero motorcycle's strengths.
Both the front and rear suspension are adjustable for spring preload, compression and rebound damping. In front are Showa 41mm inverted, cartridge type forks and the rear wheel suspension is handled by a Showa 40mm piston, piggy-back reservoir mono shock. We rode with the factory settings, which seemed fine for our purposes.
With over six inches of travel front and rear, the suspension is probably overkill. This is, after all, a street bike. We'd be more than willing to sacrifice a couple inches of suspension travel for a lower seat height.
The brakes are adequate to haul the Zero SR down quickly from speed. In town, the brakes are responsive and easy to modulate, without being grabby. We had no occasion for a panic stop while riding the SR and, despite some hard test braking, never (as far as we could tell) activated the anti-lock feature. We can report the brakes were smooth, progressive and exhibited no fade during our test riding.
The SR has excellent acceleration, even in Eco mode and certainly in Sport mode. In Sport mode, it can get from 0-60 MPH in only 3.3 seconds. When you roll it on, the increased power takes immediate effect. Passing cars traveling at 55 MPH on a two lane highway is easy.
Frankly, Eco mode offers all the performance you will probably normally need, at least up to 75 MPH, which is the top speed limit in Eco mode. Unless, of course, you are trying to prove something.
On the open road in Sport mode, the Zero SR initially pulled away from our H-D Super Glide Sport chase bike in a roll-on, which has a 1550cc (95 cu. in.), Stage 3 motor. Chuck, who was riding the Harley at the time, had to downshift to stay with Rocky on the SR. Ultimately, the big bike could run down the Zero on a straight road, because it has a much higher maximum speed (around 140 MPH), but the Zero's initial roll-on acceleration is definitely impressive and demands respect.
The Zero's sophisticated and very beefy Showa suspension, superb tires, instant torque, anti-lock brakes, excellent ground clearance and lean angle ensure that most street bikes will not be able to catch it on a twisty road, unless the Zero rider wishes to be caught. At least until the Zero's battery runs down.
There are, of course, no mufflers to burn legs or drag in corners. Rocky, being our most aggressive test rider, scrubbed the tires right to the edge of the tread and nothing scraped the road.
Notable is the regenerative effect when the twist grip is rolled off. As the bike coasts and slow down, the effect is similar to what you get from a four-stroke gas motor's compression braking (without downshifting). We thought it was reassuring, although Rocky wanted even more regeneration. This can be programmed-in using the Zero app.
The SR's fun factor is excellent. It is easy to ride on curvy back roads or in traffic. There is no shifting and slipping the clutch and you cannot kill the motor accidentally. On a hot summer day, when heat pours off the motor of a conventional (gasoline powered) motorcycle, the Zero stays cool.
Its silence lets you hear everything going on around you. It is eerie. However, the electric bike's silence also means the driver of the car right next to you, so close you could reach out and touch it, has no idea you are there, unless he or she turns and looks. (We all know about drivers who "didn't see" motorcycles in plain sight.)
Even bicycle riders can't hear you, so be careful around them, as bicyclists expect to hear nearby vehicles and are prone to making sudden, unexpected maneuvers when they think there is a gap in the traffic. This is something the Zero rider must remember.
On the negative side, there is important information displayed on the Zero's LCD monitor that must be processed, meaning riders will inevitably spend more time than normal looking at the display and not down the road. We also found the Zero's digital speedo display more time consuming to read than an analog instrument.
Chuck found the mode display too small to read with his old eyes without reading glasses, which are obviously impractical when riding. In addition, the mode switch was imprecise in operation, sometimes not changing the riding mode without more than one push.
The mirror stalks are too short, particularly on the right side where the mirror is mounted a bit farther from the end of the grip. The view astern in the right hand mirror is largely blocked by the rider's body.
The turn signals are not self-canceling. A rider used to self-canceling turn signals may forget to switch the signal off. This is particularly dangerous in the city, where cars are liable to turn left or pull out in front of you if they think you are going to turn.
The limited steering lock was obvious when we tried a U-turn on a two lane road. It took almost the entire width of the road to get around. A shorter turning radius would be very beneficial in the city, where tight, low speed maneuvers are often necessary in parking lots, etc. The tall seat doesn't help, either.
Conclusion
The Zero SR is a neat, short range, sport bike. It is fun to ride and offers plenty of performance with a full battery charge. There is no routine maintenance beyond tire care and no waiting in line to buy gas; you just plug it in at home to any regular 110 volt, 14 amp AC line with an extension cord. We very much enjoyed our time with the top of the line Zero SR and if another 1970s type gas shortage occurs we plan to rush right out and buy one.
As with all electric vehicles, battery technology is the sticking point. The Zero SR carries a 2015 MSRP of $16,000. The battery packs alone cost $2500 each, or $10,000 for the four in the SR. This means you have a $6000 motorcycle carrying $10,000 worth of batteries. (For $6,000 the Zero SR would be a good buy, at the current asking price of $16,000, not so much.)
The battery packs are warranted for 100,000 miles, which is great, or five years, which is not so great. The limiting factor in battery life will usually be time, not miles. Since the motorcycle is worth much less than its batteries, when the batteries are spent, you basically have no resale value. Contrast this with our Harley chase bike, which is 15 years old, still going strong and has excellent resale value. As neat as the Zero SR is, it is probably not a great long term investment.
Actually, we think the SR, as much fun as it is to ride, is the wrong motorcycle for Zero to be building. (Except as a technology demonstrator and for a rather limited number of customers.) Given the limited range imposed by current battery technology, a city bike along the lines of the Honda Rebel 250 would probably be more useful for most potential customer's needs.
In 2015, an electric motorcycle is most practical for running errands in town and commuting to work. For the city rider, a lower seat height, more steering lock and maximum luggage capacity are more important than sporty style, state of the art suspension and extreme cornering clearance.
Using the "build it" feature on the Zero website, we configured an SR with a commuter windscreen, top box (tail trunk), side cases (hard saddle bags) and "classic grips" by Pro Grip (hoping they would be more comfortable than the stock grips) to make it as practical as possible for city riding. The bottom line for the accessorized Zero SR was $17,604.95!
Much may, and probably will, change in the near future. The Zero SR gives riders a sample of that future today.