Alfonso's of Hollywood Model IH2 Quick Detachable Holster and A.E. Nelson Model 13-0 Magazine Carrier
By David Tong
I have long been a proponent of inside waistband (IWB) carry for a concealed handgun. It is my preferred option for a discreet and rapid draw, with minimal telegraphing of intentions through initial movements. This choice is made practical by my male gender (IWB carry is a non-starter for most women), slender build, the clothing I normally wear and the work and leisure environments I typically inhabit.
Outside waistband (OWB) carry can be more comfortable, but it has its own considerations. For example, cover garments must be more extensive and more thoughtfully selected. OWB holsters tend to have a greater tendency to shift position and they are harder to keep from printing.
A holster that fits properly is very important to carry and secure your handgun. This is especially true when carrying IWB, where the holster must properly fit your body, as well as your pistol and gun belt. In addition, I cannot emphasize enough the need to wear a belt that makes the whole works comfortable for daily wear.
Alfonso's of Hollywood Model IH2 Quick Detachable Holster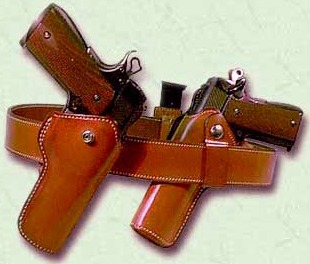 IH2 shown configured for IWB and OWB carry. Courtesy of Alfonso's of Hollywood.
I have used Alfonso's leather holsters (www.alfonsosgunleather.com) for over twenty years. The company dates back to the days of the 1960's fast draw movement, when the late Mr. Alfonso Pineda supplied many Hollywood Western movie and television stars with their leather goods. His son, Mr. Omar Pineda, sold me this particular holster over fifteen years ago and it has been a great companion for my heavy 1911 handguns ever since.
Alfonso's advertises the IH2 as a dual use holster, suitable for both IWB and external hip carry. It is offered with two detachable belt loops for dress belts and work belts. The IH2 is available for most large and medium frame autoloading pistols.
The two layer, full top grain leather construction of the IH2 might strike some as a bulky concept, but they would be wrong. Despite having a bendable steel insert to help add retention friction, the holster shell is actually under 1/8 inch thick. It is one of the best holsters for packing a large service pistol I have ever owned. The same beautiful Cordovan dyed leather exterior is also used as a lining to reduce wear on the pistol's finish and smooth the draw stroke.
Moreover, the holster and pistol are quickly and easily removed by use of a one-way snap on the belt loop that all but prevents drawing the holster with your pistol. Simply slide the belt loop to any location on your belt and the smooth leather allows you to slip it into your pants without any hassle.
You can use the IH2 for appendix carry, FBI carry, or cross draw with equal comfort and draw speed. The swiveling snap loop allows you to carry at whatever angle the belt position dictates.
The IH2 is available in black, brown, dark tan, light tan and cordovan. These fine holsters are made in a five man shop located in Burbank, California USA. Telephone 818-769-0362 for current prices.
A.E. Nelson #13-0 Magazine Carrier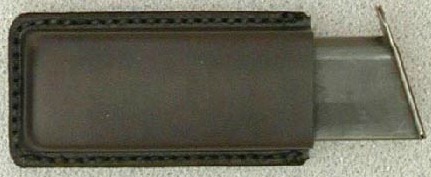 Illustration courtesy of A.E. Nelson Leather Co.
A.E. Nelson (www.nelsonleather.com) of Scio, Oregon USA has a well deserved local reputation as a maker of custom gun leather. Over the years, I have owned several non-mainstream or uncommon pistols and they had no problem quickly creating one-off custom items for me. They service local law enforcement and the sportsman equally well with a full range of products.
One of their products is their #13-0, an open topped carrier for a single magazine. These magazine carriers are made specifically for each type and size of magazine, so the friction retention works correctly.
For those who prefer a magazine carrier with a full flap for positive retention, the #13 fits the bill. Either way, these A.E. Nelson mag carriers feature fine quality leather and a riveted-on leather loop on the reverse side for belt mounting.
While it is capable of accepting a 2-1/4 inch duty belt, the #13-0 magazine pouch works like a charm with the thick Bigfoot Gun Belt previously reviewed and the standard capacity 9mm magazine I normally carry as a backup. Available in black, brown, natural oil finish or basketweave in either color, in 2016 the A.E. Nelson #13-0 magazine carrier sells for $27.90.