Bigfoot Gun Belts
By David Tong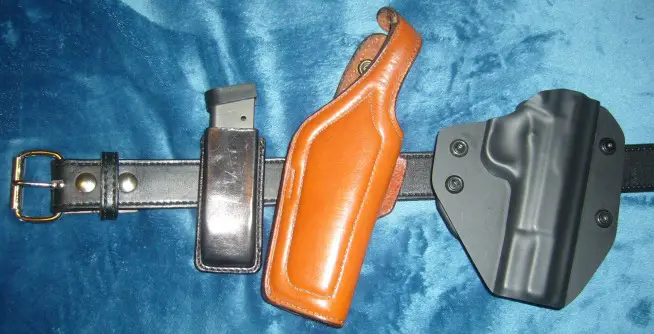 Bigfoot belt shown with a magazine pouch and a couple of suitable holsters. Photo by David Tong.
Sadly, most people give little to no thought about the type of belt they wear when carrying a handgun. I cannot recall the number of folks I have seen at the range wearing flimsy dress belts, better suited for the boardroom than the range. Then, they grumble about how heavy their handgun feels after a few hours.
While a holster is very important, it is the quality of the belt that is literally the foundation of how well a handgun can be integrated with your body. As someone who has carried a handgun in competition, as a hunting companion in the field and as a carry permit holder, I am no stranger to fine leather goods. In the past, I have used belts from Alfonso's of Hollywood, Andy Anderson, Bianchi, Gordon Davis, Safariland and Ted Blocker. I still use many of these decades-old belts.
My belts have run the gamut from single thickness, to double thickness with additional middle stitching and include both curved and straight belts. All were chosen to combine comfort and adequate support for the largely all steel handguns I prefer to use.
When Bigfoot Gun Belts of Idaho contacted me regarding reviewing their new belts, I was interested to see if this was a maker of lasting quality and whether their product could improve on the comfort levels to which I was accustomed.
Bigfoot is a new company to gun leather. At the time of writing (2016), their sole product introductions are 1-1/2 inch width leather belts in plain brown or black finish. These are available in two thickness weights, 14 ounce and 18 ounce.
This may seem rather pedestrian, but their take on the gun belt is full of very nice details. Details matter when one is supporting a handgun, spare ammunition and accessories.
First, the belts are made of fine English bridle leather, the kind used for horse tack, full-grain from the uppermost part of the hide. Such leather is not only durable, it has the best finish available at a price point with which most of us are comfortable.
Second, the belts use a stainless spring steel reinforcing band that is immune to bending or creasing. By sandwiching this between the two layers of the fine leather, the belts will not sag or lose shape and offer firm, but pliant, support for a sidearm and accessories.
Third, they use a "military grade" bonded nylon thread that will not become frayed with hard usage. The company claims this is every bit as durable as the leather that it holds together and will last a lifetime.
Fourth, their belts are hand finished and have beveled and burnished edges for appearance. These edges are so well done that it is quite difficult to see the joint between the two pieces of leather that comprise the belt. The edge is hand-painted with permanent dye to ensure colorfastness and the entire belt is vat dyed.
Fifth, the steel roller type buckle and one way snaps are nickel plated. This provides corrosion resistance and makes the belt easier to put on.
Finally, Bigfoot is an American company based in Hayden, Idaho. They stand behind their product with a seven day open exchange program for any noticeable deficiencies, or upgrades or downgrades to belt thickness, color, sizing, or texture issues. In addition, they offer a full one year warranty against any structural failure of the belt (if the user has not modified it). This last is rather unheard of.
The belt I sampled is one of their heavier 18 ounce models, as my typical carry handgun and accoutrements runs to the heavy and large end of the scale. The 2016 MSRP is $64.88.
Due to the extra thickness of the belt, several holsters and magazine pouches I own were a very tight fit, even though they were equipped with 1-1/2 inch belt loops. If this is an issue with your existing gear, or if you plan to wear the belt with business clothing, it might be best to obtain one of their 14 ounce models, rather than the thicker model reviewed here.
The quality of this belt is obvious. It is beautifully finished and it even smells great. I have been wearing it almost daily for roughly three months, primarily with jeans and khakis.
I find that trousers of traditional high-waisted cut are more comfortable for carrying any handgun. While wearing this belt using my preferred inside-the-waistband appendix position, as well as cross-draw and FBI 4 o'clock, I found it provides comfortable and firm support.
I have worn my Bigfoot belt with a number of holsters on all-day excursions. These include the Alien Gear Cloak Mod OWB, Bianchi IWB and OWB holsters, Davis IWB and cross-draw holsters, and a Galco IWB holster. It has been more comfortable than any belt I have ever worn. In addition, very little break-in was necessary, considering the thickness and support.
I suspect that both the spring stainless support band and the great leather are the reasons this belt is so comfortable. I have pretty much retired all of my other belts at this point. This is rather surprising, as they are old friends by now.
The Company representative told me they do not have immediate plans to market other products. Bigfoot can be reached at their website http://gunbelts.com.