Alien Gear Cloak Mod OWB Holster System
By David Tong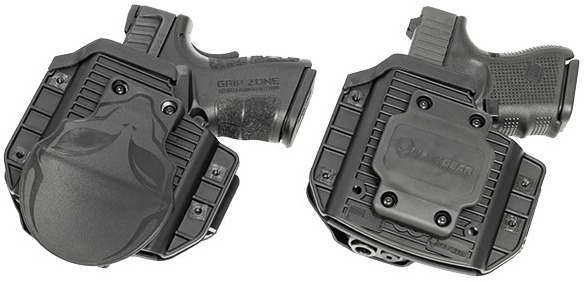 Illustration courtesy of Alien Gear.
Alien Gear Holsters of Idaho (www.aliengearholsters.com) is offering an interesting inside-waistband modular holster system. It some ways it resembles the more famous Crossbreed holster that has a wide backing of leather and two plastic clips to secure the holster to a belt. Alien Gear moved the design ethos along by using a urethane rubber backing for greater comfort, as well as providing a perspiration shield to protect your handgun.
The most interesting feature of Alien Gear's product line is the interchangeable, molded Kydex holster shell. This allows a shooter to exchange a shell, at no charge, for another shell that fits a different handgun, FOR LIFE. As long as you are using the same backing material for the same size pistol, it will function equally well.
They have extended this modularity into the new Cloak Mod OWB holster system. This is a rigid, molded nylon holster base that accepts both a belt loop and a paddle mount. I have been wearing the paddle mount, as I find it more convenient to remove at the end of the day.
This system uses a synthetic, rubberized "retention backer," along with a spring steel liner. This liner is sandwiched between the rear mounting plate and the backer and provides user-adjustable drawing tension for your handgun. A full set of spare screws, weld-nuts and spacers (included) can help you customize your holster's fit to the handgun.
The resulting assembly is thus four layers thick, not including either the belt loop or paddle. It is adjustable for height and rake angle to allow cross-draw, FBI behind strong side hip, or straight up and down carry. I have carried the holster at roughly four o'clock under a light cover garment.
The holster is fairly comfortable to use with a full sized steel pistol, which in my case is its normal inhabitant. In addition, the paddle is secure when used within your trousers, as it goes approximately five inches deep and easily accommodates a 1-3/4 inch wide belt. You can carry it with the paddle outside your trousers, if that suits your comfort level better, and there is a substantial molded tab that prevents it from being easily stripped from your body.
I think the Cloak Mod OWB system is more comfortable to use than an inside-waistband holster in the FBI position. However, a rather long and loose cover garment is required, because the holster itself is thick and square edged. This means that it is liable to reveal itself (print) under your outer garment when bending over, or if your outer garment is thin and/or tight fitting. A relatively long and thick cover garment does not bode well for summertime carry or in warm climates.
The Company's use of interchangeable Kydex shells for individual handguns for both their IWB and OWB systems is a sound one in terms of commonality of parts and economy of scale. However, both systems do not necessarily work well if you are slender of build, as I am, for there is no attempt to contour the holster's outline.
The end result is a relatively comfortable system for carry in the four o'clock position, but nowhere else. Perhaps people bigger than I would be more satisfied with the system's ergonomics.
Even when worn with a stiff, spring-steel lined Bigfoot Gun Belt, trousers that closely matched my waist size (not one of those elastic-banded trouser waistbands) were required for system stability. Otherwise, the holster with the paddle attachment had a tendency to shift around my belt. This tendency would only be exacerbated if one used the even smaller contact point of the belt slide, which does not have the paddle's long and broad tang to help stabilize it within your pants.
The interchangeability of the paddle and the belt slide attachment is an attractive feature. However, it requires nearly complete disassembly of the holster to replace the paddle with the belt-slide.
In addition, there is no adjustment for belt thickness. This is somewhat compensated for by the Alien Gear's rubberized flexible plastic construction, which adds friction. A thicker belt would be better, but you run the hassle of having to screw the plate into position on your belt and trousers before donning them.
Fortunately, Alien Gear offers a very good, full color instruction sheet, as well as the necessary Allen wrench needed for assembly and adjustment. The Company's customer service department is first rate and an example for others to emulate. The 2016 MSRP of the Cloak Mod OWB system is just $47.88.