Buck Custom Shop Model 119 Special Knife
By Chuck Hawks
For readers who do not receive manufacturer's press releases, Buck Knives now has a Custom Knife Shop (https://www.buckknives.com/custom-knife-shop/). Through the Custom Shop a customer may design a personal Buck knife "with unique handle materials or treatments, blade steels and options for blade or bolster engraving."
The customizing process can easily be accomplished online, much like clicking "build it" on an auto manufacturer's website. You are presented with categories of options: Blade, Guard/Pommel, Handle and More Options. You select the options you want in each category by clicking with your mouse.
The Custom Shop does not offer to customize every model of Buck Knife. Only a few, select models are available for full customization. On the short list as I write this article in February 2019 are six folding knives and three fixed blade knives. Among the folders are two models we have reviewed in standard form, the 110 Folding Hunter and 501 Squire, both classic Buck models.
Among the customizable fixed blade models are the 113 Ranger Skinner, 916 Bowie and the Buck Model I chose to customize for this review, the 119 Special. I don't have much use for a Bowie knife and I wanted to customize a classic fixed blade hunting knife, so the 119 Special was the obvious choice.
According to the Company history, Hoyt Buck designed this knife in response to a U.S. Army solicitation for blade design donations for the military in early 1942, shortly after the US entered WW II. Early examples of the 119 Special were hand built by Hoyt, just as he had been making knives to customer specification for 40 years. The 119 Special, however, became a standard Buck Knives model, initially produced in a church basement in 1942 and continuing to the present day.
Buck classifies the 119 Special as a hunting knife on their website. However, it is a versatile design that can also serve as a camp knife, survival knife, or Tactical knife. (The Buck Brahma tactical knife is essentially a 119 Special with a blackened blade and stacked leather handle.)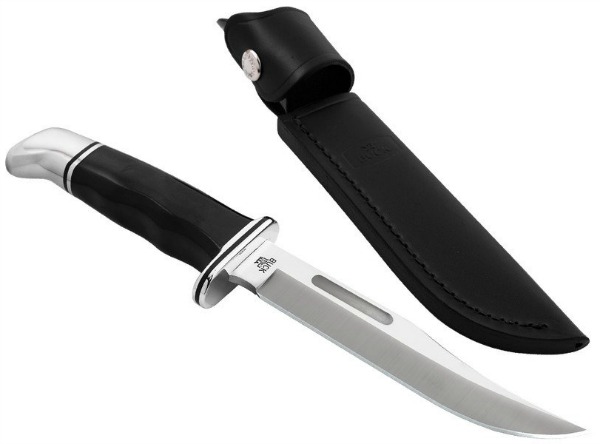 The standard Buck 119 Special knife w/sheath. Photo courtesy of Buck Knives, Inc.
The standard 119 Special that you can buy at your local hardware or sporting goods store is 10.5 inches long overall, has a six inch clip point blade made of 420HC stainless steel, black Phenolic resin handle, weighs 7.5 ounces and comes with a black leather sheath. Like other classic Buck knives, it is made in the USA. It looks like a Buck Knife should, attractive and functional. The 2019 MSRP is $96 and it is a lot of knife for the money.
Ordering a Custom Shop Knife
To order a model 119 Special online from the Custom Shop the 2019 base MSRP is $110. You then use Buck's online knife builder to customize your knife. The cost of each option is clearly displayed.
1. The first step is choosing the blade. The blade pattern remains the 119, of course, but you can choose color and finish (black Cerakote, Chipflint, satin silver, mirror polish silver), whether you want a blood groove and your preferred stainless blade steel (420HC or S30V). For the Guns and Shooting Online review knife, I chose an S30V satin finished blade without a blood groove ($32).
S30V stainless steel contains carbon, as well as high amounts of Chromium, Molybdenum and Vanadium. As Buck states and my experience confirms, "S30V combines fantastic edge retention and high ductility combined with corrosion resistance. Double-tempered - it can be hardened to a Rockwell hardness of Rc 59.5-61."
2. The next category is "Guard/Pommel." For the 119 Special there are two choices, a mirror polished, aluminum finger guard and pommel with Micarta line spacers (no extra charge), or a brass guard and pommel, also with Micarta spacers (+ $10). I have always admired the look of Buck's traditional aluminum pommel and finger guard, so that is what I chose (no extra charge).
3. "Handle" is the next category and the options become more varied and expensive. You can choose the standard black Phenolic handle for no extra charge, or handles of Elk with a walnut spacer (+ $135), or various exotic hardwoods (+ $15 to + $150). I chose something called Buckeye Burlwood, which I thought would complement a classic Buck hunting knife ($55).
4.The final custom choices are lumped together under "More Options." These include such things as various brown and black leather sheaths (+ $0 to +$50), display cases (+ $20 to + $60) and laser engraving on the blade in either block or script letters.
For the Guns and Shooting Online knife, I chose a black leather 75th Anniversary 119 Special sheath that is essentially the same as the sheath supplied with standard 119 Special knives, only with "119 Special 75th" embossed into the leather (no extra charge). The Buck Knife 75th anniversary was in 2017 and these sheaths were supplied with production model 119 knives in that year only. Presumably, the remaining sheaths were sent to the Custom Shop and are available with custom 119 knives until the supply is exhausted.
I did not select any display case or stand, as I already have one. The final choice was engraving and I ordered "G&S Online" laser engraved on the right side of the blade in block font. The final price for this Buck Custom Shop 119 Special was $204 and delivery took six weeks, including Fed-Ex ground shipping at no extra charge.

The Custom Shop 119 Special G&S Online knife. This "snapshot" photo does not do the knife justice.
Specifications
Model #: CKS119
Style: 119 Special
Blade shape: Clip point
Grind: High hollow grind with micro bevel
Blade length: 6 in.
Sharpened edge: 5-1/4 in.
Blade steel: CPM S30V
Rc: 59.5-61
Blade finish: Satin
Guard and Pommel: Polished aluminum w/micarta spacers
Handle: Buckeye Burl wood
Handle finish: Glossy
Overall length: 10-1/2 in.
Weight: 7.4 oz. (knife only)
Sheath: Black leather (included at n/c)
Country of origin: USA
2019 MSRP: $204 as built (including shipping)
The 119 Special blade shape incorporates features that have become staples of Buck blade design. The blade's 5-1/4 inch cutting edge looks essentially straight for about the first 3-1/2 inches, then curves rather sharply toward the tip between the 3-3/4 and 4-3/8 inch point, with the curve moderating from there to the tip. The micro bevel that forms the actual cutting edge seems to be about 16 degrees.
This is a subtle and sophisticated blade shape, developed by a master bladesmith after over 40 years of practical experience and now in production for some 77 years. It provides a long straight section for general cutting chores, a fine and very sharp point for detail work and intentional punctures (such as in leather), with a curve to the tip adequate for skinning big game animals. "Special" is a pretty good way to describe this blade.
The clip point also reduces the weight of the blade, as does the hollow ground 5.25 inch cutting edge. The 0.175 blade thickness at the spine gives the blade serious strength.
The left side of the blade is marked with "Custom Shop Knife" in small letters, plus the "BOS flame" emblem signifying BOS heat treating and "S30V." The right side of the blade is marked "BUCK USA" near the hilt in small letters and "G&S Online" is engraved on the blade's hollow grind in much larger, but fine line, letters.
I find it interesting that some of the most renowned and successful pioneer knife makers of the 20th Century, including Hoyt Buck, got started seeking better ways to heat treat steel. In the late 1970s, Paul Bos, award winning expert in the art and science of heat treating and long time friend of the Buck Family, helped the Buck Knife Company set-up their own heat treating department.
Bos and the Buck's worked out an arrangement where Paul would operate his own business right in the Buck plant. Paul was therefore always there to serve Buck, while still doing heat treat for custom knife makers all over America. In 2001, Paul sold his business to Buck Knives, but remained the on-site heat treat expert. This explains the "BOS flame" mark on Buck knife blades made in the USA.
The 119 Special uses a rattail tang. One of the seldom mentioned advantages of a rattail tang is it can provide a platform for a thicker, more comfortable and more securely attached (no rivets or screws needed) handle. The more serious the cutting chore, the more important the size and shape of the handle becomes.
The G&S Online Buck Custom Shop 119 Special's Buckeye Burl handle provides approximately 3-7/8 inches of gripping length between the finger guard and the sharp angle in the pommel that prevents the hand from slipping off the end of the handle. The maximum handle width is approximately one inch in the middle and the height is 1.14-1.16 inches. The circumference is about 3-7/8 inches at its maximum.
There are three wide, but very shallow, finger grooves milled into the bottom of the handle. They are easy to miss at first glance and, despite my bias against finger grooves, may even (slightly) improve the feel of the grip. Unlike pronounced finger grooves, they do not try to force the hand into any particular position or grip on the handle. The bottom line is this handle is well suited for serious cutting.
The handle material is Buckeye Burl (Aesculus californica), a wood with which I was not previously familiar. Like any burl wood, you would not want to use it as a load bearing structure, but the Buckeye Burl in this knife handle has stunning color and grain pattern. It is simply gorgeous. I did an online search and found this description of Buckeye Burl on the Cook Woods website:
Buckeye Burl, Aesculus californica, is one of the most interesting species we carry! We get the burls in whole and mill them right here at our facility. Most pieces have wonderful burl and swirling grain patterns mixed with blue/grey, black and golden color contrast. All pieces have either natural incursions or bark edges that must be worked around. It is useful to stabilize pen blanks and small items with CA glue to obtain a beautiful finish."
Of course, a serious knife requires a serious sheath for safe carrying. The standard heavy duty sheath supplied with the regular model 119 and the 75th anniversary edition ordered with the Guns and Shooting Online Custom Shop model 119 is essentially the same sheath, except for the 75 Anniversary stamp on the latter. It incorporates a black plastic liner and a thick (approx. 7/32 inch) spline along the stitched edge to prevent the blade's sharpened edge from cutting the sheath. At the very tip of the sheath, where the heavy Nylon (or something similar) stitching ends, is left a small hole through which moisture can drain. Like the knife itself, the sheath is made in the USA.
Out of the box this Buck Custom Shop knife was unusually sharp. On Gary Zinn's Guns and Shooting Online sharpness scale I would call it ES (Extremely Sharp), the top rating. It can easily and effortlessly shave curls from thin coated paper magazine pages, which is more difficult with a heavy duty blade like this than with a thin blade, such as a fillet knife. I used it to break down a corrugated cardboard box and the heavy blade practically fell through the cardboard. Being S30V steel, nothing I did to it seemed to degrade the blade's sharpness. I didn't have an elk carcass to render for this review, but I am sure this knife could handle the job.
Buck considers S30V the ultimate blade steel. It is outstanding in tensile strength and holding an edge, but can be difficult to re-sharpen at home if you don't know how. (For those who want to know how, see Sharpening S30V and Similar Super Steel Blades). Alternatively, Buck offers a sharpening service at nominal cost ($6.95 per knife, which includes return shipping).
Personally, I don't allow my knife blades to get below SE (Sharp Enough) and I always touch them up after use. A quick touch-up is easy, but if you let a blade, particularly of very hard steel like S30V, get to NS (Not Sharp) condition you will have some work to do.
Summary and Conclusion
This Buck 119 Special Custom Shop knife is both beautiful and functional. The blade design is very practical for a variety of cutting chores. CPM S30V is a super steel that was designed by Crucible Industries in collaboration with bladesmith Chris Reeve (and others, including heat treatment master Paul Bos) specifically for use in premium knife blades, and they got it right.
The handle is large and comfortable in the hand and the Buckeye Burl wood handle material is simply gorgeous. The mirror polished aluminum guard and pommel with micarta spacers complete the deluxe look of this knife. I expected an exceptional knife when I ordered it for a Guns and Shooting Online review, but the finished knife exceeded my expectations.
The standard Buck 119 Special with a black phenolic resin handle and a 420HC blade is a handsome and practical knife for its 2019 MSRP of $96. Choosing to go the Custom Shop route raises the base price to $110 (including shipping), but allows upgrading to S30V super steel for only $32 more.
To me, this alone makes the Custom Shop 119 Special a deal. Stick with a black phenolic handle, aluminum guard / pommel and black leather sheath and you will pay only $142 for your Custom Shop knife. I wanted a knife that also looked like a custom Buck knife, so the Buckeye Burl handle and "G&S Online" laser engraving on the blade raised the final price to $204. It was worth it.