Champion WheelyBird 2.0 Mobile Electric Trap
By Randy Wakeman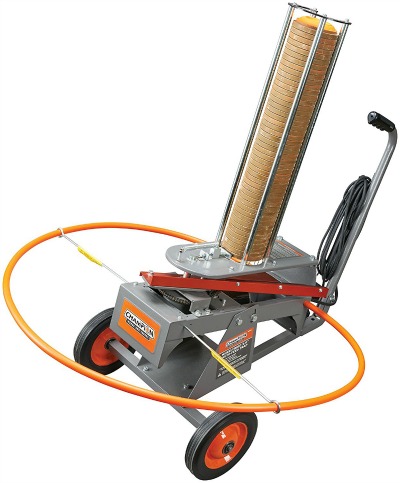 Illustration courtesy of Champion Traps & Targets.
I have used and abused the original Champion WheelyBird clay target thrower for about four years, and it still works extremely well. The version 2.0 promises to be even better.
Features and Specifications
Item #: 40925
Solid tires
Programmable delay up to 15 seconds
Upgraded metal stack holder
Built-in cord
Cycle Time: 1.75 Seconds
Hopper Capacity: 50 Clay Targets
Launch Angle Adjustment: 30 degrees
Maximum Launching Distance: 65+ Yards
Release Type: Wireless remote and Foot Pedal
Throws: Standard 108mm and 110mm clays
2018 MSRP: $529.95
The new Champion WheelyBird 2.0 is a remarkable upgrade. The wheels are bigger, now supported by 6202-2RS Conrad type bearings. The clays holder, which still has a 50 clay capacity, now has a metal horseshoe fixture at the top that makes the assembly far more rigid. The cycle time is improved to 1.75 seconds.
The biggest news of all is the included wireless remote, while also including the foot pedal control. Along with the wireless remote, you can set a delay from 0 to 15 seconds. Champion is using a chip-set in the transmitter (remote) that has over 1M different unique codes and each chip is set to a random code when those chip-sets are manufactured. There is a very low likelihood that remotes will have the same frequency.
You can pair a single remote to fire multiple traps with a single button push to simulate a true pair or a report pair by adjusting the 0-15 second delay on the second trap. Once a remote is paired with multiple receivers, every trap paired to that remote will release a target each time the button is pushed until that receiver's memory is cleared by going through the pairing process again, or the trap is turned off.
Although I had been using older car batteries, I just upgraded to a 33Ah Expert Power deep cycle battery from Amazon. It is relatively small, light and does a terrific job. With this configuration, you should expect approximately 5100 throws before the battery needs to be recharged.
The WheelyBird 2.0 throws about 65 yards, as tested, though it isn't cranked up all the way. I am impressed; this is an exceptionally good product at a $350 discount retail price level and with a pair of these you can rig up your own personal skeet field. Add a few more and you have your own private sporting clays course.
The wireless remote operates from up to 120 yards away. I have tested it to 100 yards. You can throw clays from your own 27 yard line with ease and whatever "back of the fence" distance you want, as well as throwing clays towards yourself, crossing shots and so forth. The WheelyBird 2.0 is an excellent clay target thrower.