Guns and Shooting Online 2016 Awards
By the Guns and Shooting Online Staff
Once again autumn is here, bringing with it the deer and big game hunting season. Fall also means it is time for the annual Guns and Shooting Online awards in the Shotgun, Rifle, Handgun and Optics categories, now that we have had most of a year to appreciate the featured products. (Unlike most outdoor media, we do not give our annual awards to brand new and unproven products in January to attract or appease advertisers.)
To receive this award, products do not have to have been introduced in 2016 or advertised on Guns and Shooting Online. They just have to be available during the current year and, of course, noteworthy in our estimation. The products below were reviewed on Guns and Shooting Online in 2016 and you can read the full review by clicking on each product awarded below.
2016 was another good year for shooters, as you can see from the products honored below. Whatever his other failings, President Obama has been a great gun salesman!
Shotgun Award: Remington Model 870 Wingmaster 200th Anniversary Limited Edition

Photo courtesy of Remington Arms.
Remington has, understandably, gone all out celebrating their 200th anniversary and this 200th Anniversary Limited Edition 870 Wingmaster is one of the exclusive models for 2016. The production run is limited to only 2016 guns in a special serial number series. The 870 200th Limited Edition is a 12 gauge with a 26 inch barrel.
This 870 is simply stunning, with American style engraving and gold-filled accents on both sides of the deep luster blued, all steel receiver. The butt stock and pump handle are beautiful, high grade walnut that Remington calls their C Grade, decorated with classic Fleur de Lis checkering. The butt terminates in a black, ventilated recoil pad.
The barrel has a gold ring near the muzzle, the trigger is gold plated and the 200th Anniversary grip cap has a sculpted 24-karat gold inlay. It looks as good as it shoots. As with all Remington firearms manufactured in 2016 onward, the 870 Limited Edition comes with a lifetime written warranty.
Handgun Award: Ruger New Model Single Six Convertible .22 LR/.22 WMR Revolver
Illustration courtesy of Sturm, Ruger & Co., Inc.
Ruger's single action Single Six Convertible revolver has been around for decades and it is still one of the best .22 handguns on the market. In 2016, we reviewed a stainless New Model with a 6.5" barrel and adjustable sights and found it was as good as we remembered.
Little has changed since the New Model, which uses a transfer bar ignition system and, unlike older style SA revolvers, is safe to carry with the cylinder fully loaded, was introduced in 1973. The grips of the stainless model are now an attractive, rosewood stained, laminated hardwood.
The Single Six remains an excellent camp gun and small game hunting revolver, as well as fun with which to plink and shoot informal targets. It would also be a good choice for a "survival" gun in the hands of a good shot. If I were an Alaskan bush pilot, for example, I would keep one in my aircraft.
Rifle Award: Henry Long Ranger Lever Action Rifle

Illustration courtesy of Henry Repeating Arms Co.
Dubbed the Henry Long Ranger, the initial offering of this new short action rifle designed for high intensity cartridges is a traditionally styled (as much as is possible, given the new action and a detachable box magazine) lever action carbine with a round 20" barrel and a two-piece, walnut stock. There is an external hammer incorporating a transfer bar and a traditional style lever. The initial caliber offerings are .223 Remington, .243 Winchester and .308 Winchester.
The traditional forged steel operating lever opens and closes the bolt by means of a rack and pinion system. This system is very strong and smooth. The receiver that holds the system is formed from aerospace grade aluminum alloy with a matte black finish.
The walnut in our test rifle was better than what most companies would call semi-fancy. Henry Repeating Arms has long been known for supplying a better grade of walnut on its standard grade rifles than almost any other US manufacturer. The stock is graced with extensive, diamond pattern, wrap around, laser cut checkering on both butt stock and fore-end. The oil finish completely fills the wood pores.
The commendably slender fore-end terminates in a blued steel cap, while the butt stock has a straight hand, a high comb to align the shooter's eye with optical sights and terminates in a nicely contoured, black recoil pad. Steel, detachable sling swivel studs are included. Look for additional calibers in the future.
Riflescopes and Optics Award: Meopta MeoPro 3-9x50mm Riflescope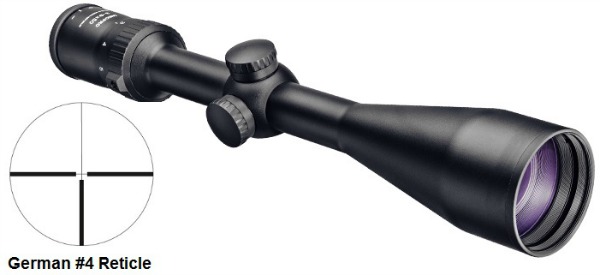 Illustration courtesy of Meopta USA, Inc.
The four things that most impressed us most about the MeoPro 3-9x50mm in our 2016 review were: 99.7% light transmission per lens surface, 5.6 mm exit pupil at maximum power (9x), 77 MOA windage and elevation adjustments and the Meopta Lifetime Transferable Warranty.
A fast-focus eyepiece makes it possible to rapidly adjust the target image for perfect, edge-to-edge sharpness. The MeoPro's 3.7 inches of eye relief is sufficient for most hunting rifles and calibers and the eye box is sufficiently generous for eyeglass wearers. We observed very good resolution and contrast without noticeable distortion. Flare suppression is also very good. The bottom line is you do not feel like you are looking through any glass or optical system; it is as though your vision has simply improved.