Guns and Shooting Online 2018 Awards
By the Guns and Shooting Online Staff
It is October 2018 and once again it is time for the annual Guns and Shooting Online awards in the shotgun, rifle, handgun and optics categories. We have had most of a year to appreciate the featured products and make an informed decision. Unlike most outdoor media, we do not give our annual awards to brand new and unproven products in January to attract or appease advertisers.
To receive this award, products do not have to have been introduced in 2018, or advertised on Guns and Shooting Online. They just have to be available during the current year and, of course, noteworthy in our estimation. The products below have been reviewed on Guns and Shooting Online and you can read the full review by clicking on each product awarded below.
Shotgun Award: F.A.I.R. Iside Prestige Tartaruga Gold
Illustration courtesy of IFG and F.A.I.R.
The F.A.I.R. Iside Prestige Tartaruga Gold is an extremely attractive gun, precision crafted from the highest quality materials. The top of the F.A.I.R. line, it is a side plate, rounded action, box lock gun that incorporates worthwhile mechanical improvements over the Anson & Deely boxlock design. This is an all steel and walnut gun; there are no polymer or aluminum alloy parts.
The extremely compact and refined receiver makes the 20 gauge gun we reviewed look and handle like a 28 gauge gun. In fact, despite its 20 gauge barrels, it weighs little more than many 28 gauge guns and less than some.
The color case hardened receiver finish is fully engraved and accented with gold game birds on both sides and the bottom of the receiver. The straight hand stock is upgraded Turkish walnut and comes with a wood butt plate and a hand rubbed oil finish. The trigger is gold plated. Additional standard features include a SST, SE, five premium interchangeable choke tubes and a polymer hard case.
This gun patterns as good as it looks. Those shotgunners who have never used a fine double game gun do not know what they are missing. Shoot one and afterward repeaters, as well as most O/U guns, feel like you are swinging a 2x4 board. The 2018 MSRP is $3060, which is astonishing low for a gun of this quality.
Rifle Award: Henry Big Boy Color Case Hardened

Illustration courtesy of Henry Repeating Arms Co.
The Henry Big Boy lever action rifle has been around for many years, chambered in .357 Mag./.38 Special, .44 Mag./.44 Special and .45 Colt. It is available in both brass frame and steel frame versions and has become popular with cowboy action shooters, as well as hunters.
The latest version of the Big Boy was introduced in 2018 with a true color case hardened receiver and fore end cap. There are no plastic or aluminum parts in this gun; it is all steel and walnut.
We selected a Big Boy in .357/.38 caliber for wild hog and whitetail hunting in south Texas. It will also be a great plinking gun, as the recoil is minimal with .357 loads and even less with .38 Special practice ammo.
The Big Boy Color Case rifle is one of the most beautiful rifles we have seen in years. The deep bluing finish of the 20 inch octagon barrel is complimented by the flawless case colored receiver. The wood to metal fit of the American walnut stock and fore end is superb. It would be totally acceptable in a custom gun and is outstanding for a factory firearm. While we are on the stock, the Big Boy has a real American black walnut, straight hand stock with a nice figure, deep color, three panel cut checkering and a recoil pad.
The bottom line is the Henry Big Boy shoots as good as it looks. This piece of Americana is well worth its price, as a shooter and/or an investment for the future. Like all Henry guns, the Big Boy is "Made in America, or not made at all."
Handgun Award: Ruger LCRx .22 Magnum Revolver with 3" Barrel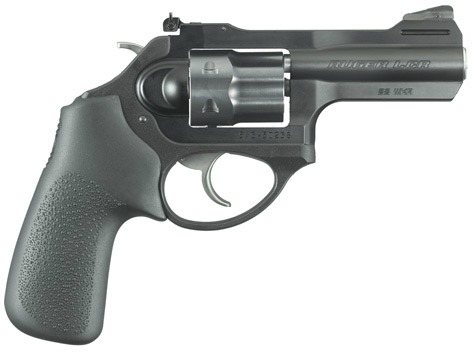 Illustration courtesy of Sturm, Ruger & Co., Inc.
Having previously reviewed and liked Ruger LCR and (even better) Ruger LCRx revolvers, we wanted to review the latest variation, an LCRx with a three inch, fully shrouded barrel and adjustable sights in .22 Winchester Magnum Rimfire caliber.
The internal mechanics of all Ruger LCRx revolvers are essentially the same. Models with an "x" suffix have an external hammer that can be thumb cocked for single action shooting; those without the "x" are "double action only" (trigger cocking only) and lack an exposed hammer.
The three inch LCRx comes with a fully adjustable rear sight that is easier to see and far superior to the fixed frame notch that passes for a rear sight on the two inch LCR models and the LCRx ramp front sight blade has a white line insert. In addition, replacement front sight blades are available.
There is a full length, solid rib on top of the barrel and a full length under-lug beneath the barrel. The grip is long, hand filling and can be replaced by the shorter grip from a 2" LCRx revolver, if desired. Because it is lightweight, corrosion resistant and comes with fully adjustable sights, we think the .22 WMR LCRx would make an excellent kit gun for the camper, hiker or fisherman. An LCRx and a box of ammo would not unduly weigh down a creel or day pack.
The .22 WMR LCRx would also make a good personal protection or home defense revolver for someone who favors a lightweight gun, but is adverse to the recoil of .38 Special cartridges. The three inch barrel gives substantially improved ballistics, compared to a two inch barrel, and is still short enough to be difficult for an antagonist to grab.
Scope and Optics Award: Meopta TGA 75 Collapsible Spotting Scope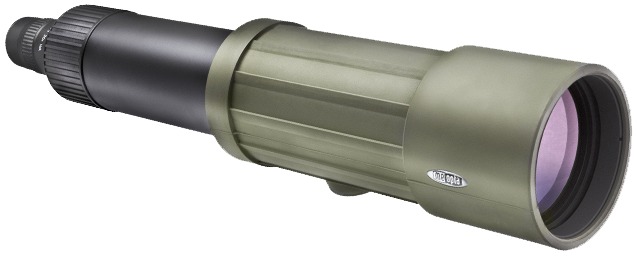 Shown with draw tube extended and ocular in place, ready for use. Illustration courtesy of Meopta USA, Inc.
In March 2018, the good people at Meopta USA sent us an e-mail announcing the new TGA 75 collapsible spotting scope. Touted as compact and light weight, we thought it looked interesting and requested a sample for review. Here, in part, is what the press release claimed:
"The classic draw-tube design of this rugged spotting scope allows the length to be shortened from 14.8 inches when fully extended to 9.8 inches when collapsed, making it easier to carry . . . The TGA 75 has a fully rubber-armored, lightweight body built to withstand use in the toughest terrain . . . Shockproof and water-resistant, the TGA 75 can be mounted on a tripod, but is easily used without one by placing it on a tree, rock or pack for support . . . The compact TGA 75 spotting scope is ideal for hunters on the move and especially popular with those who pack into remote areas."
The TGA 75 is sold as a telescope body (2018 MSRP $899.95), without an eyepiece. The eyepiece is purchased separately. You can choose a 30x magnification, wide angle, fixed focal length eyepiece, or a 20-60x zoom eyepiece. The 2018 MSRP for either is $399.95. The oculars screw securely into the telescope body.
The draw-tube slides smoothly in and out, but with sufficient friction that it is unlikely to be moved inadvertently. When the draw tube is fully extended in the viewing position, there is no play. To achieve this requires not only excellent design, but also precision manufacturing and exacting quality control.
The Meopta TGA 75 is a high quality, optically excellent spotting scope. It competes in the marketplace with spotting scopes from Leupold (Gold Ring), Nikon (Monarch) and Zeiss (Dialyt), putting it the medium price range among high performance spotting scopes.
The TGA 75 offers some unique advantages in its price class, particularly its fine optics, excellent engineering/manufacturing and draw-tube design. Other significant features include its magnesium alloy main tube, exceptionally rugged rubber-armored body, interchangeable oculars and excellent front and rear protective caps.