Great Eastern Cutlery Tidioute #81 Bull Moose Knife
By Gary Zinn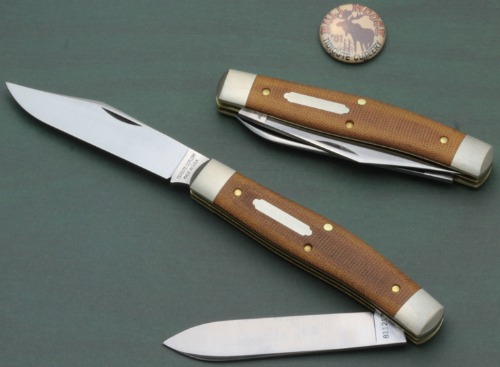 Illustration courtesy of Circle A Knives.
I believe Great Eastern Cutlery is making the best slip joint folding knives currently available. The Tidioute #81 Bull Moose is one of the latest examples of how the company is combining quality materials and immaculate workmanship to produce the best knives of their type we have seen in a long time.
GEC made a production run of the Bull Moose in late 2017, with eight variations in handle material. I chose the one with natural canvas micarta handle scales, a tough material that goes well with the working knife vibe that the #81 pattern conveys; its size and blade configuration clearly imply a knife meant for serious use.
Specifications
Model #: 811217
Blade patterns (length): Clip, Spear (both 3-1/8" long)
Blade steel: 1095 carbon (56-58 Rc)
Handle material: Natural Canvas Micarta
Liners and pins: Brass
Bolsters: Nickel silver
Closed length: 4.0 inches
Weight: 3.15 ounces
Country of origin: USA
2017 MSRP: $131.50 (actual retail price discounted approx. 25%)
Fit and finish
The GEC knives I have reviewed show their production team understands how to make good pocket knives. All parts on this knife matched-up perfectly. There were no gaps or misalignments anywhere between the liners, bolsters, handle scales, back springs and center cut. The back springs were totally level with the liners when either blade was opened.
Besides the flawless fitting of parts, the small brass nails that secure the handle scales to the liners are countersunk, the blade spines are swedged and there is a full sized center cut between the blades. These are small quality details not often found on production pocket knives today.
The finish of the knife is immaculate. The blades and bolsters are evenly polished to a satin luster, totally suitable for a working knife. The handle scales are just short of being totally smooth, with enough surface texture to make them feel comfortably grippy, rather than slick.
Function
The blades of my knife cycle smoothly, with what I would call a firm pull. Early on, GEC knives were criticized as having a "hard" pull; this is a subjective evaluation that I have not experienced in the knives I have handled. A firm pull is indicative of strong back springs, which is good. If the pull is light, the spring is too weak and will only get weaker with time and use. Conversely, if the tangs and spring ends are well polished and properly mated, a strong back spring is no problem, because the blades will move smoothly. This smooth, crisp blade movement is what I have experienced with GEC knives.
The Bull Moose does not have a half stop milled into the blade tangs. Many GEC knives feature half stops, but not this model, for whatever reason.
The frame of this two blade knife is 1/4" thick and the handle scales add enough bulk to bring the overall handle thickness up to 1/2". The 4" long handle is adequate for me to get a full grip on it.
There are no obvious "hot spots" against the hand when either blade is deployed. This is attributable, I believe, to both the subtle serpentine shape of the handle and the fact that the blades are mounted on opposite ends, which means that both blade tangs can be (and are) milled with a short kick, so that neither blade spine protrudes much above the handle frame when a blade is closed.
The clip blade is the main blade, in the sense that it is on the front (shield) side of the knife, with the spear blade behind it. Both blades are full sized, measuring 3-1/8" long overall, with 2-13/16" sharpened edges. Two blade pocket knives normally have a smaller secondary blade; that the Bull Moose has two full sized blades reinforces the idea that it is a serious working knife.
The edges on the flat ground blades are excellent. I have a qualitative ranking system for describing the sharpness of knives. My ranks are NS (not sharp), SE (sharp enough), VS (very sharp) and ES (extremely sharp). Out of the box, I expect the factory edges of most knives from reputable makers to be at least SE, with an edge keen enough to do routine cutting tasks.
The factory edges on my knife (formed by a very narrow micro bevel) were Very Sharp (VS), bordering on Extremely Sharp (ES). This bodes well for the cutting performance of the knife. I have other GEC knives with 1095 steel, which hold their edges well and are a snap to sharpen, when needed. I do not anticipate any edge retention deficiencies or sharpening problems with this knife.
GEC brands (in brief)
Some readers may not be familiar with the Great Eastern Cutlery product lines. The company uses four tang stamps, Tidioute, Northfield UN-X-LD, GEC and Farm & Field Tool, to distinguish among their products.
The majority of GEC pocket knife production runs are Tidioute brand, featuring 1095 carbon steel blades, various handle materials and the level of fit and finish exemplified by the knife reviewed here. Northfield UN-X-LD is a premium line of knives, with sometimes exotic handle materials and the highest attention to design details and blade and handle finish.
Knives with the \'93GEC\'94 tang stamp are made with 440C stainless steel blades and a more limited number of handle materials. Occasional runs of fixed blade knives are released with the GEC brand designation. Farm and Field Tool knives are no-nonsense, sturdy utility knives with steel frames, heavy duty synthetic handle scales and reinforced pins.
Anyone who wants to see what is in production or check recent releases can do so at http://greateasterncutlery.net/blog/. The website includes a list of the distributors and dealers that market GEC knives.
Conclusion
The Tidioute #81 Bull Moose is the fourth GEC knife that I have reviewed (see below). The quality materials, immaculate workmanship and solid function of these knives lead me to the opinion stated at the top of this article; that Great Eastern Cutlery is making the best slip joint folding knives currently available.
I plan to give this Bull Moose to my eldest nephew, who operates a small farm in his retirement. I believe he will appreciate the knife and use it well.
Here are the previous Great Eastern Knife reviews on Guns and Shooting Online:
Tidioute #15 Huckleberry Boys Knife, Compared: Buck Model 503 Prince and GEC Tidioute #83 Tascola Lock Back Knives, Great Eastern Cutlery Northfield #48 Improved Trapper Knife.