2015 Harley-Davidson Street 750
By Chuck Hawks with Rocky Hays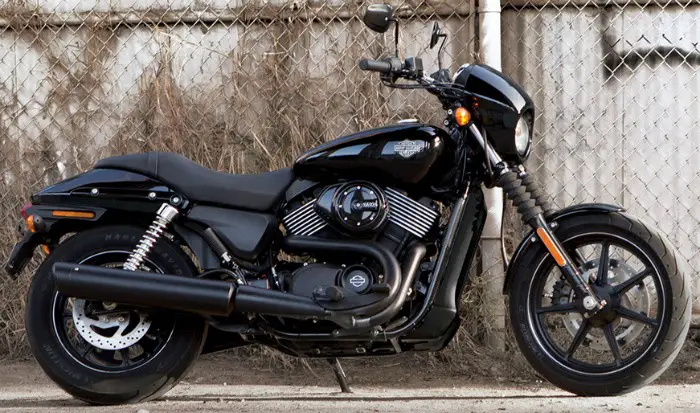 Illustration courtesy of the Harley-Davidson Motor Company.
This is the second of two reviews of the 2015 Harley-Davidson Street (XG) motorcycles. The first review covered the Street 500 and this one covers the Street 750. The two motorcycles are identical except for the displacement of their new Revolution-X motors, so the two reviews, necessarily and unavoidably, repeat much of the same information and comments.
Rocky Hays and I arranged for rides on both Street models and collaborated on the content of the reviews. See 2015 Harley-Davidson Street 500 for the companion review.
Harley-Davidson's (www.harley-davidson.com) Street 500 and Street 750 are the first totally new motorcycles introduced by the Motor Company in over a decade. They are made (including the motor) in H-D's Kansas City, USA plant for the North American market and in a new factory located in Bawal, India for the rest of the world. Harley's Bawal plant is the first ever off shore Harley Davidson factory.
The Revolution-X is a liquid cooled, chain driven SOHC, four valve per cylinder, counterbalanced, 60-degree V-Twin based on similar technology to the 76.1 cu. in. Revolution engine that powers the hot V-Rod bikes. The Revolution engines are quite different in every way from the OHV Evolution and Twin Cam motors that power Harley's Sportster, Dyna Glide, Softail and Touring lines.
Those are torque monsters, while the Revolution motors are designed to emphasize horsepower, much like contemporary European and Japanese motorcycle engines. However, despite its modern trimmings, the Street 750's over-square 46 cu. in. (750cc) Revolution-X motor is a genuine Harley-Davidson V-twin with a broad and useful torque curve. Unlike Harley's OHV V-twins with self-adjusting valves, the Revolution-X motors require valve adjustment at 12,000 mile intervals.
The primary purpose of the Street 750 is to attract new owners, both at home and abroad, who were probably raised on Asian motorcycles, to the H-D family. H-D is very aware of the need to attract new, younger riders to our sport. Logically, the Street 500 is more suitable for novice riders, while the much more powerful Street 750 is better suited to intermediate and advanced riders.
Harley's Evolution and Twin Cam motorcycles are easy to ride, but they are undeniably big, heavy motorcycles that many riders, accustomed to lighter and smaller displacement machines, find intimidating. They are very high quality motorcycles, produced in the USA with great attention to detail, from the brake lever to the paint finish, and they can only be produced at a price point beyond the means of many riders. This explains why most of the riders buying new Harley-Davidson motorcycles are older, more experienced and financially successful individuals.
Enter the relatively low priced (base 2015 MSRP $7499) Street 750. Traditional, die hard H-D owners are going to find fault with the new Street bikes, for it is not possible to build to this price point with traditional H-D components. The switch gear, wiring harness, control levers, handlebars and other small bits and pieces are akin to what is found on equivalent Japanese cruisers, with which the Street 750 will compete internationally for market share. The foot brake, for example, is a steel stamping, rather than the elegant castings and forgings used for such parts on Harley's big twins.
On the other hand, the style and finish of the Street 750 is pure Harley-Davidson and done right. The buyer in the market for a reasonably priced, middleweight cruiser is no longer limited to an imported copy of H-D style, they can have the real thing.
The Street 750 is a good looking bike in the blacked-out cruiser style initiated by Harley-Davidson and subsequently copied by nearly all manufacturers. About the only visual difference between the Street 750 (see photo at top of page) and the Street 500 models is the polished silver edges of the air cooling fins on the 750's cylinders; the 500's fin edges are left black.
Our test bike was supplied with the standard Vivid Black paint job on its tank, fenders and fork mount bikini fairing. The engine, cases, pipes and mufflers, lower fork legs, wheels, side cover, chain guard, handlebar, headlight nacelle, mirrors and most small parts are black. Black rubber fork gaiters protect the front fork sliders. If you want more flash, Harley already has some chrome accessory parts available.
The gas tank and fenders are steel and there is no unsightly seam around the lower edge of the tank that disfigures the great majority of European and Japanese motorcycles. The black, mild steel frame is a conventional double down tube design. Being a modern motorcycle built to a price point, there are (unavoidably) a number of plastic bits and pieces. An LED taillight and small, bullet turn signals are standard equipment.
There is really no way to disguise the radiator on a liquid cooled cruiser; it is what it is. However, the Street 750 radiator is tucked against the front down tubes and doesn't stick out to the sides. Stylistically, the radiator is handled as well as any and it is relatively unobtrusive. Neither Rocky nor I were offended by its appearance.
The seven spoke cast aluminum wheels are fitted with tubeless tires. Cast wheels are stronger than laced wheels and do not require attention to keep them running true. Tubeless tires are safer and less likely to blow-out when punctured than tires requiring inner tubes, so cast wheels and tubeless tires are highly desirable features.
Like all Harley-Davidson motorcycles, the final drive is by a quiet, lightweight, extremely durable and long lasting belt. Maintenance free belt drive has proven even more trouble free (not to mention less expensive) than shaft drive and far superior to old fashioned chain drive.
Street 750 Features
Smooth running Revolution-X liquid-cooled engine with balance shaft
Six speed transmission
A low center of gravity and moderate weight make the Street 750 easy to lift off its side stand
Low seat height
Mid-mount (standard placement) controls
Easy lock-to-lock handlebar sweep
Rake and trail angles optimized for easy, predictable, low speed maneuverability
Front (292mm) and rear (260mm) single disc brakes with twin piston calipers
Skinny 17 in. front wheel and 15 in. rear wheel for light handling and rough urban infrastructure
Nimble 60.4 in. wheelbase for quick response and maneuvering in tight spaces
Specially tuned suspension with progressive spring rate shocks
Dual seat and passenger foot pegs
Blade key ignition, fork lock and locking gas cap
Specifications
Class: Cruiser
H-D model line: XG
Motor: Liquid-cooled, counter-balanced, 60-degree, SOHC, V-twin with 4 valves/cylinder
Bore: 3.53 in.
Stroke: 2.6 in.
Displacement: 46 cu. in.
Compression ratio: 11:1
Fuel system: Mikuni single port fuel injection, 38mm bore
Torque (J1349 method): 44.3 ft. lb. at 4000 RPM
Primary drive: Gear, 36/68 ratio
Final drive: Belt
Transmission: 6 speed
Exhaust: Black, 2 into 1
Length: 87.6 in.
Seat height, laden (180 lb. rider): 25.7 in.
Seat height, unladen: 27.9 in.
Ground clearance: 5.7 in.
Lean angle: 28.5-degrees right and left
Rake (steering head): 32-degrees
Trail: 4.5 in.
Wheelbase: 60.4 in.
Front wheel: Black, 7-spoke cast aluminum
Front tire: 100/80 R17 (tubeless)
Rear wheel: Black, 7-spoke cast aluminum
Rear tire: 140/75 R15 (tubeless)
Brakes: Single disc front and rear w/floated 2-piston calipers
Fuel capacity: 3.5 gal.
Oil capacity: 3.3 qt.
Weight (empty): 455 lb.
Weight (wet): 489 lb.
Gauges: 3.5 in. electric speedometer w/LCD odometer and trip counter
Indicator lights: LEDs for high beam, neutral, low oil pressure, turn signals, low fuel warning and engine
Fuel mileage: 41 MPG combined city/highway
2015 MSRP (not inc. freight): $7499 (vivid black), $7794 (color option)
NOTE: No horsepower rating is given in the H-D Street 750 specifications. Various published independent dyno tests have indicated about 57-58 HP at the rear wheel before the 8000 RPM rev limiter kicks in.
Riding Position
H-D may consider the Street 750 a cruiser, but the riding position is pure standard. The standard curve handlebars with moderate rise and mid placed foot pegs (neither forward nor rear set) put the rider in a comfortable position that allows good control of the motorcycle, whether moving or stopped. It is an easy reach to the ground from the pegs. It is an easy matter to loosen the clamp and rotate the handlebars forward/higher or rearward/down to whatever position the rider prefers.
The handlebar width seemed about right to Rocky and me, who are both guys within the average size range. However, if a wider, narrower or flatter handle bar is preferred, this bar is the common Japanese/Euro 7/8 inch diameter and easily replaced.
Because it is not the fatter one inch diameter bar used on other H-D motorcycles, the handgrips are proportionally smaller in diameter. I have never felt the need to change standard H-D rubber handgrips, but I would replace these skinny grips with fatter ones.
The standard, bucket type seat positively locates the rider's rump, restricting movement when riding. However, it is unusually comfortable for a stock motorcycle seat. I suspect that most urban riders will approve of the seat design. Although this seat is advertised as suitable for carrying a passenger, I seriously doubt that most passengers will find the thin, rearward sloping pillion comfortable. There is a good looking accessory cafe' solo seat that renders the question of rider comfort moot.
The riding position is clearly designed for short riders. At a modest 5 ft. 9 inches tall with a 29 inch inseam, I found the riding position a bit cramped. Rocky, somewhat taller with a longer inseam, agreed. We would spring for the accessory tallboy seat that moves the rider up 1.25 inches and back 2.5 inches. This seat also looks to be a bit more comfortable for the occasional passenger, particularly if the motorcycle were fitted with the accessory sissy bar and back rest.
Road Test
In order to experience the new Street 500 and Street 750 first hand, Rocky and I requested test rides on both machines from Team Latus Motors Harley-Davidson of Eugene, Oregon. Latus Motors (www.latus-hd.com) is Oregon's premier H-D dealership, with branches serving the Portland and Eugene/Springfield metro areas, which includes well over half of the population of the entire state.
Team Latus built the University of Oregon's famous Duck Bike, which carries the Oregon Duck mascot and leads the Oregon football team onto the field for every home game at Autzen Stadium. The Duck Bike is familiar to college football TV fans across the nation. It is a custom Harley Fat Boy designed cooperatively by the U of O, Nike and Team Latus.
Our test rides were brand new machines that had been delivered to Latus Motors in Eugene only a couple of days previously with zero break-in time on the motor and brakes. Consequently, we took it easy on both, as should any rider on a brand new motorcycle.
We avoided hitting the 8000 RPM rev limiter, but were nevertheless able to get a reasonable impression of the Street 750. After all, even on a well broken-in bike, you are seldom going to be riding a 750cc motorcycle at the edge on the street. (At least, not if you want to live long enough to enjoy your new motorcycle.)
Our test ride included stints on an interstate freeway, two lane highway and country roads with short straights and tight corners. I started off riding the 500 and Rocky the 750; we switched mounts about half way through the ride.
The ignition key is located beneath the black handlebar riser. Turn the key to switch the ignition on or off and also to lock the forks. The handlebar controls include a rocker switch for high and low headlight beam, kill switch, horn button and a single left-off-right turn signal switch of the Japanese style. The turn signals are not self-canceling, a serious convenience and safety oversight that should be rectified.
Our first impression after starting the Street 750's Revolution-X motor is that it is very quiet and smooth. At idle, just the faintest vibration reaches the handlebar to let the rider know the motor is running. Snicking the ultra smooth and quiet transmission into gear reinforces that initial impression.
We would consider the Screaming Eagle Nightstick accessory muffler desirable. A louder pipe would keep the rider better informed about what the motor is doing, especially since the Street 750's sparse instrumentation does not include a tachometer.
The engine management and electronic fuel injection system worked perfectly. There was no surging and no stumbling off the line. The motor pulled smoothly right off idle and the torque curve is commendably flat.
Although the Street 750 weighed upwards of 685 pounds with me and all my riding gear onboard, the Revolution-X motor had plenty of power to carry the load. The bike accelerates hard off the line and continues to pull strongly as the RPMs build, which happens fast. It is a free revving motor. Cruising at freeway speeds, there is plenty of power on tap to passing slower moving vehicles in a flash.
The clutch lever pulls easily with little effort. Shifting is extremely smooth and commendably positive. Neither Rocky nor I missed a shift on our test ride.
The Street 750 handles easily at low speed and there is plenty of steering lock for parking lot maneuvers. The low seat height, narrow frame and low center of gravity help, making the bike feel more maneuverable and lighter than its specified 489 pounds might suggest. It is a confidence inspiring mount.
The supplied Michelin Scorcher tires provided adequate grip and a smooth ride, assisted by the compliant, 37mm diameter front fork with 5.5 inches of travel and rear shock absorbers with 3.5 inches of travel. The spring rates seem nearly ideal. The dealer had set the shocks at their minimum (full soft) preload setting for our ride, but an average weight rider will need more preload to reduce the chance of grounding on bumpy corners.
The 750 responds quickly to sudden counter steering inputs, making it easy to swerve to avoid potholes or debris on the road. On the other hand, it was easy to set and hold the desired lean angle when cornering. Overall, the bike handles very well, at least until something grounds.
With only 28.5-degrees of lean angle, aggressive cornering will quickly drag the undercarriage on the Street 500 and Street 750. I took turns easy, mindful of the restricted lean angle, but Rocky carried a bit too much speed into a posted 20 MPH, 90-degree left hand corner on the Street 500 and briefly touched-down (fortunately without damage to the bike or rider).
The higher speed potential of the Street 750 makes such mishaps considerably more likely. Even lightly grounding parts in a corner can startle a less experienced rider into over correcting and going off the high side of a curve. Grounding hard parts aggressively can lift the back tire, washing out the bike and causing a crash. Either way, all too often the rider becomes another statistic. The most common type of solo motorcycle accident is going off the high side of a curve.
The Street 500 and Street 750 have identical ground clearance and lean angle and both need more cornering clearance to provide a reasonable margin of safety on a winding road. Replacing the small 15 inch rear wheel with a 16 inch wheel (not currently available) would certainly help, as would taller suspension components.
High speed stability is good, at least up to about 75 MPH, the highest speed noted on our test ride. The speed limit on Oregon highways is 55 MPH (60 MPH on urban freeways and 65 MPH on interstate freeways) and other traffic is usually present, so there is a practical limit to how fast one can safely ride on public roads.
No tachometer is provided, so we could not check the 750's engine RPM at cruising speed. (Every motorcycle should be equipped with a tach.) However, there was very little vibration and the motor seemed to be loafing along without any strain.
Normal braking was not a problem and we did not engage in any panic stops, which should be avoided with new discs and calipers that are not broken-in. The front single disc with its twin pot caliper got the job done, but did not seem particularly impressive. Braided steel brake lines would probably be a worthwhile investment.
The rear brake lever is placed below the right foot peg, rather than pivoted inboard and slightly above the foot peg as on Harley-Davidson big twins. The result is that the rider's foot must pivot uncomfortably far down to activate the brake. Coupled with excessive play in the system, I found the rear brake awkward to use. It will lock the rear wheel, given enough force, but it is not easy to do.
Perhaps this is a blessing in disguise, as inexperienced riders in panic stop situations tend to over brake on the rear, causing a rear wheel skid that immediately "lays down" the bike and causes an otherwise avoidable accident. ABS eliminates this problem, but unfortunately ABS is not available on the Street 750, even as an extra cost option.
Perhaps the most immediately obvious shortcoming in the Street 750, aside from its restricted lean angle, is the rear view mirrors. Unlike some motorcycles, vibration is not a problem, so the mirror image is clear. Unfortunately, what you see is primarily a reflection of your own shoulder. The mirror stalks are too short to allow most riders an adequate view rearward. Replacement mirrors with longer stalks, or bar-end mirrors, are desperately needed and should have been provided by the factory.
Accessories
Harley-Davidson owners are famous for personalizing their bikes and the Motor Company offers more accessories for their motorcycles than any other brand. As new as they are at this writing (August 2014), a number of factory accessories are already available for the Street 500 and 750.
These include: fancy wheels; reduced reach handlebar; short, tall and solo seats; Circulator and Road Zeppelin (inflatable) rider and passenger seat pads; rain seat covers; quick detachable sport windshield; replacement rear view mirrors; parcel racks with or without sissy bars and back rest pads; sissy bar packs; a tail bag; throw over saddlebags; tank bag; engine guards (crash bars); center stand; an assortment of brake pedal pads, shifter pads and accessory foot pegs; handgrips; universal helmet lock, a variety of trim parts in both black and chrome finish.
H-D Screamin' Eagle performance parts for the Street line include a performance (lower restriction) air cleaner kit and the (freer flowing) Nightstick 2-into-1 slip-on muffler. These SE parts are 50 state street legal and work with the stock ignition module without recalibration.
In addition, plenty of generic after market accessories will work on the Street 500 and Street 750. Being Harley-Davidsons, after market XG specific accessories will be available ASAP.
Suggestions for Improvement
No motorcycle is perfect and the Street 750 is no exception to this rule. There are areas that need improvement and features that should be added, or at least made available as extra cost options.
By far, the most serious (and dangerous) oversight is the lack of cornering clearance (lean angle). 28.5-degrees simply is not adequate, even for a cruiser. Without re-engineering the whole design, the problem could be ameliorated by fitting a 16 inch rear wheel and taller suspension. Another inch at the front forks and rear shocks would probably do it.
This would raise the seat height accordingly, but it would still be commendably low and the short accessory seat would still be an option for very short riders. Average size riders (anyone over about 5-foot 8-inches tall) would undoubtedly find the taller bike more comfortable to ride than the current model. H-D could easily offer two models straight from the factory, a standard (taller) model with increased ground clearance for normal size riders and the current (Low or Hugger) model for very petite riders. This would be a win/win situation for everyone and undoubtedly save some lives.
The Street 750 has the power and engine performance to make double disc front brakes highly desirable. These should be provided as standard equipment. In addition, ABS should at least be available as an option for every street bike. We understand that the Street 750 is built to a low price point, but we also realize that it is intended to introduce new riders to the Harley-Davidson experience. These are the very people whose lives are most likely to be saved by powerful brakes and an ABS system.
While we are on the subject of brakes, change the shape of the rear brake lever to raise the brake pedal to a more comfortable and easier to reach (higher) position in relation to the right foot peg. This change would not increase manufacturing costs and should be implemented by the factory.
The Street 750's turn signals are not self-canceling. This is dangerous, particularly for new riders and those accustomed to other H-D motorcycles, all of which come with self-canceling turn signals. Other traffic, thinking that the motorcycle is going to turn, is very prone to pulling out in front of a rider who has forgotten to cancel the turn signal. Automobiles (and trucks!) turning in front of a motorcycle are the biggest single cause of accidents, so this is no small matter.
Another safety concern is the short rear mirrors. The mirrors need longer stalks to provide an adequate view astern. This change would cost H-D nothing and should be made immediately. Alternatively, equip the bikes with bar end mirrors at the factory.
The above changes are related to rider safety and should be implemented immediately. Other improvements would enhance the riding and ownership experience. Primary among these are improved instrumentation. The top priority in this context is the addition of a tachometer. As stated previously, every street motorcycle should come with a tach. At the very least, a tach kit should be available (similar to that offered for Sportsters) to update the current XG bikes.
The other instrument needed is a simple fuel gauge. This is a great convenience, cheap and easy to install in the gas tank itself. It would add very little to the price of the Street 750 and pay big dividends in owner satisfaction. Fuel injected motorcycles do not have a reserve petcock, so they need fuel gauges.
Lower in priority, but still a significant improvement, would be making typical H-D one inch handlebars standard on the Street 500 and Street 750. These are, after all, Harley-Davidsons, not Asian or Euro-trash motorcycles. Not only would the one inch handlebars be stronger and more comfortable, they would allow fitment of standard H-D switches and controls. These are far superior to the cheap switch gear currently supplied on the Street motorcycles and would be greatly appreciated by Street customers. Again, the difference in cost would be relatively low compared to the improvement in the product.
Product value is not just a low price, it is good quality at a reasonable price. The Harley-Davidson reputation and mystique is built on superior quality and this should be evident across the line, including the Street 750.
Least important are minor cosmetic details that are not actually related to the functional aspects of the Street motorcycles. Certainly, it should be possible to neaten the wiring harness. Every reviewer has commented negatively about the zip-tied bundle of wires at the steering head. Take the hint and fix this unsightly mess.
Another purely aesthetic concern voiced repeatedly by reviewers is the plastic tailpiece and mounting configuration of the tail light, rear turn signals, license plate bracket and light fixture below the rear fender. This plastic, all in one assembly is unsightly. Surely, the stylists at H-D could compact and compress this into a neater fixture that would be no more expensive to manufacture. Ditto the lower belt guard, which is ugly. This is really simple stuff that, while it does not impede the forward progress of the bike, probably does impede sales.
Conclusion
We think most riders will approve of the Harley-Davidson Street 750. It is an excellent city bike and a capable road bike, as well. Both Rocky and I were impressed by the performance of the Street 750's Revolution-X motor, which is certainly the highlight of the Street 750 riding experience. It gives this reasonably priced motorcycle expert level performance.