Italian Side-by-Side Shotguns
By Chuck Hawks
The oldest surviving gun maker in the world today is Beretta, a company that dates back to 1526 and Bartolomeo Beretta of Gardone in the Val Trompia region of northern Italy. The gun makers in the Val Trompia region have been making fine firearms for centuries and continue to do so to this day.
As a young man in the 1960s, my first double gun was a nice Bernardelli side-by-side. I ultimately traded that gun to a good friend who still owns and uses it to this day.
Some Italian gun makers, like Beretta and F.A.I.R. (Fabbrica Armi Isidoro Rizzini), are modern industrial concerns incorporating the latest technology, such as CAD, CAM, CNC, laser checkering, laser engraving, etc. Others, such as Armi Piotti, are small shops building bespoke double guns essentially by hand in very limited numbers. The entire work force at Piotti, for example, consists of 14 people, including the four Piotti brothers.
After the end of the Second World War, as Italy rebuilt its economy, the surviving Italian gun makers were able to return to the production of civilian sporting arms. Soon, Italian firms producing fine double barreled shotguns began to challenge the leadership of the famous British firms, heretofore the world leaders in quality and innovation. Today, Italian gun makers are the world leaders in double gun innovation and technology.
In addition to Beretta (Italy's largest manufacturer of O/U guns) and F.A.I.R. (Italy's largest manufacturer of SxS guns), Italian firms such as Abbiatico and Salvinelli (FAMARS), Piotti, Luciano Bosis, Perazzi and Fausti, among others, have become world famous for their fine double guns. Like the classic London best British game guns, Italian guns tend toward light weight and slender proportions.
This FAMARS duck gun is an exquisite example of the finest Italian craftsmanship. Photo courtesy of FAMARS.
Most of the famous Italian gun makers offer both over/under and side-by-side models. Although fine SxS game guns are the subject of this article, Italian O/U guns from the likes of Perazzi and Beretta have come to largely dominate international trap and skeet competition.
Italian best guns rival the best guns made in the UK, Spain, Belgium, France, Germany and the USA in design, quality and workmanship. The reputation of Italian best guns has grown to the point that many authorities now regard Italian double guns as the best, period. As gun writer, I have had the opportunity to inspect a number of fine Italian doubles at various trade shows and I can testify to their handling, workmanship and overall excellence.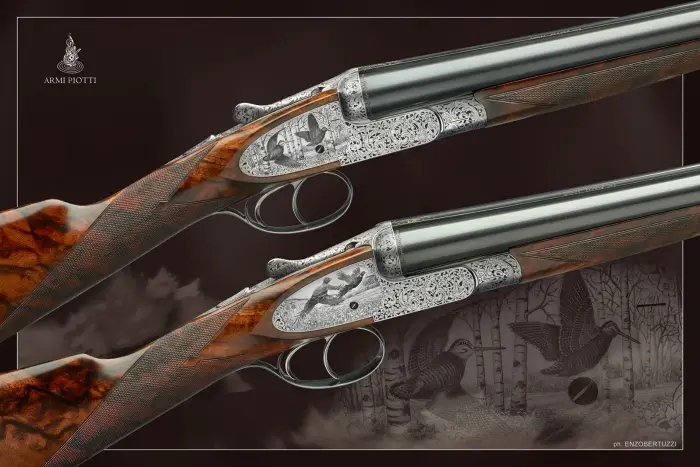 Fine shotguns don't get any better than this pair of Piotti King doubles. Courtesy of Piotti F.LLI.
Most Italian best guns are bar action sidelocks with chopper lump barrels, but there are also boxlock and trigger plate models, some with barrels built on the through-lump system. Naturally, pretty much any features and adornments you can imagine are available on Italian best guns, whose makers tend to be a little more flexible and creative about what they are willing to build than their conservative British and Spanish competitors.
Stocks are usually high grade European walnut, hand finished and made to measure. Customers have the option of straight or pistol grips and splinter, semi-beavertail, or beavertail fore ends with hand cut checkering in point or custom patterns. The butt stock can be terminate in a recoil pad, wood plate, engraved metal plate, skeleton butt plate, or simply be carved and checkered.
Available mechanical options include round body actions, double triggers, single selective triggers (SST), automatic or manual safety, various rib styles and sights, selective ejectors (SE) or extractors, assisted opening, hand detachable locks, various barrel lengths and chokes, multiple barrel and multiple gun sets and so forth. Common metal finishes include color case hardening, blued and coin finish. Adornment includes almost any type of engraving pattern and style imaginable (including Italian bulino), gold, sliver and other precious metal inlays, stock ovals, etc.
In terms of price, Italian bespoke guns are probably second only to London best guns, although the best Belgian and French guns are also extremely costly. It is entirely possible to get into the high five figure to six figure price range for the best Italian guns.
In high quality production doubles, guns like the Beretta 486 Parallelo and F.A.I.R Iside are hard to beat for technology, performance and value. Probably the standout in affordable SxS guns, as I write these words, is the F.A.I.R. Iside line, which from top to bottom is remarkably affordable for sophisticated, high quality, 100% Italian made guns.
The Iside basic boxlock upland game gun, sans engraving and stocked in standard grade Turkish walnut with double triggers and plain extractors, carries a 2018 MSRP of only $1600. It is made in the same factory on the same action with the same technology and CAD, CAM, CNC precision as the top of the line Iside Prestige Tartaruga Gold (2018 MSRP $3060) that boasts upgraded wood, a wood butt plate, SST, SE, 100% engraved side plates, gold inlays and other deluxe features.
Whether you are looking for a high quality, entry level double, such as the F.A.I.R. Iside basic, a high grade production double that won't break the bank, such as the F.A.I.R. Iside Prestige Tartaruga Gold or Beretta 486 Parallelo (2018 MSRP $5350), or a price no object bespoke gun that unquestionably ranks with the best in the world, one of the fine Italian gun makers is willing and able to serve you.