Kestrel 5700 Weather Meter with Applied Ballistics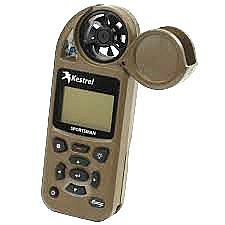 Illustration courtesy of Nielsen-Kellerman.
Ten years ago, we tested and reviewed the Kestrel 4500 Pocket Weather Tracker. It was the most compact and comprehensive, hand held, weather station on the market. It accurately measured and stored for future reference fourteen parameters. It was an ideal piece of equipment for hunters, backpackers, campers, or hikers venturing into the wilderness. It would also prove to be useful for target shooters who wished to take some of the guesswork out of getting on target.
Fast forward to 2018 and in October we reviewed the Kestrel 5500FW Fire Weather Meter Pro. Now, we have the Kestrel 5700 Weather Meter. It has all of the same features of the K4500, but with updated software and an optional LiNK which communicates with the Kestrel LiNK App on your smart phone.
The 5700 Weather Meter measures, calculates and displays in real time and stores in memory fourteen different environmental parameters. It features a hi-res and hi-contrast display that is easily read under even bright sunlight, but with a backlit screen for nighttime use. The weather parameters include Altitude, Barometric pressure, Wind speed, Crosswind, Density altitude, Dew point temperature, Wind chill, Temperature, Headwind/tailwind, Heat stress index, Wet bulb temperature, Wind direction, Relative humidity, Station pressure (absolute pressure).
The K5700 is designed to operate in hostile environments. The unit is drop tested to MIL-STD-810G standards (It must be rustproof and survive drops of over eight feet onto a rough concrete surface with no damage to the case or internal components) and waterproof, sealed to IP67 standards (capable of withstanding water immersion at a depth of one meter for 30 minutes without penetration). Add the optional Kestrel Weather Vane, which attaches to just about any tripod on the market, and you have your own personal weather station in the field.
The optional LiNK connectivity, powered by Bluetooth, not only provides connection to your smart phone, but also to your computer (via optional Kestrel LiNK Dongle or USB Data Transfer Cable). However, the best part of the K5700 is the Advanced Ballistics software on the device. There are more ballistics programs on the internet than we can count, but there is only one handheld device that incorporates one for field use and that is the Kestrel 5700.
The K5700 is ideal for the target shooter. It incorporates real time weather information to be incorporated into the ballistic software. If that isn't enough to gain your interest, then the ballistic adjustments for elevation and windage will.
All other ballistic programs are limited in how they measure and compensate for elevation and windage changes (usually for only one or two units of measurement). The K5700 calculates elevation/windage adjustments in any of the following units:
True MOA (1.047 inches at 100 yards)
Shooters MOA (1.0 inches at 100 yards)
Centimeters (2.54 cm = 1.0 inches at 100 yards)
Turret Clicks (adjustment value depends on model & brand)
Mils (1 mil = 0.36 inches at 100 yards)
This means that regardless of the make, model or brand of your scope, the Advanced Ballistics program on the K5700 will give you accurate and reliable elevation/windage adjustments for all target distances. However, there is a caveat (there usually is): Wayne Van Zwoll determined that, "ballistic calculations for rear-plane reticles are usually accurate at only one magnification and that is usually the highest. Front-plane reticle scopes function well at any magnification, because the mil-dot spacing is constant in relation to the target."
If your scope utilizes hash-marks it is essential that you check the specs to determine if they are TMOA or SMOA. Scopes with SMOA, and its subsequent error, are the reason that most ballistic programs don't work, because you are literally only measuring one inch per hundred yards. Suggestion, if you are going to buy an MOA scope, make sure the hash-marks are calibrated in TMOA. Or, make it simple and buy a mil-dot scope for long range shooting.
If the benefits of the elevation/windage adjustments aren't enough to get your attention, how about choosing the correct ballistic coefficient to enter into the program. Do you use the G1 or the G7 coefficient? More importantly, what is the difference?
Most shooters select the highest BC listed for a specific bullet, usually G7, without considering the shape of the bullet. That is a prescription for error at least half of the time. Without getting into a long dissertation on ballistic coefficients, we will try and make it simple: The G1 drag value for BC is determined for flat base bullets, while the G7 value is calculated for boat-tail bullets. Since most long range target bullets are boat-tail, the G7 value is appropriate in those situations, but a large number of hunting bullets are flat based, so one should select the G1 value when calculating the ballistics.
There are two models of the Kestrel 5700 available. The features of each are as follows:

Table courtesy of Nielsen-Kellerman.
In the Weather mode, the 5700 offers the full environmental measurements, storage and charting capabilities of the Kestrel 5500 Weather Meter, including wind speed, direction, crosswind, temperature, humidity, pressure and altitude.
Both models have the following features:
Large, hi-res, hi-contrast, graphic display is perfectly readable in the brightest sunlight.
Includes both bright white and night-vision-preserving red backlight.
Kestrel LiNK for Ballistics app on iOS and Android provides convenient gun management and backup.
Rugged (drop tested to MIL-STD-810G standards), waterproof (sealed to IP67 standards).
Protective pouch, neck lanyard and Lithium AA battery included.
Battery compartment isolated from circuitry in case of battery failure.
5-year warranty.
Designed, built and serviced (if needed) in the U.S.A.
2018 MSRP for the K5700 Sportsman with LiNK is $399
2018 MSRP for the K5700 Elite with LiNK is $599
Your personal requirements determine which model you should select. For us, the less expensive Sportsman's model was ideal, since we do not need to profile more than three rifles at a time. However, if you buy the 5700 Sportsman and later determine that you want/need the Elite version, you can purchase the more advanced firmware and upgrade.
We do want to bring up one point and that is: The instructions, while extensive, are a bit confusing. It took Jim awhile to figure out how everything worked on the K5700 (and he is very computer literate). We have mentioned this to the folks at NK and they are aware of the problem and are working on producing a simplified version. Do not let this deter you from buying this device. It is well worth the time and effort to figure out how to use it. In fact, it is probably simpler than many of the so-called smart phones on the market.