Knife Handle Ergonomics
By Gary Zinn


Ver Steeg Michigan #6 custom knife. Illustration courtesy of Ver Steeg Blades.
Long experience has taught me that there are good, indifferent and sometimes quite bad knife handle designs. The best ones are those that fit the hand well and allow the user to comfortably and securely hold and adroitly handle the knife, so that work may be done safely and efficiently. I know from experience the key elements of design that make for good or poor handles, but only understood them intuitively.
A recent article on the Knife News website provided insights into the ergonomics of knife handles. The article summarized conclusions about handle design expressed by Kyle Ver Steeg, M.D. Ver Steeg is a plastic surgeon, an outdoorsman and a custom knife maker. He has applied his professional knowledge of hand anatomy, function and his experience using surgical knives, to design outdoor knives that have exceptional ergonomics.
Here, in edited form, are the key points attributed to Dr. Ver Steeg in the article, which was posted on the KnifeNews website on June 19, 2017:
A bad knife handle is not just uncomfortable. Working with a badly designed knife strains and tires the hand, which increases the risk for accidents.
Sustained use of a badly designed knife can lead to serious strain-induced hand injuries.
Avoid knives with slab-side handles. Squared off, sharp angled handles do not match with the naturally curved contours of the hand. A handle that does not fit the hand leads quickly to fatigue and the accident and hand injury risks already mentioned.
Short handles are very undesirable for knives that will be worked hard. Ergonomic study has revealed that over 50% of grip strength comes from the ring and pinky fingers. Handles should be long enough for all fingers to grip the handle comfortably and securely.
Knife handles should not have pronounced finger grooves. In a natural power grip, the fingers press together, enhancing grip security and stability. Grooves on the handle that separate the fingers defeat the natural gripping strength of the hand.
Ver Steeg recommends knives with a swell in the middle of the handle to make contact with the center of your palm and the natural curve of the closed fingers. Gentle curves at the front and back of the handle keep your hand from sliding forward or backward. Ver Steeg incorporates ergonomic features in a subtle way on his own knives. He says, "You don't have to make goofy looking stuff. These subtle changes make a big difference in how a knife feels."
The image above is of a Ver Steeg knife. Note the palm and finger swell in the middle of the handle and the subtle flaring to the finger guard. Note also the definite, but not exaggerated, drop and flare at the butt of the handle.
The image below shows that the swelling and flaring mentioned is found in both the vertical and horizontal planes of the handle. (For the record, the knife shown was made from CPM S35VN steel, with the blade convex ground. The handle has G10 scales and white G10 liners, with brass finger guard and mosaic pins.)


Illustration courtesy of Ver Steeg Blades.
Dr. Ver Steeg has posted an extensive article on knife handle ergonomics and design on his cutlery website. The complete article is worth a careful read for anyone who is seriously interested in the subject.
Toward the end of the article, Ver Steeg summarizes the key points of handle design, as he sees them. Most of these summary points have already been listed above, but there are two others that need to be added. These are (quoting directly from the Ver Steeg Blades website):
"Typical dimensions that I see in handles that work well include a height that is 3/4 to 1 inch at the shortest point and 1-1/4 to 1-1/2 inches at the tallest point. Individual designs will vary and measurements on a good knife can fall outside those ranges."
"Any texturizing of the handle should be subtle; enough to make the handle stickier, but not enough to abrade a bare hand. If the handle is designed properly, the user will not lose grip on the knife, even if the sides are polished smooth."
Does all this mean that the only good knife handles are those custom made by artisans with an intimate knowledge of hand anatomy and ergonomics? Certainly not. As I write this, I have in front of me several knives that have good handle designs, only one of which was custom made. Here is a closer look at some knives that I have, with good and bad handles, both fixed and folding blade examples.
Examples of good and bad fixed blade knife handles
My first example of a good fixed blade handle design is about as far from a custom knife as one can get. The Morakniv Companion (also called Clipper) knife is an inexpensive, mass produced utility knife with a very good handle. I do not carry the Companion as a field knife, but it is my first choice for a "beater knife" when I am doing rough work in the woodworking shop, gardening, or landscaping.
This knife has a molded thermoplastic handle, with a slightly tacky surface texture and hard plastic bolsters at both ends of the handle. The handle is long enough for me to get a comfortable full-fisted grip with my medium/large hand, with enough girth to accommodate my long fingers. There are no squared off corners or edges anywhere on the handle. It has a profile and design details that fit the Ver Steeg guidelines almost perfectly. I can work this knife hard for extended periods without having any symptoms of hand fatigue.
Morakniv is the modern firm that evolved from a community of Swedish knife makers that dates back a century or more. The craftsmen who follow the Scandinavian tradition of knife design just seem to know how to make good handles. Additional evidence of this is a Helle Symfoni knife I have. This Norwegian made, wood and antler handled knife fits my hand like it was made just for me.
Now for a fixed blade knife where the handle design went horribly wrong. A few years ago, I went on a Holy Grail search for the perfect field knife. One knife that I found online that I thought might be what I was seeking was the Kershaw Field Knife. The thing that most attracted me to the knife was the blade profile. I fixated on that and, unfortunately, did not look very closely at the handle design. As it turned out, the blade design was great, but the handle, not so much. (I apologize to the good folks at Kershaw for what I am about to write, but will make it up to them later in this article.)


Kershaw Model 1082 Field Knife. Image courtesy of Kershaw Knives.
There are several things wrong with the handle of this knife. It is too short, too thin and too flat sided. It measures 3-9/16 inches long from the tip of the finger guard to the end of the butt and is a uniform 3/8 inch thick across the flat G10 handle scales.
By comparison, the handle of the Mora Companion is 4-1/8 inches long and a smoothly contoured 3/4 inches thick at the middle. There is a world of difference in these dimensions and shapes, which shows up big time when one uses the knives.
The tang of the Field Knife sits proud to the handle scales. Therefore, there are three squared off edges that dig into the hand, both on the top and bottom of the handle. This is uncomfortable!
Finally, there is a thumb rise milled into the spine, which peaks at the boundary between the blade and the handle. It took me no more than five seconds to discover this was useless. If I try to rest my thumb on the milled portion of the thumb rise, my hand gets pushed back on the already too short handle. If I try to maintain a normal finger wrap around the handle, the only place I can rest my thumb on the spine is directly on the peak of the thumb rise. This is intolerable.
Kershaw has discontinued this knife model. I do not know whether the disastrous handle design had anything to do with that, but it may well have. I learned from my experience with this knife to carefully look at all aspects of a design before leaping onto any bandwagons. My saga with the Kershaw Field Knife was not a total loss, though, because I found the blade design as good as the handle was bad. My respect for the blade profile is reflected in the fact that I used it (sans the thumb rise) as a template for the blade of the only custom knife I own.
My quest for a perfect field knife culminated when I designed one myself. I drew a blade profile based largely on that of the Kershaw Field Knife and mated it with a handle design based on the Grohmann No. 1 Canadian Belt Knife. (The handle of the Grohmann No. 1, although unusual in appearance, is highly ergonomic and very functional.)
The result of my only attempt to design a knife is the John B. Hege Custom Perfect Field Knife. (John Hege is the bladesmith who made the knife for me, once I convinced him that I was serious about the design.)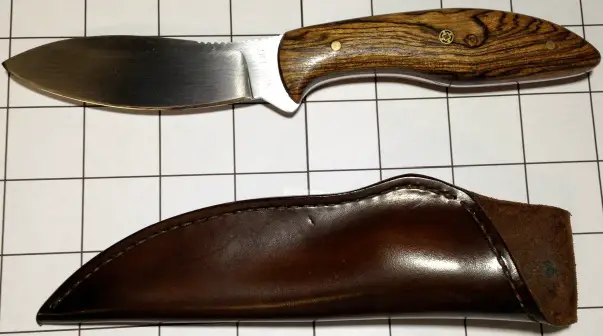 John B. Hege Custom "Perfect Field Knife." Photo by Jennifer Boleyn.
The handle design worked out great. It is 4-1/8 inches long, by 3/4 inches wide and 1 inch deep at its widest and thickest points. Handle depth at the throat (under the index finger position) is 11/16 inches. The handle fills my palm and is still well-proportioned relative to the blade. It is secure and comfortable with any practical grip.
I am not suggesting that the Ver Steeg or Mora Companion handle designs are the only good shapes for fixed blade knife handles. However, they are good examples against which one may compare various handle designs that may be encountered. Dr. Ver Steeg notes that professional butcher/slaughterhouse knives generally have well designed handles, because such businesses, "tend to take the issue of knife handle ergonomics very seriously."
I will end this section with a caution from Dr. Ver Steeg: "Some of the worst knife handles I've ever seen and had the displeasure of using are on knives marketed as survival knives. Thin, flat slab handles with sharp edges are best avoided if you plan on using your knife heavily over a prolonged period of time."
Examples of good and bad folding blade knife handles
I am starting this section on a sour note. Designers of contemporary single blade, one-hand opening knives seem to be engaged in a mortal duel to see who can produce knives with the worst possible handles. The violations of good handle ergonomics include handles with squared edges and slab sides, exaggerated handle shapes, gratuitous finger grooves and (lest we forget) pocket clips that are shaped and/or positioned so that they dig into the palm or fingers, depending on the side of the handle on which they are mounted.
No disrespect to Cold Steel, a firm which has some fine knife designs, but their Talwar knife gets tagged as an example of all the transgressions just listed.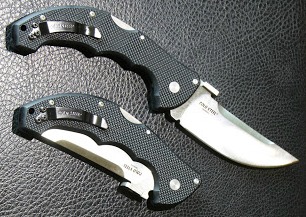 Cold Steel Talwar. Illustration courtesy of Oso Grande Knives.
The most prevalent ergonomic flaws on contemporary folding knives are slab sided, sharp cornered handle shapes and obtrusive pocket clips. I understand both, for a flat sided knife with a generous pocket clip carries well, in the edge of a pocket, tucked into a waist band, or wherever. No harm is done if the knife is going to be carried a lot and used only intermittently and for short cutting sessions. However, the Ver Steeg ergonomic guidelines still apply if one wants a folding knife that will be comfortable and efficient when used for heavy or sustained work.
The world of contemporary easy opening folding knives is not a total ergonomic wasteland. I have at hand three modern knives of this type that have good handle ergonomics. In no particular order, these are the Kershaw Link, Buck Selector 2.0 and Gerber Gator Premium folders.
The Kershaw Link is a simple design, with a flipper spur to facilitate one-handed opening and a liner lock. It has an adequate sized, well contoured handle, with either glass filled nylon or aluminum handle scales over stainless steel liners. The revelation of this knife, to me, was a pocket clip that is both functional and unobtrusive. My knife came out of the box with the clip mounted for right side, tip up carry, which works for me. I was pleasantly surprised to find that the clip nests in the hollow between my palm and the base of my fingers, so that it does not gouge me when I grip the knife hard.
My previous experience with knives mounting pocket clips was that they tried to bite me when I gripped the knife. Accordingly, I was in the habit of removing the clips and carrying the knife in a pocket or a belt sheath, depending on its size. My Kershaw Link still has its clip.
The Buck Selector 2.0 is a knife with interchangeable blades. Its handle profile is that of the Buck Open Season knife family, which I can best characterize as similar to the venerable saddle horn handle pattern sometimes used on large slip joint knives.
The Selector 2.0 has thermoplastic handle scales over stainless steel liners. The handle is sturdy, generous in size and comfortable in the hand. I have messed with it for awhile and it feels right to me. Because it has a back lock mechanism and a half stop, this is not a legitimate one-handed opening knife.
This knife does not have a pocket clip. Rather, it comes with a well-built belt pouch, which also stores the extra blades that come with the knife.
The Gerber Gator Premium Folder is an update of the classic Gerber Gator knife line. The handle is molded glass filled nylon with a tacky Gator Grip over-mold and a cast steel bolster at the front of the handle.
I have long considered the original Gator handle design to be one of the most ergonomic in its price class and the Gator Premium handle continues that tradition, with an upgrade of the blade steel to S30V. Like the Buck Selector 2.0, this knife has a back lock with half stop, so is not truly a one-handed opening knife. Nor does it have a pocket clip, but it comes in a nice leather belt pouch. It is a simple, sturdy and highly serviceable folding knife, with a time proven ergonomic handle design and modern premium steel blade.
There are enough brands and models of quality folding knives with good handles that there is no reason for users to be saddled with specimens that sacrifice ergonomics for style or novelty. Anyone who buys a knife just because the handle looks radical or cool is likely getting a product that is more show than go.
I would be remiss if I did not comment briefly on ergonomics of slip joint folder handles. Many popular slip joint folders are relatively small knives, with handles less than about 3-5/8 inches long. It is not meaningful to talk about the ergonomics of knives such as these for heavy work, because they generally have relatively light weight blades that are not suitable for heavy cutting. The inability to get a full fisted grip on these smaller knives is not much of an issue, since they will generally only be used for light to medium duty cutting.
Larger slip joint knives are a somewhat different case. Many such knives may have blades and frames sturdy enough to do at least medium duty cutting, while the most robust models can do relatively heavy work. If one has a large slip joint knife that can handle reasonably heavy tasks, then ergonomics becomes a factor. I believe that long time popular slip joint knives, such as the larger stockman and trapper patterns, have likely endured partly because the handle shapes have acceptable ergonomics for the work that the larger slip joint knives can handle efficiently and safely.
Conclusion
As I said at the outset, I knew that there are good, indifferent and bad knife handles. I now have a much better grasp of why particular handle designs fall into one or another of these categories. Thanks to Dr. Kyle Ver Steeg for explaining knife handle ergonomics so thoroughly and clearly, and to Knife News for spreading his knowledge to the community of knife users.