A Brief Survey of Popular Knife Steels
By Gary Zinn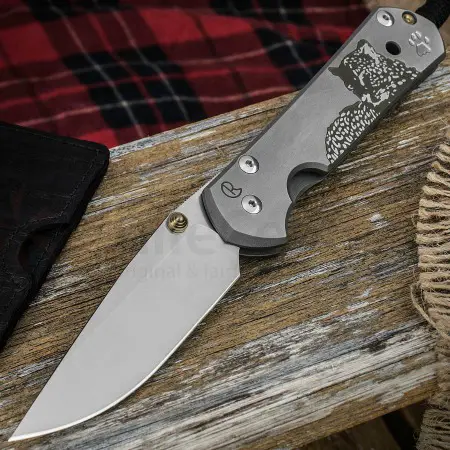 Chris Reeve Large Sebenza 21 Leopard knife with S35VN blade and 6AI4V titanium handle. Image courtesy of Knife Center.
What are the most popular blade steels used in knives today? This is a question I believe can be largely answered via a survey of knives that are being offered on one or another of the more comprehensive Internet knife marketing websites. I thought it would be interesting and informative to do such a survey.
To focus the survey parameters, I consulted an article titled "Guide to the Best Knife Steel" by Matt Davidson. (This article appears on the Knife Informer website.) The article classifies knife steels into five broad quality / performance categories, which I follow below. It lists and evaluates roughly a half-dozen leading steels in each category. I focused on the steels mentioned in the article in my survey.
Methodology
This survey is indicative, rather than comprehensive. I used the search features of a single internet knife vendor website, Knife Center, for my survey. Therefore, my product searches returned only items carried by Knife Center.
In round numbers, Knife Center catalogs 12,000 knives, including 4300 fixed blades and 7700 folders. This is a lot of knives, but Knife Center does not vend the products of all knife makers, nor do they necessarily carry all models of the brands they handle. These limitations recognized, I believe that the results of the survey are strongly indicative of the leading blade steels used in knives currently on the market.
I used the Knife Center website search engine to get a tally of the total number of fixed blade and folding knives offered, with each of the steels listed in the Knife Informer article. I then summed the fixed blade and folder numbers for each steel and noted the three that had the highest total number of items in each category. These steels are listed below, plus two that I felt merited honorable mention. Here are the results of the survey.
Lower Mid Range
1095: 641 items total; 581 fixed blade, 60 folders
12C27 (for 13C26): 226 items total; 84 fixed blade, 142 folders
420HC: 134 items total; 53 fixed blade, 81 folders
These blade steels have been around for a long time. There are still a lot of modestly priced, no-nonsense working knives that are built with one or another of them. In an era when it seems that a new "super steel" is introduced every month, it is easy to overlook that knives with these everyday steels are still very much in the game, both in terms of market availability and utility.
Note that the Knife Informer article that inspired this listing included Sandvik 13C26, instead of 12C27. Knife Center does not catalog any knives with 13C26 steel, so I used the very similar 12C27 as a surrogate.
Upper Mid Range
AUS-8: 553 items total; 152 fixed blade, 401 folders
440C: 331items total; 179 fixed blade, 152 folders
14C28N: 153 items total; 17 fixed blade, 136 folders
These well established steels are used in many brands and models of working knives. A majority of students of blade steels would probably agree that they are a step up in performance from the steels listed in the lower mid range category. However, such performance differences are subtle.
I have had lots of experience using and sharpening knives with the six steels in these first two categories and I cannot discern much difference among them. Anyone with a well built knife made with any of the three steels listed in the upper mid range category has a solid tool that should render good service.
8Cr13NoV, a Red Chinese (PRC) steel, merits an honorable mention here, with 148 items cataloged on the Knife Center website. This steel is used in a number of the better quality knives currently being made in China. I believe anyone thinking of buying a Chinese knife should spurn those that have a blade steel of lower grade than 8Cr13NoV. Lower grade Chinese steels are the stuff of which junk knives are made.
High End
D2: 692 items total; 220 fixed blade, 472 folders
154CM: 685 items total; 123 fixed blade, 562 folders
VG-10: 317 items total; 39 fixed blade, 278 folders
The term "super steel" is thrown around loosely nowadays. Get a group of steel freaks together over drinks and it would be easy to get a lively debate going over whether the three steels listed in this category are super steels. This ambiguity aside, there is little doubt that D2, 154CM and VG-10 are high performance knife steels. An impressive number of high end knives, particularly contemporary one-handed opening folders, feature one or another of these steels.
CPM-154 gets an honorable mention in this category, with 229 items listed on the Knife Center website. In the Knife Informer article on which this survey is based, CPM-154 is described as:
"A powder version of the same alloy [used in154CM] produced much differently using Crucible Particle Metallurgy. The Particle Metallurgy process makes finer carbide particles resulting in a slightly superior steel that is tougher and with better edge retention, but whether the average user can tell the difference is arguable."
If I had to name a product that represents a baseline "super steel," CPM-154 is the one I would choose. Note that 154CM and CPM-154, added together, dominate the number of items cataloged by Knife Center in this high end product category.
Premium
CPM-S35VN: 904 items total; 157 fixed blade, 747 folders
CMP-S30V: 365 items total; 111 fixed blade, 254 folders
CTS-XHP: 139 items total; 7 fixed blade, 132 folders
These three products are definitely among those that classify as super steels. One of them, CPM-S35VN, is the hottest knife steel going right now, in terms of growth in the number of knife makes and models using it. (See CPM S30V and CPM S35VN Knives - A Rising Market Force and New Knives with S30V or S35VN Blades for 2018 for more information on the rise of S30V and S35VN in the marketplace.)
S35VN is an improved version of CPM-S30V (primarily in terms of toughness and manufacturing ease). Both are from Crucible Industries, which produces a significant proportion of the steels included in this survey. CTS-XHP, from Carpenter Technology Corp., is very comparable in performance to the two Crucible super steels.
Anyone who owns a well-built knife, featuring any of these steels, has a tool that is very tough and capable. These steels will take a very sharp edge and hold it much longer than lesser blades.
The only downside is that these, along with other super steels, have a reputation for being hard to sharpen at home. I do not buy this, for my experience is that both S30V and S35VN sharpen just fine, provided one uses suitable tools and proper techniques. (See Sharpening S30V and Similar Super Steel Knife Blades for more information on sharpening super steels.)
Ultra-Premium
M390: 305 items total; 12 fixed blade, 293 folders
CPM-20CV: 105 items total; 11 fixed blade, 94 folders
Elmax: 86 items total; 25 fixed blade, 61 folders
There are, arguably, fewer than ten steels that cap the pyramid of knife steel performance. (Six are listed in the Knife Informer article.) The three listed here are the ones currently getting the most market play. M390 and Elmax are made by Bohler-Uddeholm, while CPM-20CV is another Crucible product. I have no direct experience with any of them, but everything I have learned indicates that knives made with these and a handful of other "super duper" (my tongue-in-cheek term) steels are truly awesome instruments.
Do not expect to buy these products from an end cap display at a local big box store. They are custom, or very limited production, items that are priced accordingly and selectively marketed. Knives featuring ultra-premium blade steel are truly among the best of the best from a performance perspective.
Further discussion
Anyone shopping for a new knife has a wide range of choices among products featuring the steels identified in this article. For instance, if one wants a no-nonsense economy utility knife, the Buck Model 679 fixed blade hunting knife with a 420HC blade, molded Acryn rubber handle and nylon sheath might be just the thing, at a price of about $25. Toward the other end of the blade-handle material-design technology-price spectrum, a Reate Knives Torrent Flipper knife with M390 blade and milled titanium handle may be had for $375, and this is not the top of the price scale.
The options available may be better defined as follows. My indicative survey found 5865 knives that featured one or another of the 17 blade steels listed above. This is 49 percent of the 12,000 fixed blade and folding knives that Knife Center catalogs.
Meanwhile, the 17 steels in question account for only 13 percent of the 135 steels used in all knives listed by Knife Center. Virtually half of the market is concentrated in a relative small number of the most popular blade steels.
Another thing worth noting is that Crucible Industries steels, specifically 154CM, CPM-154, CPM-S30V, CPM-S35VN and CPM-20CV, are prominent in the High End, Premium and Ultra Premium categories. Half of the ten steels listed therein are Crucible products, which account for an impressive 2288 (60 percent) of the 3827 knives the survey found in these three product categories.
Conclusion
We who are fond of knives and feel the need to try a new one from time to time never had it better. The performance range of the 17 blade steels featured here and the number of knives available in them, collectively, give anyone shopping for a new knife a target rich environment. Options range from basic, no-frills working knives to the best limited production and custom specimens, such as the Chris Reeve knife pictured at the top of this article. Anyone can likely find that "just right" new knife among these choices.